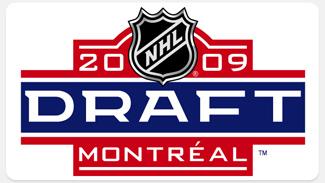 By Rick Gethin
The Hockey Writers
     With the 2009 NHL Draft just under five days away, the Columbus Blue Jackets are looking to fill some holes in their depth. The defensive depth of this team is sitting on the thin side and the Blue Jackets should draft their first defenseman since Rostislav Klesla in 2001 with the #8 pick overall. This fits in with coach Ken Hitchcock's philosophy of building the team from the net out. But not just any defenseman will do. Columbus needs a puck moving defenseman in a bad way. Kris Russell did a yeomans job this past season and he will only continue to get better. Let the prognostications begin.
     While Hockey Prospect has Ryan Ellis at the #11 spot, THN is predicting that he'll fall to #16 and Columbus will grab him. Here's what THN has to say:
16. Columbus – Ryan Ellis, D, Windsor, OHL. Sure, the Jackets have Kris Russell, but they also have one of the worst power plays in hockey. Ellis fixes that in a hurry.
     And this is Hockey Prospect's take on Ellis:
This guy has certainly made scouts stand up and take notice. Is only 5'10", 173 lbs, but played extremely well in his rookie campaign, with 15 goals and 63 points in 63 games. Quarterbacked the Windsor power play and has racked up many of his points on it. Has a good hockey IQ, anticipates the play very well and has a rocket of a shot.
          Hockey's Future also has the Blue Jackets choosing Ellis.
 The Blue Jackets are picking outside of the top 10 for the first time in franchise history. The organization's primary need is for a puck-moving defenseman to quarterback the power play and Ellis, who posted 22 goals, 67 assists in 57 games fits the bill perfectly.
    5'10" and 173 lbs.? And everyone thinks Kris Russell is undersized. I think the Blue Jackets take a pass on Ellis.
     Don Brennan at the Toronto Sun has the Jackets picking John Moore at #16.
#16: John Moore, Size: 6-foot-3, 190 pounds, Position: Defence, Team: Chicago, USHL
Blessed with a wealth of young forward talent both on the roster and in the system, the Jackets will be looking to add a mobile puck-moving defencemen, like John Moore. He has the size and skill to go along with great playmaking abilities. A tremendous skater, Moore started the 2008-09 season outside of the first round but with solid play from start to finish of season, ISS scouts feel he has moved ahead of most all the other highly rated blueline prospects.
     Of all the possibilities, this is the one I like the best. He has the size and the skating ability that Columbus is in search of; although he needs to add some weight to his frame.
     Farhan Devji of Inside Hockey has Columbus taking Simon Despres at #16.
Simon Despres is a big, reliable defenceman who is very mobile for his size. He doesn't have any glaring weaknesses or strengths; he just continually gets the job done. Some believe he could be a top 15 pick, while others speculate he could fall to the later stages of the first round. 
     That doesn't inspire a lot of confidence. In a word, he sounds "serviceable", which is not what the Blue Jackets are looking for or need. My take on Despres is that Columbus takes a pass.
     The Hockey Writers own Chistopher Ralph has Dylan Olsen at the #16 slot.
He has good size and is equally adept at playing in the offensive or defensive zones. He also possesses a good level of toughness and has that "umph!" to his game. Add to those components a bullet-like shot! He could be a real 1st round sleeper, although scouts are not hitting the snooze button when it comes to this young gun any longer.
     He might be a first round "sleeper" but the Blue Jackets aren't going to wake him up.
     Aaron Portzline in today's Columbus Dispatch is reporting that GM Scott Howson might try and move up in the draft.
Howson said the Blue Jackets will consider trying to move up "slightly" in the draft order, although he hasn't had any discussions with other teams. That could begin today, when most clubs arrive in Montreal.
The Blue Jackets, with center Derick Brassard returning from injury, and rookie Nikita Filatov expected to be a full-time NHLer in 2009-10, have a glut of forwards and they'd likely consider moving one, especially a winger.
They do not have a second-round draft pick that might be used to move up in the order, however. That pick was traded to Ottawa in the deal to acquire center Antoine Vermette.
It is highly unlikely, Howson said, that the Blue Jackets will trade the pick or move down in the first round.
"The good news is, it's a deep draft, so we're going to get a good player," Howson said.
     Without the 2nd round pick it might be a little tougher for Columbus to move up. But if Howson's short history with the Blue Jackets has shown us anything, expect the unexpected. The bottom line is the Blue Jackets know what holes they need to fill and Scott Howson has a history of addressing those needs.
     Christmas in June is always a great time to be a hockey fan.
Rick Gethin was an Associate Editor of TheHockeyWriters.com.