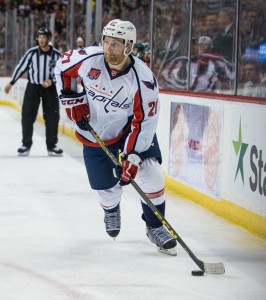 One sign of a talented hockey team is the ability to win a game on a night in which the club is not at its best. The Washington Capitals did just that Thursday night in their 3-2 victory at Eastern Conference-leading Montreal. And it's not the first time that the skilled Caps have been able to pull off that type of win during their franchise-best 18-5-1 start to the 2015-16 season.
There is an inherent danger in having the ability to win despite not being at your best, however, as that evil conspirator Mr. Complacency often can pay a visit – and sometimes even move in for good – when things seem to become too easy. When that happens it can become difficult even for the most talented teams to turn it up a notch or two when really necessary.
Washington's performances thus far against the league's elite teams indicate that while the team on paper is probably as good as any, it still has a ways to go in terms of developing the consistency of effort and execution necessary to win multiple long playoff series against quality opponents.
Of course it's great to have a weapon like Braden Holtby in goal when you need him to steal you a win, but asking your goaltender to stand on his head, as Holtby did against Montreal, consistently against other top teams is not the recipe for long-term success. Against the Habs Holtby, already tabbed as the NHL's second star of the month for November, turned aside 33 shots, many of them from inside of 15 feet. For the better part of the game the Canadiens outskated, outbattled and simply outplayed the Caps. Holtby was the clear difference in the outcome.
"Below average," Trotz bristled when asked about the Caps' effort at the Bell Centre. "I don't want to take anything away from Montreal. They came hard and they were fast. We've had about three or four days off here, and we're not very good coming back from long rests. They just played faster than we did. They won all the races and the chances were probably two to one.
"Holtby gave us a chance to steal that game, and he did. You've seen that in this rink with Carey Price many times. Tonight, it was just our turn. He's been pretty good all year, but tonight we don't win that hockey game or come close without his performance. He was the best player on the ice for both teams. He was outstanding."
Sometimes one team – or one player – simply has another club's number. With the victory the Caps improved to 10-0-2 in their last 12 trips to Montreal, and Holbty bettered his career record to 7-0-2 vs. the Habs – 6-0-1 at the Bell Centre. He allows well under two goals per outing vs. Montreal.
"It's crazy what Holts does for us every night," added Washington forward Tom Wilson. "He's amazing and it's really something special as a player to have a guy back there who bails you out like he does."
Holtby and some fortuitous bounces, bailed the Caps out on this night. Washington caught Montreal napping early, and Wilson managed to slip a sneaky shot past goalie Mike Condon just 2:26 into the contest. From there the Caps got a flukey goal from T.J. Oshie to take a 2-1 lead in the last minute of the second period. His initial shot handcuffed the Habs' netminder, hitting him in the shoulder and caroming straight up into the air where it tumbled down toward the ice and ricocheted off Condon's back and into the net.
Washington allowed two 1-on-1 chances during an awful third period power play, finally letting the Canadiens tie the game on a short-handed deke by Brian Flynn 2:30 into the final stanza, before Oshie scored the game-winner at 8:17 by deflecting a Karl Alzner wrist shot from the point past Condon.
Consistency is the Key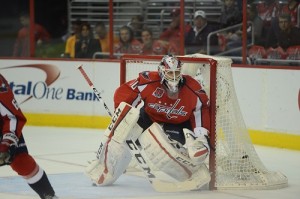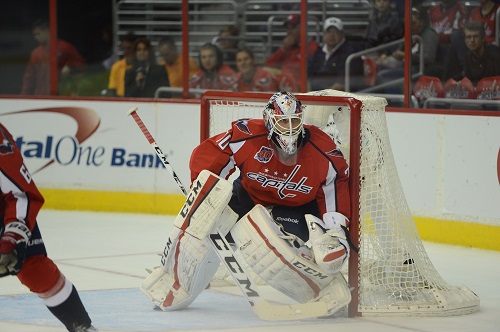 Sometimes it's better to be lucky than good, and over the years it could be argued that the Caps have often been good and unlucky. But getting outplayed by a pretty substantial margin in a game your coach has labeled a measuring stick is never a good thing – and certainly not the recipe for long-term success.
On the positive side, Washington did block 28 shots on the evening, and in a pattern that has become common this year, stepped up defensively to close the Habs out for the game's final 11-plus minutes. Holtby was forced to make just seven saves in the third period after turning aside 26 shots in the opening 40 minutes. Fifteen of the Caps' blocked shots came in the first frame when Montreal responded strongly to Wilson's early goal. Not to bring back a painful memory, but the way Washington won was very similar to the formula the eighth-seeded Habs used to upset the Presidents' Trophy-winning Caps in the first round of the 2010 playoffs.
"Those games happen; it's a long season, "Wilson said. "But we found a way."
Yes, they found a way, which is a great testament to the team's fortitude and character. But the Capitals have yet to turn in a solid 60-minute effort when facing the NHL's elite this season. Partly because of Montreal's red-hot first month and New York's recent long winning streak – and partly because of the media hotbeds those teams play in – the Caps are not getting as much attention as they might to date.
In fact, some in the Canadian media have described their schedule as soft to this point. Before facing Winnipeg Saturday they were 17-3-1 against teams not named the Rangers, Stars or Canadiens this year and 1-2-0 against that league-leading triumvirate. Washington fell behind 4-1 in an eventual 5-2 road loss to the Rangers on Nov. 3 and never really seemed to get going until the game's final nine minutes in a 3-2 home setback against Dallas Nov. 19.
While the effort against Montreal may not have been exactly what Trotz envisioned, it was a needed signature win and an indication of how good his team can be. As a longtime Caps observer it's refreshing to be nitpicking about the aesthetics of a victory following a six-game winning streak that finally propelled Washington, at least for a few days, in front of a Rangers team it has been chasing in the standings since early last season.
It's a Marathon, Not a Sprint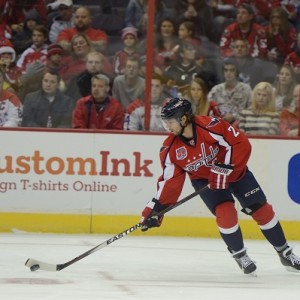 At 37 points heading into Saturday's game at Winnipeg the Caps were tied with the Rangers atop the Metropolitan Division, and they trailed conference-leading Montreal by four points. Washington had three games in hand on each team, and the Caps were tied for third in the overall league standings.
Despite the hot start, overall success and most recent victory against the Eastern-leading Canadiens, Washington has no room to rest on its laurels. Trotz has plenty of evidence to keep the team's collective head from swelling and to help keep that old Scrooge Complacency from finding an empty stool to sit on in the Caps' locker room. And you can bet that Trotz is going to use every tool at his disposal to keep this team focused and on the right track toward the larger goal of postseason success.
"We have a good mentality," said even-keeled defenseman Karl Alzner, who often has been the voice of reason during his tenure in D.C. – both in good times and bad. "We've struggled in the past with slow starts and taking our foot off the gas. We're getting more consistent. The team is riding high right now. Guys are playing with confidence and different guys are chipping in … But it's a long season."
Added Alzner's defensive partner Matt Niskanen: "We just want to play better after a game like that. It's a focus. We want to do it for each other, and that includes Holts. You see how hard he competes every night, and that's contagious."
After 100-plus games under Barry Trotz the Washington Capitals truly have taken on his personality. They neither get too high nor too low. And there's always room for improvement. So, for the time being at least, Mr. Complacency can go ahead and fight for a spot in some other team's locker room.