When looking at the best NHL forwards in the game and the ever changing debate that it always ensues around who that is, inevitably the focus is fantasy based and the top offensive players get most of the attention.
In a culture with so much technology at the fingertips and fantasy leagues an integral component, if most people were asked, who is the best forward in the league? The names would be Sidney Crosby, Steven Stamkos, Alexander Ovechkin and so on.
In many cases a team's top offensive player is also the most complete, but it's not all about just putting the puck in the net.
Now I would argue that Crosby is in fact the most valuable forward in the world, but is he the most complete? Can he truly be called a proficient two way centre?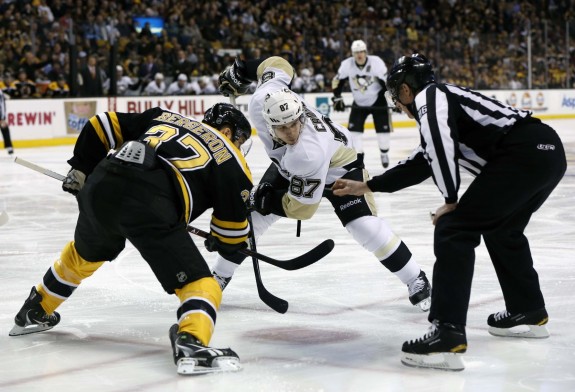 His offensive prowess, on ice awareness and compete level would likely override any other deficient areas in his game and if I were to pick one player to start a franchise with, it would be Sid the Kid.
However, there are areas that he is not called upon to be first over the boards for. He doesn't kill penalties and still has room to grow in his defensive zone.  Crosby battles hard all 200 feet of the rink, but defensive specialist he is not.
So who are the most complete forwards in the league? Here's my list for the best two way NHL forwards in the game.
10. Ryan Kesler, Vancouver Canucks
Kesler has had an injury plagued last couple of years which has hampered his production. He is not far removed from a 2010-11 season where he scored 41 goals and was named the Selke Trophy winner for the league's best defensive forward.
If Kesler can regain his health, and form of a few season's ago, he will quickly jump higher on this list.
9. Martin St. Louis, Tampa Bay Lightning
At age 38, St. Louis is still playing 21+ minutes a night for the Lightning. On a team where Stamkos gets the most attention, it's the dimuntive veteran who's arguably the more valuable player. On top of being one of the team's leading scorer's, he's also the first forward over the boards on the penalty kill.
8. Henrik Zetterberg, Detroit Red Wings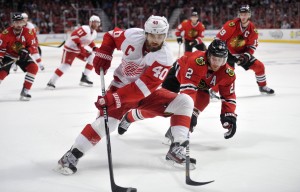 The current Red Wings captain, the heir to Niklas Lidstrom, that in itself is an edorsement for Zetterberg. Like many of the Red Wings stars, Zetterberg is more than one of the team's top offensive producers. He's as effective in a scoring role as he is in a shutdown role. He's one of those forwards that every team wishes they had.
7. Claude Giroux, Philadelphia Flyers
Emerging as one of the game's premiere forwards, Giroux is not only the Flyers offensive leader but in so many areas. His last full season produced 28 goals and 93 points, which put him near the league leaders. He also takes many of the team's big faceoffs, kills penalties and his overall game just keeps getting better.
6. Zach Parise, Minnesota Wild
Parise has been a prolific offensive player in his career with five of his six full seasons in the NHL producing more than 30 goals, with a career high of 45.
With the Wild, as he did with the Devils, Parise regularly leads his team in forward ice time and plays a responsible game in all areas evidenced by his career +59 rating.
5. Mikko Koivu, Minnesota Wild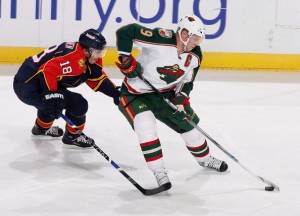 Parise's teammate and linemate, they play almost identical minutes. One of the most underrated forwards in the league, Koivu does a little bit of everything for the Wild. Playing most of his career in a primarily defensive minded system, Koivu has learned a full 200 foot game. He has still managed a .75 points per game average though, and will be interesting to see this year if his numbers spike as the Wild have committed to a more offensive style in years past.
He plays over 20 minutes a night year after year as the team's top centre and is rarely found out of position. He's also a very strong puck possession player who rarely turns it over and is as prolific in the faceoff circle as anyone. He's in his 5th year as Wild captain and has also established himself as an effective leader.
4. Anze Kopitar, Los Angeles Kings
Playing in LA, many people on the east coast don't get to see Kopitar play, and that's a shame. While most know he is the Kings top player and in the upper echelon of NHL forwards, few know just how good he is.
He leads all Kings forwards in ice time, which in itself is not surprising for the team's best player, the interesting part is that he leads in even strength, power play time and penalty kill time. Not to mention in faceoffs by a significant margin, even with other prolific two way centres like Mike Richards and Jarrett Stoll on his team as well.
He has quietly amassed a points per game average of .91 in his career, is a +13 and has a Stanley Cup on his resume.
3. Patrice Bergeron, Boston Bruins
Bergeron has gone from a solid two way player to a bona fide star in the league over the last few years. He is responsible in al three zones and rarely makes a mistake on the ice. He's the kind of player all coaches love as he's low maintenance and can play in any situation and excel. He's tough, competitive and a gamer.
The 2012 Selke Trophy winner, Bergeron has led the Bruins fowards in ice time in the last three seasons. He was also last year's top faceoff man in the league at 62.1% and has a +71 career rating.
2. Pavel Datsyuk, Detroit Red Wings
You could almost have him on this list for his offensive skill set alone. Arguably the most gifted stickhandler in the league, he is a wizard with the puck. Almost as impressive though, is his overall game.
He has one of the highest hockey IQ's of any player and his on ice awareness is second to none. There is no player more proficient with his stick in the league than Datsyuk. As much for his amazing skills with the puck, he causes more turnovers with a stick check than any other player.
He's also a three time winner of the NHL's Selke Trophy  and has an astonishing +234 rating over his career.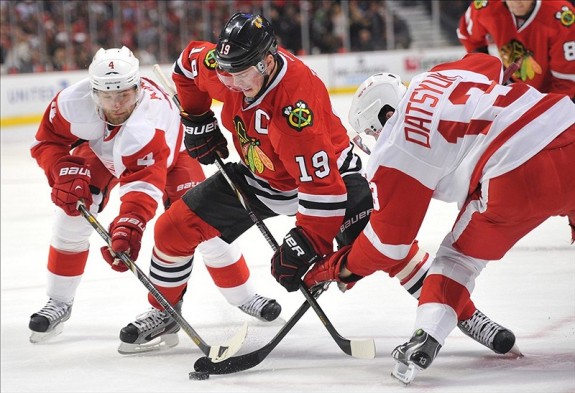 1. Jonathan Toews, Chicago Blackhawks
Few players embody the complete player the way Chicago's Captain Serious does. There just isn't anything Toews doesn't do well. He plays in all situations, excels in all three zones and you won't find a player more competitive than he is across the league.
In his short pro career he has put together an impressive resume of two Stanley Cups an Olympic gold medal, a Conn Smythe Trophy, Selke Trophy and was named the 2010 Olympics top player to boot. He also possesses countless other intangibles including being one of the top leaders in the game.
You would be hard pressed to find a player that is as efficient in all areas of the game as Jonathan Toews.
*****
With a list such as this there is bound to be much debate, what say you, who's the most complete forward in the NHL?
___________________________________________________________________________
Follow Carl on twitter @maloney3383 and Google+ for more articles.  
Carl covers the Edmonton Oilers for THW as well as providing additional prospect coverage. Follow him on twitter @carlTHW, connect on Facebook or contact at carl.maloney@hotmail.com for questions, comments or if you're interested in him writing for you.