Hockey is back, albeit in a different form. New divisions, little or no fans, a shortened schedule, and a January start are all products of COVID-19. This is not your usual NHL season. That said, the league is playing meaningful games again, and that is just what fans have been yearning for. In the Valley, things are extra special because this marks the 25th Anniversary for the Arizona Coyotes. 
Usually, a silver anniversary season would be jam-packed with fan events and massive crowds. Due to the pandemic, things will be scaled back, big time. So much so, that the Coyotes will actually celebrate over two seasons in order to give fans more interaction. To Arizona's credit, the club is doing what they can while following safety guidelines. A limited number of socially distanced fans will be welcomed at home games. Those fans will be treated to the iconic crescent moon logo at center ice, the snazzy old-school Kachina jerseys, and two special anniversary uniform patches. Most of all, though, this season is a time to reminisce.
Sure, the Coyotes made the playoffs last year for the first time since 2012, so there is a reason for optimism this season but, a 25th anniversary is also a time to remember the players and events that have meant the most to the franchise over the years.
5 x 5 is 25, so let's look back at the Top 5 players and Top 5 moments in Coyotes history. The lists are up for debate, of course. The love affair between the desert dogs and their most loyal fans, however, is indisputable.
Top Dogs
Shane Doan
When you look at the players who have made their mark in Arizona, you have to start with Shane Doan. The consummate Coyote, Doan spent his entire career with the club, starting as a rookie with the old Winnipeg Jets.
Doan shined right out of the gate and seemed to get better as he got older. After Teppo Numminen was traded, Doan became the team captain, a role he was born to take on. Not only did his passionate and dynamic style of play solidify him as a true leader, his work ethic and attitude played just as much of a role.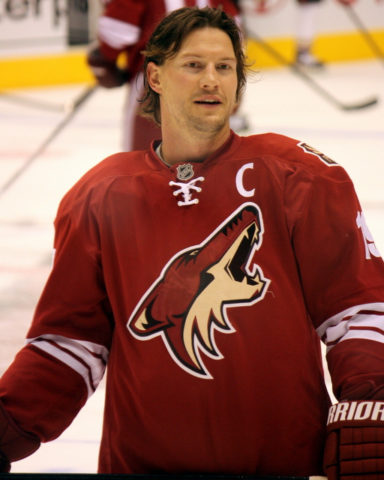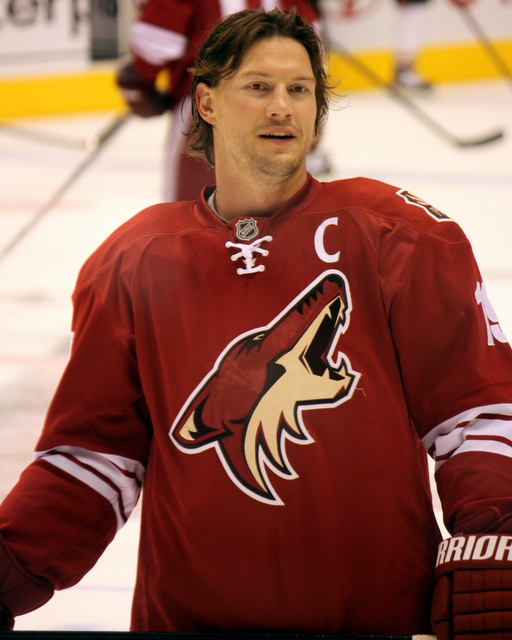 'The Greatest Coyote' led the team in scoring from 2003-2011. He finished his career as the club's all-time leading goal scorer with 402. Doan also tallied 570 assists during his stellar career. In 2019, the Coyotes retired his #19 jersey. Perhaps some of that Doan magic will rub off on the Coyotes this season. The team recently hired the former to serve as Chief Hockey Development Officer.
Keith Tkachuk
From 'The Greatest Coyote' to 'Captain Coyote' was the moniker for the great Keith Tkachuk, who wowed fans as a Jet and Coyote captain. He reached the 50 goal plateau twice as a Coyote. He finished with 323 goals and 300 assists in a Winnipeg/Phoenix uniform, before leaving to keep up his prolific scoring with St. Louis and Atlanta. Remembered for his hard-nosed play, Tkachuk was named to the Coyotes Ring of Honor in 2011.   
Jeremy Roenick
Our next Coyote great is a man who had two stints in the desert. Jeremy Roenick skated in Phoenix from 1996-2001 and again in 2006-2007. He gave his heart and soul to the team each and every time he took the ice. If Roenick was in the desert his whole career, he could have very well been the best Coyote of all. 
Roenick found the net 152 times as a Coyote, adding 257 assists, but it was how he played that separated him from the rest. Roenick sacrificed his body on a regular basis. He could score and pass, but he could also deliver a hit. 
As far as taking a hit? Well, that's the stuff of legends. Roenick forever made his mark on hockey lore when he returned for Game 7 of the 1999 first-round series against the Dallas Stars, just over two weeks after fracturing his jaw.  A two-time All-Star as a Coyote, Roenick led the club in scoring three times. He was named to the Coyotes Ring of Honor in 2012.
Teppo Numminen
Today's Coyotes have quite a crop of defensemen. Our next legend would fit in just fine. Teppo Numminen was all about the fundamentals. You knew, night in and night out, that Numminen would do his job. Rarely flashy, he brought a working man attitude to the rink, always giving an honest effort. 
Numminen had a nose for the puck and a penchant for making the big play when needed. He recorded 426 assists and scored 108 goals as a Coyote. Numminen made the Coyotes' Ring of Honor in 2010.
Nikolai Khabibulin
Three prolific scorers and a top defenseman need a goalie to help them out. So, our fifth and final Coyote great is netminder Nikolai Khabibulin. Although the 'Bulin Wall' only stood for three seasons with the franchise, he really made the Coyotes a household name. Khabibulin thought 'standing on your head' was a routine approach to stopping the puck. 
Khabibulin captured the imagination of fans in Arizona and all over the world with his incredible saves. As a Jet/Coyote, Khabibulin notched 126 wins with a 2.85 GAA and a .907 save percentage.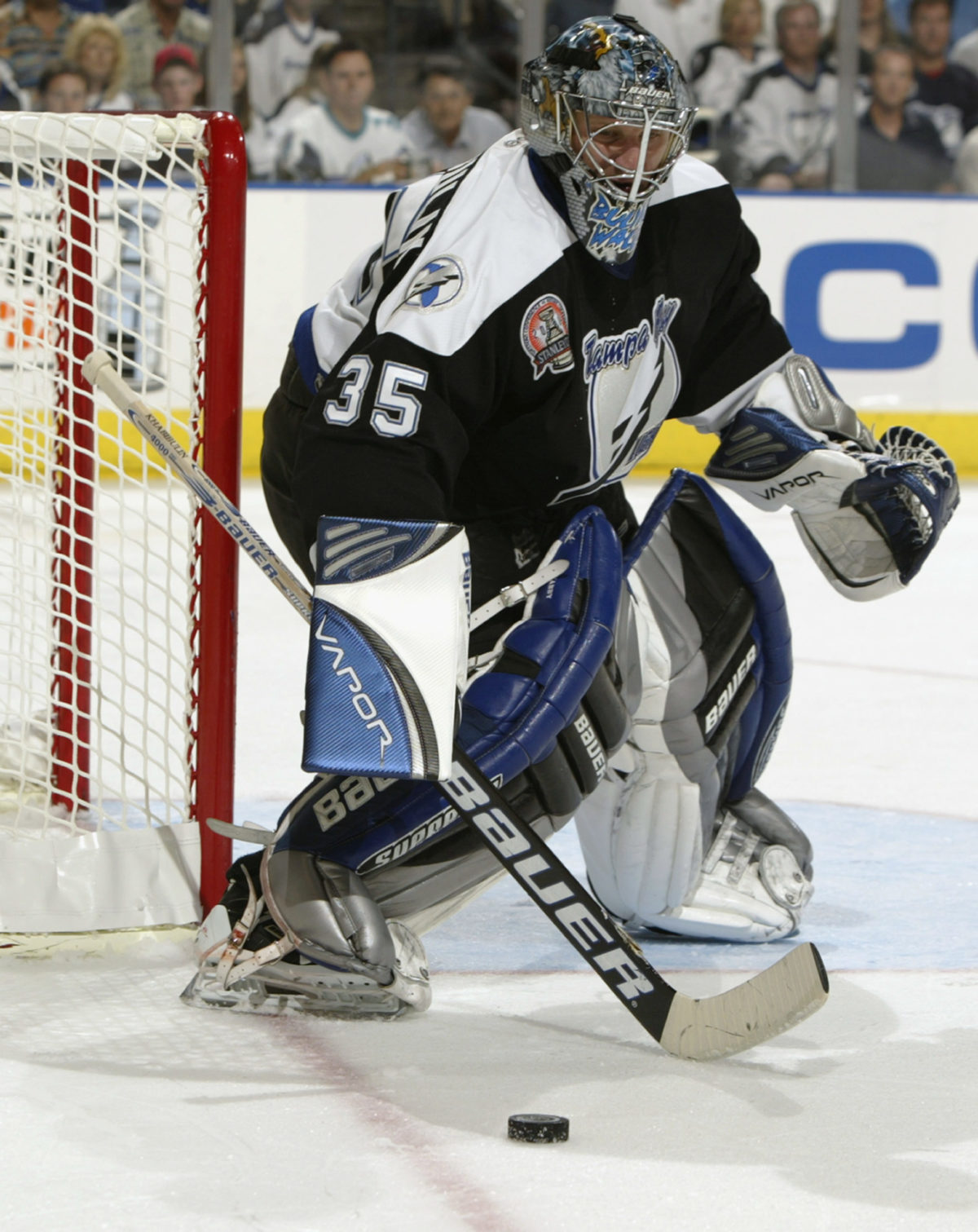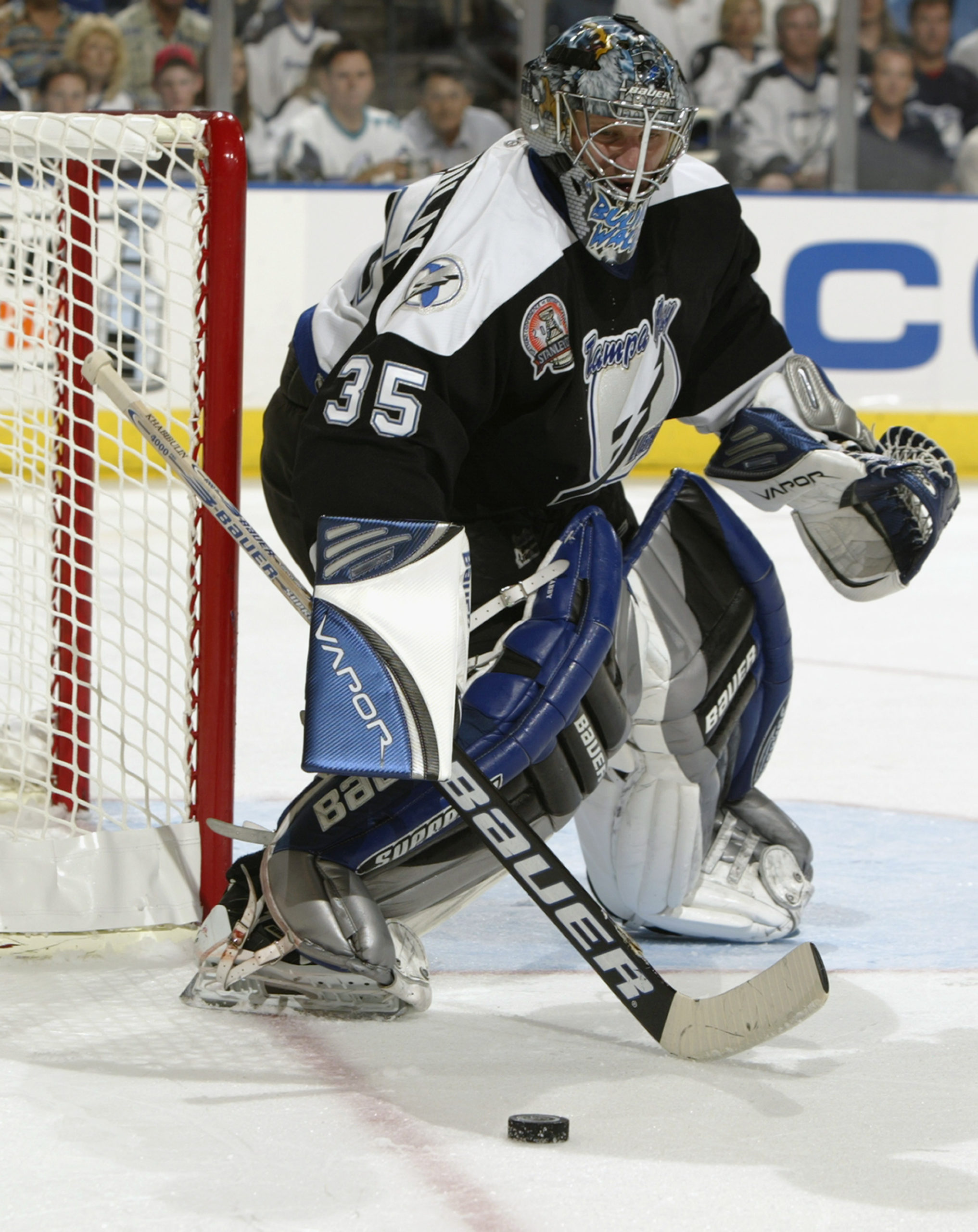 Unfortunately, Khabibulin's time in Arizona didn't last long.  For three fantastic seasons, he was the man. Khabibulin's time as a Coyote was short but very sweet.
Top players are needed to have success, but overall team performance is what matters the most. As we take a look at the Top 5 moments in Coyotes history, we focus on events that remain vivid today, no matter how long ago they occurred.   
Best Moments in Coyotes History
The Band Is Here
Showing up is half the battle. In 1996, NHL hockey in Arizona became a reality. The Phoenix Coyotes made their debut. The pups did relatively well in their first campaign, finishing with a winning record, good enough for third place in the Central Division.
Led by Tkachuk's 52 goals, Phoenix made the playoffs in their inaugural season. Despite losing to the Mighty Ducks of Anaheim in a hard-fought seven-game quarterfinal series, the Coyotes and their fans were winners. Hockey had come to Arizona.
Pacific Champs
It took almost a decade and a half, but in 2012, the Coyotes advanced to the Western Conference Finals for the first time. Phoenix captured the Pacific Division title, earning a lusty 97 points. They eliminated the Chicago Blackhawks in six games in round one before erasing the Nashville Predators in five games.
The upstart Coyotes finally met their match in the next round, losing to the Los Angeles Kings in five games.  The 2011-12 division championship remains the only division crown in Coyotes history. 
Doan's Milestone
'The Greatest Coyote' solidified that nickname when he scored his 400th goal in 2016. Doan achieved the feat at Gila River Arena with 44 ticks to go in the second period against the Toronto Maple Leafs. The tally came in Doan's 1,500th career game.
Doan was 40 at the time of the goal. The milestone reminded the hockey world just how good Doan had been for so long.
JR's New Look
While Curt Schilling may have dibs on the bloody sock, Roenick is synonymous with unique headgear. After taking a hard hit and suffering a fractured jaw, Roenick returned to play about two weeks later with his jaw wired shut, wearing special headgear.
Roenick's toughness in the 1999 playoffs would make Willis Reed and Kirk Gibson proud. The story of Roenick's resilience is one of the most talked about hockey tales in history.    
No Soup For You
For a time in the 2003-04 season, Brian Boucher was the greatest goalie on earth. (from 'Sweet 16: A look back at Brian Boucher's record-setting shutout streak in 2003-04,' The Athletic, 10/31/2019) Originally a backup, Boucher was thrust into action, and he seemed to stop everything fired his way.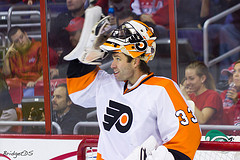 For five straight games, Boucher blanked the Coyotes' opponents, posting five consecutive shutouts. The goaltender went 332 minutes, 1 second without allowing a goal. Boucher's heroics provided a bright spot in an otherwise dismal season.  
It's been a quarter-century of hockey in Arizona. The Coyotes have yet to reach their ultimate goal of a Stanley Cup championship, but the team has provided fans with countless memories. As a new season begins, the Coyotes will look back at years gone by, remembering men like Doan, Tkachuk, and Roenick fondly. But, now is also a time to look forward to the next 25 years.
Finally, climbing that hockey mountain and winning it all won't be easy. There is a lot of work to do. But with a seasoned pro like Rick Tocchet behind the bench, a new GM, and an ownership team committed to winning, perhaps these next 25 years in Arizona will be something to truly howl about.  
---
---
Kevin is an accomplished writer, broadcaster, and radio/TV host. He serves as the play-by-play and/or public address announcer for several college and professional teams. He is also a professional wrestling and boxing ring announcer. Kevin has interviewed several U.S. Presidents, multiple hall of fame athletes, and countless others. Kevin is also a three-sport varsity high school coach and a specialist for youth sports camps. Both of his children play hockey. Kevin loves dogs and Pepsi. He is a strong advocate for the return of the Quebec Nordiques to the NHL. Kevin is a fan of the Chicago Blackhawks and all things hockey. He covers the Arizona Coyotes for The Hockey Writers.