After a long wait and much uncertainty, hockey is back. The season has been modified; teams will only play 56 games this year. The stands will be far from full. Fans will see the same team more than usual and possibly more than they would like. But who cares, hockey is back!
The Nashville Predators kick off their campaign on Jan. 14 against the Columbus Blue Jackets, which will be a rivalry renewal of sorts.
It was not that long ago when the Predators were a trendy pick to make noise or even be a team predicted to hoist the Stanley Cup. They were certainly ascending, and many fans and experts thought that winning a championship was imminent. However, as we know, the Predators have slipped from that trajectory. Not many — if anyone — are picking them as a serious contender. Heck, NHL.com didn't even have the Predators ranked inside their top 16!
Defenseman Ryan Ellis spoke at the start of training camp this year and expressed that they have a point to prove to themselves as well as everyone else that they're "a team that can compete." The veteran blueliner went on to say that it starts with their work ethic, which he admitted has slipped in recent seasons, according to The Athletic's Adam Vingan.
The Predators have seemingly been forgotten. They have undoubtedly slipped from a fashionable Stanley Cup pick to that same old Predators team that you have confidence in when it comes to making to playoffs, but little when the postseason starts.
If the Predators want to shock the world or at least surprise the quote-unquote, experts, then here's what we must see from certain individuals.
Ryan Johansen Must Show He's a True Number One Center
It's been a little over four years since the Predators swapped Seth Jones for Johansen. There was a lot of debate regarding who won the trade immediately after the deal was done. Jones has become one of the league's best defensemen and an All-Star, whereas Johansen, while not a complete let down, definitely leaves you wanting more.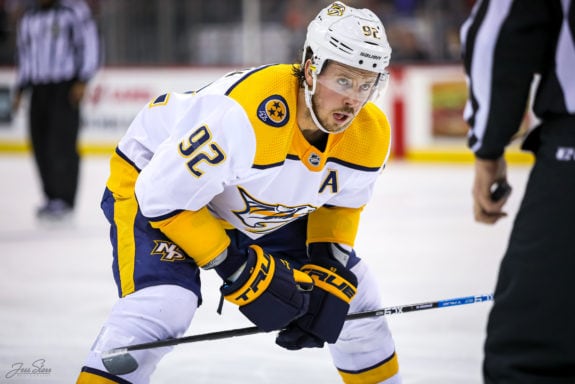 The 28-year-old is often situated between Viktor Arvidsson and Filip Forsberg on the first line. It has definitely been one of the Predators' best lines, if not the best, for the past several seasons. However, if you compare Johansen's individual stats to other centers around the league, it's quite eye-opening when considering he's playing with an average annual value (AAV) worth $8 million. Since the start of the 2016-17 season — Johansen's first full campaign in Nashville — the native of Vancouver ranks 37th in points among centers and 62nd among all forwards.
Before bringing the former fourth-overall pick to the Music City, Johansen seemed destined to be a superstar. In just his third season in the NHL he cracked the 30-goal mark and registered 63 points. The season after — 2014-15 — the Canadian tallied 71 points in 82 games. Since coming to Nashville, Johansen has never scored more than 15 goals and, despite being more experienced, he's been unable to surpass the 70-point mark.
Related: Predators Potential Breakout Candidates for 2020-21 Season
The frustrating part is knowing that Johansen is capable of more. The Predators were extremely weak at the center position before the arrival of the former Blue Jacket. It's the reason general manager (GM) David Poile was willing to part with a defenseman who displayed Hall of Famer tendencies early on in his career.
When Johansen suffered a season-ending injury during the 2017 Western Conference Final, it exposed the Predators' lack of depth at the center position. It forced the Predators' GM to rethink how he structured his team. Poile acquired what he thought would be a second quality center in Kyle Turris. Obviously, it never worked out with Turris; his play was far from quality and was subsequently bought out of his contract. Skip to the present and Matt Duchene should be the second center that Turris was supposed to be.
As the 2017 Playoffs showed, depth down the middle of the ice is extremely important. If the Predators want to compete with the elite teams this season, Johansen must show he's a true, number one center. He was brought to Nashville to play that role and he's paid that way, too.
Juuse Saros Needs to Be The Unquestionable Starter
The time has seemingly arrived for Pekka Rinne.
He's still on the Predators' roster and is still good enough to contribute to this team. But the 38-year-old goalie may not be the same player he used to be. Rinne appears to have accepted that the transition is underway. He publicly supports Saros, almost acting as his personal cheerleader. Anyone who has spent time around Rinne or has followed his career is not at all shocked by the way he has carried himself during what should be his final years. He's always been a "team first" type of person and a player every team would want in their locker room.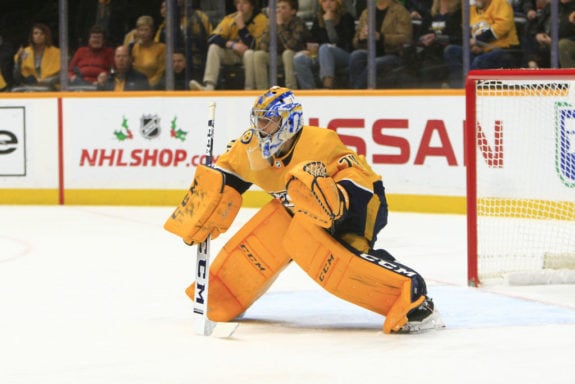 But just because Saros has possibly the greatest mentor a young goalie could ask for, it doesn't guarantee full-time success. The young Finn has shown he's up for the task, but he's also never started more than 34 games in a season at the NHL level. The 5-foot-10 goalie's stats have been trending in a negative direction in recent years. Now, take this with a pinch of salt as he's seen more work year-after-year. But it's still something to take note of seen as Saros' save percentage has fallen each NHL season since 2017-18.
The Predators offense is inconsistent at best. Their foundation is built on defense and goaltending — it's very much their identity. The team will more than likely have their fair share of games where their offense fails to show up. It will be pivotal that Saros can bail them out when it happens, just as Rinne did for more than 10 seasons.
However, the script could also be flipped. As NFL quarterback Tom Brady has shown the world, age is just a number. There's nothing to say that Rinne cannot continue to play at an extremely high level for years to come. But with that comes the adage: if you have two goalies, you have none. Saros is the direction the team is heading, and it has been accepted. If Saros is the "guy," he must be unquestionably the starter, no matter how well Rinne is playing.
Filip Forsberg Needs to Show He Can Be an Elite Scorer
Forsberg is a great player. He mesmerizes fans and opposing players with his puck-handling ability. But that wizardry that we see from the Swedish sniper can often make us forget that Forsberg has yet to show us he's an elite scorer.
Some nights he displays skills of a sure 40-goal scorer, but the truth is he has yet to surpass 33 goals in his professional career. Not only have his stats been on the wrong side of expectations, his consistency has also been a problem.
Take Forsberg's best statistical season, the 2015-16 campaign. The forward recorded 11 goals and 16 assists through the first 41 games. However, through the final 41 games he tallied 23 goals and 15 assists. The quick math shows his scoring surge — he doubled his goal production in the same amount of games. The Predators do not have the scoring depth to which they can afford to wait until the second half of the season before Forsberg starts playing closer to his true self. The same can be said if he starts fast and finishes on an extreme cold streak.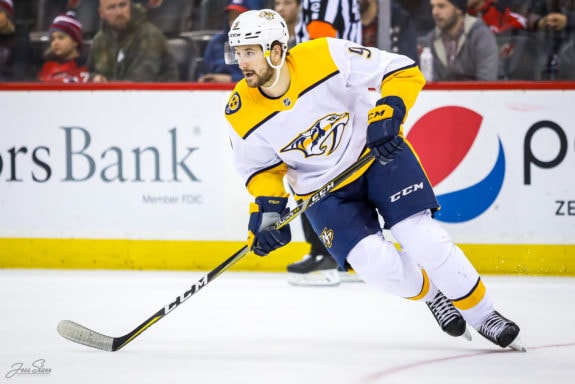 This isn't the only occurrence of a lopsided season for the 26-year-old. The first 41 games of 2016-17 he registered nine goals; the final 41 contests saw him score 22.
Last season, Forsberg went a span of 16 games where he failed to record a single goal. He experienced a dry spell extending five games or more three separate occasions, despite scoring nine goals in his first 12 games that year. The lacrosse goals are fun, but don't confuse the highlight-reel moves for an elite scorer.
Over the past three seasons, Forsberg ranks 51st in goals and 71st in points. His feast-or-famine type scoring has certainly hurt his stats as well as broken fans' hearts at times. He finished 74th in goals last season, which is far from elite, it's barely average.
Forsberg can be elite — we see it every now and again — we just don't see it consistently. If the Predators want to return to leading the pack, he needs to become a lot more reliable. The franchise is yet to see a 40-goal scorer. Forsberg should be that player for them. He has the skills and plenty of opportunities. If he can find a way to limit the slumps, he inevitably experiences each season, he could more than shatter the team's single-season goal record of 34, set by linemate Arvidsson in 2018-19.  
Related: Predators' Latest Signings Could Be a Stroke of Genius
Caesars Sportsbook by William Hill set the Predators' odds to win the Stanley Cup at +2500. It could be argued those odds don't exactly match the talent of their roster. But that's the unusual, frustrating and disappointing thing about the Predators of late — their roster doesn't match their results. If Nashville wants to start living up to their potential, certain individuals need to show they can be relied upon.
Johansen, Saros and Forsberg are not alone. We need to see a lot more from others, too. Duchene needs to live up to the original hype, Mikael Granlund needs to show his game can transfer to Nashville and the Predators as a whole need to show their special teams can be effective. So, several players need statement seasons because if the Predators see more of the same from many of their leaders, this shortened season will be a long one.
---
---