We finally know the when. The NHL season will kick off on Jan. 13, and teams have been in full preparation mode since the announcement. Since we received the good news, we've also seen free agents finding homes at a fast rate.
After the initial surge of signings when the free agency period opened, there was a lull while available players and teams carefully mulled their options. But the agreement between the league and NHLPA, approved by the board of governors, has sparked a scramble for remaining free agents to find a home for 2020-21 and possibly beyond.
The Nashville Predators made some acquisitions recently. Mikael Granlund is returning after experiencing maybe the most frustrating seasons of his professional career. General manager David Poile also brought in Erik Haula, a long-time conference foe with the Minnesota Wild before he was selected by the Vegas Golden Knights in the 2017 expansion draft. He split time last season between the Carolina Hurricanes and the Florida Panthers, both stops came via trades.
Granlund and Haula sat on the list of available unrestricted free agents for what must have felt like an eternity to them. Neither signing was headline news, like Taylor Hall or Alex Pietrangelo, but Haula and Granlund have the potential to look like a stroke of genius by Predators management.
Erik Haula
The Wild's seventh-round pick in 2009 is joining the Predators on a one-year deal with an annual average value (AAV) worth $1.75 million. Haula, 29, has predominately played a depth scoring role throughout his career, and he has done so fairly well.   
If it wasn't for a dip in production in 2019-20, Haula may have been in a position to command a lot more money and term. As mentioned, the Finnish forward split time between two squads last season, playing exactly half the season with the Hurricanes (41 games) and just seven games with the Panthers. During his time in Carolina, he tallied 12 goals and added 10 assists, while his short stint in the Sunshine State saw him notch two helpers.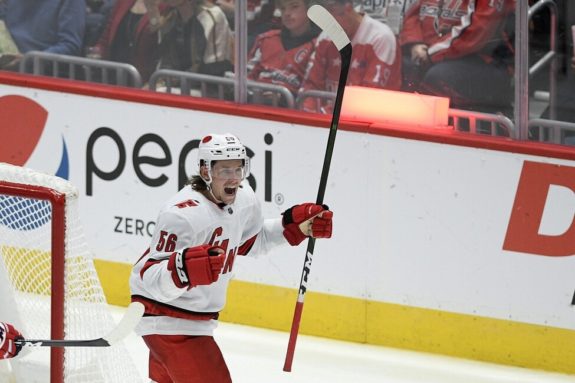 But it's his time in Vegas that should intrigue Predators fans. By now, most of the league is aware of the firepower that the Golden Knights have had since their inception. While he was a member of the team, Haula was one of their best players.
His first season in the entertainment capital was tremendous. Haula registered career-highs in both goals (29) and assists (26) in 2017-18, and his 55 points placed him fifth in team scoring. The season after started similarly, and it looked like Haula would have back-to-back impressive campaigns.
He started 2018-19 with seven points in the first 15 games, which ranked third on the team behind only Jonathan Marchessault and William Karlsson, who were and arguable still are the Golden Knights' most potent scorers. Unfortunately, a lower-body injury derailed Haula's season, and he ended the year on injured reserve.
The native of Pori, Finland, looked like he was experiencing a career breakthrough or at least a revitalization in Vegas while earning $2.75 million per season. The Golden Knights received excellent value for money.
All of this ties into why this could be a great signing for the Predators. Haula took an incredible pay cut to play in Nashville, and he offers the team a player with a high ceiling at virtually zero risks. Other than restricted free agent Luke Kunin, whose contract is still unknown, Haula is entering the season with the fourth-lowest AAV among Predators' forwards.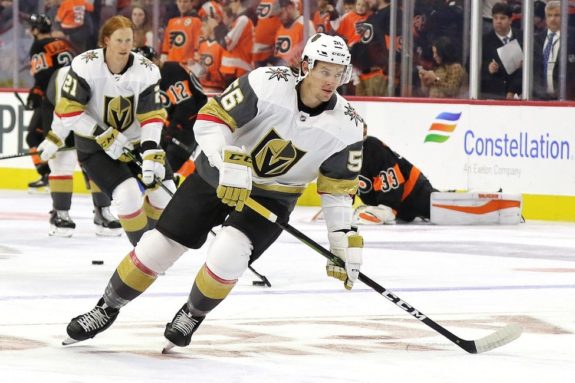 Now, there should be some managed expectations here. Haula is entering his eighth NHL season, and other than his 55-point campaign with the Golden Knights, he has never recorded more than 34 points in a season. But in the right system, we know he can flourish. With a spot on the third or fourth line, Haula will not have to constantly match up against the opposition's top players, which should give him a great opportunity for success.
On the flip side, if for some reason head coach John Hynes wants to play him on the second line, he will play with talent equivalent to, if not better than, the players on the Golden Knights during his time there. Top-six forward minutes paired with linemates as skilled as Matt Duchene, Luke Kunin or Eeli Tolvanen could be what is needed to see some semblance to his 2017-18 game.
Related: Predators' Road to Central Division Title Filled With Challenges
The shortened season means scoring numbers will be down across the league. In a 56-game schedule, Haula will not hit his career-highs or come close to them. But if he can finish with between 30-35 points, his season will be considered a success and signing him even better.
If it doesn't turn out as well, and he produces in the 20-25 point range? Well, he would have a similar dollar per point average to Pavel Buchnevich's, Brad Marchand's, Pavel Zacha's and David Pastrnak's totals last season, according to CapFriendly. Not bad for a player the Predators picked up weeks before the season gets underway.
Mikael Granlund
Unless you were in the room for the conversations between the Predators and Granlund's management, you were shocked to learn that he is returning to the Music City after all this time. Granlund had an AAV worth $5.75 million after he signed a three-year, $17.25 million deal with the Wild in 2017. It's tough to argue that the 28-year-old didn't earn every penny after he scored 116 points in 140 games for the Wild.
All that changed after he was traded to the Predators at the 2019 trade deadline. In 79 games in Nashville, he had 35 points and his points-per-game average was nearly half what it was in his final two seasons in Minnesota, dropping from 0.83 to 0.44. Granlund just couldn't seem to find his groove with the Predators. He certainly didn't produce at the level that Poile had envisioned when he traded their former first-rounder, Kevin Fiala for him.
Granlund himself is a former first-round pick, selected ninth overall. He's used to the top-six forward role and producing. In 2016-17, he set an NHL career-high with 69 points, the season after he posted 67 points in 77 games and in 2018-19, he was on his way to recording similar numbers before the aforementioned trade.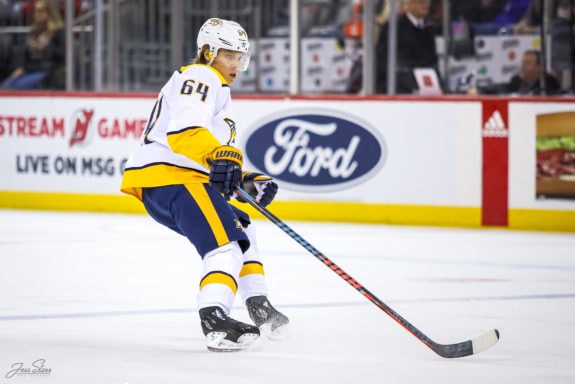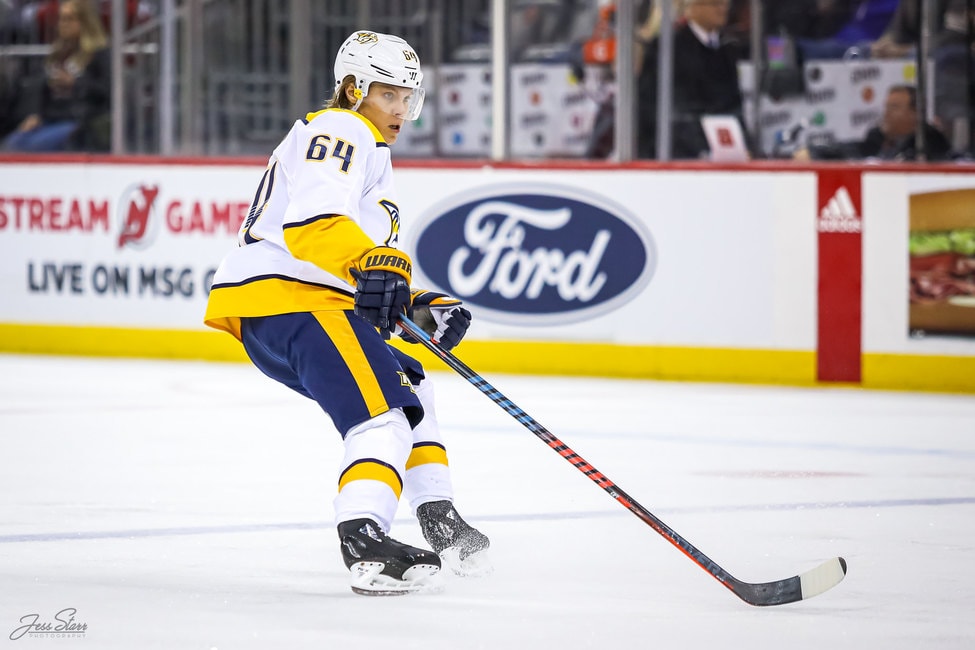 So, needless to say, it wouldn't be crazy to think that Granlund only associated disappointment with his time in Nashville, and it would be reasonable to expect he wanted a fresh start somewhere new. Instead, news broke on Dec. 22 that he would be returning to the Predators on a one-year, $3.75 million deal, $2 million less than what he was earning before.
Now, you may be rolling your eyes, armed with the argument that you can't make the same claim that these are good signings because both were signed cheaper than expected. Although the lower price is something that both share in common, and are huge pluses for both acquisitions, it isn't the main reason why the Granlund signing is brilliant.
Like Haula, Granlund has an incredibly high ceiling and the ability to exceed expectations. It doesn't hurt to have a player of his caliber on the roster and Hynes may be just the coach to reignite Granlund.
Remember those highly disappointing stats from earlier? They tell an interesting story when you dig deeper. Let's focus solely on Granlund's numbers from last season, as he only suited up for 16 Predators' games the year before. The native of Oulu, Finland played in 63 games during the shortened 2019-20 campaign, finishing with 17 goals and 13 assists.
Through his first 35 games, Granlund managed just six goals and eight assists, the team's 13th highest point total. Those games were under former head coach, Peter Laviolette. However, once the transition to Hynes was made, Granlund's game transformed. Through the 28 games under Hynes' control, the player who many had given up on had 11 goals and 16 points, the team's third-most during that span. That's right, he nearly doubled his season goal total in seven fewer games. Oh, and his 11 goals? Well, that total was good for the team lead during that time.
And who can forget this late game heroic effort from the veteran forward?
This is who Granlund is. This is the player who Poile felt comfortable giving up their former first-round pick for. Granted, Fiala wasn't otherworldly in Nashville, but he was still a reliable scorer and a player you'd hate to lose for nothing or little in return. Granlund has the opportunity to show that the trade was worth it. This is his second chance to prove that the deadline move can still be a win-win for both teams.
Look, the right system can transform an average player into an All-Star or an All-Star to league MVP. Hynes' system may be what it takes for Granlund to play at the level many envisioned in February 2019. His AAV for this season is $3.75 million. Don't be surprised if he plays closer to a standard that would warrant $5 million in a normal season.
Related: Predators Can Take Advantage of Their Cap Space
The Predators have a lot of quality pieces. Their core is untouched and they have filled out the roster with great depth players. Long gone may be the days when Poile handed out long-term contracts, like with Calle Jarnkrok, Colton Sissons, Ryan Johansen and Duchene.
Unless you're dealing with a player like Roman Josi, short term deals make more sense. That's what we see with the Predators' latest signings. Both are one-year contracts that can be seen as season-long tryouts. But, more importantly, they both beam with a "no harm, no foul" ethos.
If these signings don't pan out, it's not a disaster. Neither player broke the bank, and the Predators aren't tied to them after this upcoming season. But if one or both have a standout season, then Poile will look like a genius.  
---
---
I graduated from Mount Royal University with a degree in Journalism with the hopes to pursue a career in sports media. I have been following hockey for many years at various different levels. Whether playing, watching or writing about it, hockey has played a massive role in my life. I was the sports editor at The Calgary Journal as well as a sports columnist for The Calgary Reflector. Follow on Twitter: @A_Grant27