The 2022-23 NHL season has passed the midway point, and as teams gear up for the 2023 NHL All-Star Weekend, others prepare for an impending trade deadline. With the coveted first overall pick up for grabs, it's currently a five-team race to lay claim to prized prospect Connor Bedard. Out of those five clubs, sits the Arizona Coyotes, who currently are on a nine-game losing skid, after a 2-1 loss to the Winnipeg Jets last Sunday night (Jan. 15).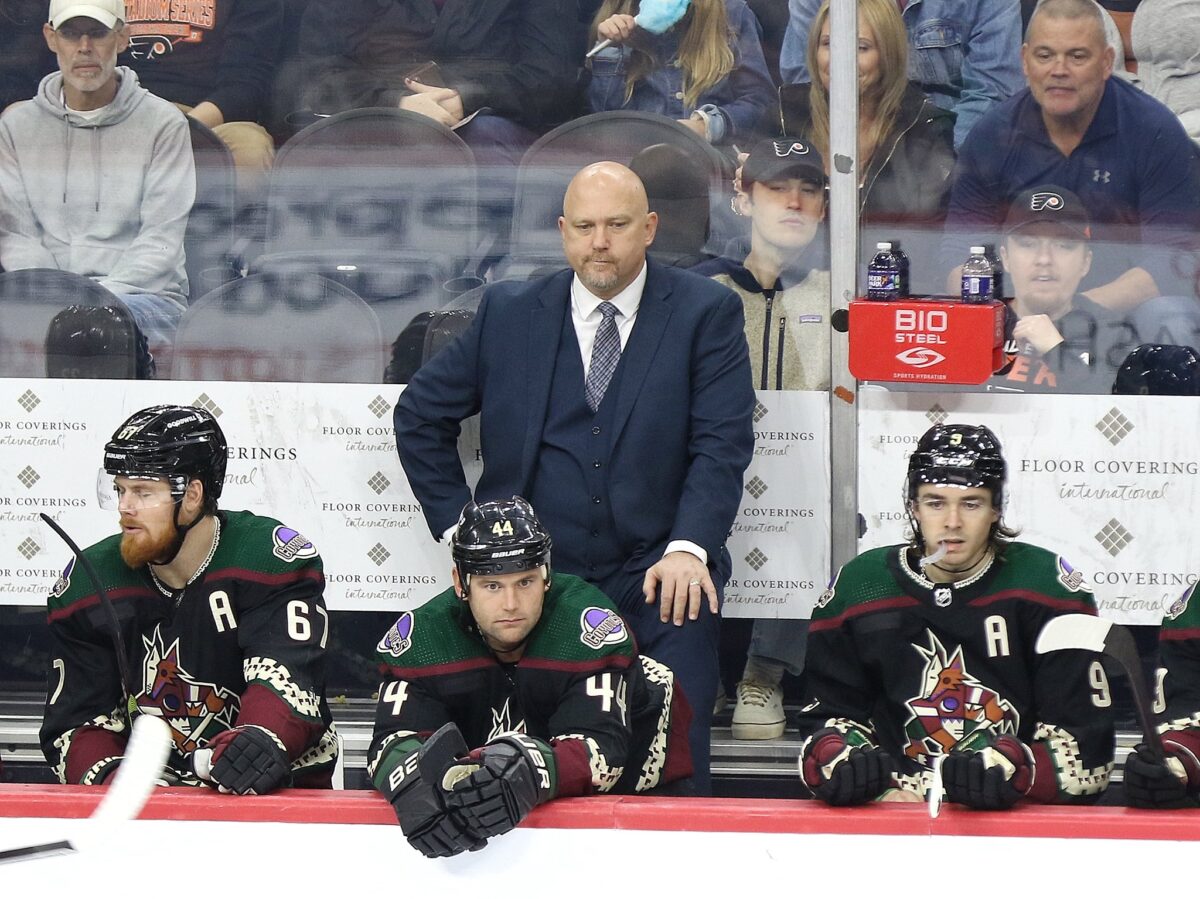 After a brief stretch of competent and competitive hockey from the desert dogs to round out the last month of 2022, including some impressive wins over teams like the Boston Bruins and Colorado Avalanche, the Coyotes have failed to register a point, let alone a win, in the new year. With an upcoming schedule consisting of the Detroit Red Wings, Columbus Blue Jackets, Washington Capitals, Dallas Stars, Vegas Golden Knights, Anaheim Ducks (twice), and St. Louis Blues to round out the month of January, they appear to be heading for the cellar.
---
---
What Has Gone Wrong?
At one point the Coyotes looked to be no pushover, posting a 7-3-2 record at Mullett Arena and they backed it up with a 6-7-1 record in the month of December, leading many to wonder if they were going to find a way to weasel themselves out of the conversation for the first overall pick. It wouldn't be the first time they "screwed" themselves over in the franchise's history, either. Goaltender Karel Vejmelka seemed to be unstoppable most nights and rookie Matias Maccelli was in the running for a Calder Trophy nomination. Forwards Clayton Keller, Nick Schmaltz, and Lawson Crouse, along with defensemen Shayne Gostisbehere and Jakob Chychrun were also playing their best hockey to date.
Then almost out of nowhere, reality came back down to earth and the Coyotes hit a brick wall. The spark that once engulfed the team during the latter half of November and for most of December now seems nonexistent. Goaltenders Connor Ingram and Vejmelka, have a combined 0-9-0 record through the last two weeks, forward Maccelli suffered a long-term injury late last month, rookie Dylan Guenther went off to the World Juniors, and the once-hot list of Coyotes' who couldn't seem to be stopped have all of a sudden gone invisible on the ice.
Related: Coyotes Proving Arena Size Doesn't Matter
---
Latest News & Highlights
---
Many have been left to wonder what went wrong so quickly for this team. The reason can be attributed to two things, a lack of offense, and carelessness with the puck. The Coyotes have turned it over 69 times during their current losing streak, and have failed to score more than two goals in seven of their last nine losses. They've also been outscored 30-13 in the month of January and outshot 262-212 during that span.
Losing, But Winning?
While frustrations build inside the locker room during the team's winless streak, it seems that the Coyotes are actually winning, of sorts. The team has catapulted itself from a top-15 pick to a potential top-five pick in the 2023 NHL Draft during the first couple of weeks of January. While not a victory in the eyes of most, it is very much a win for a rebuilding Coyotes team that's looking to add to their future pipeline that already consists of Guenther, Josh Doan, Logan Cooley, Conor Geekie, and Maveric Lamoureux. With names such as Bedard, Adam Fantilli, Leo Carlsson, Zach Benson, and Matvei Michkov rounding out the current top five in early 2023 Draft rankings, the Coyotes can count this season as a win if they can secure a top three or five pick.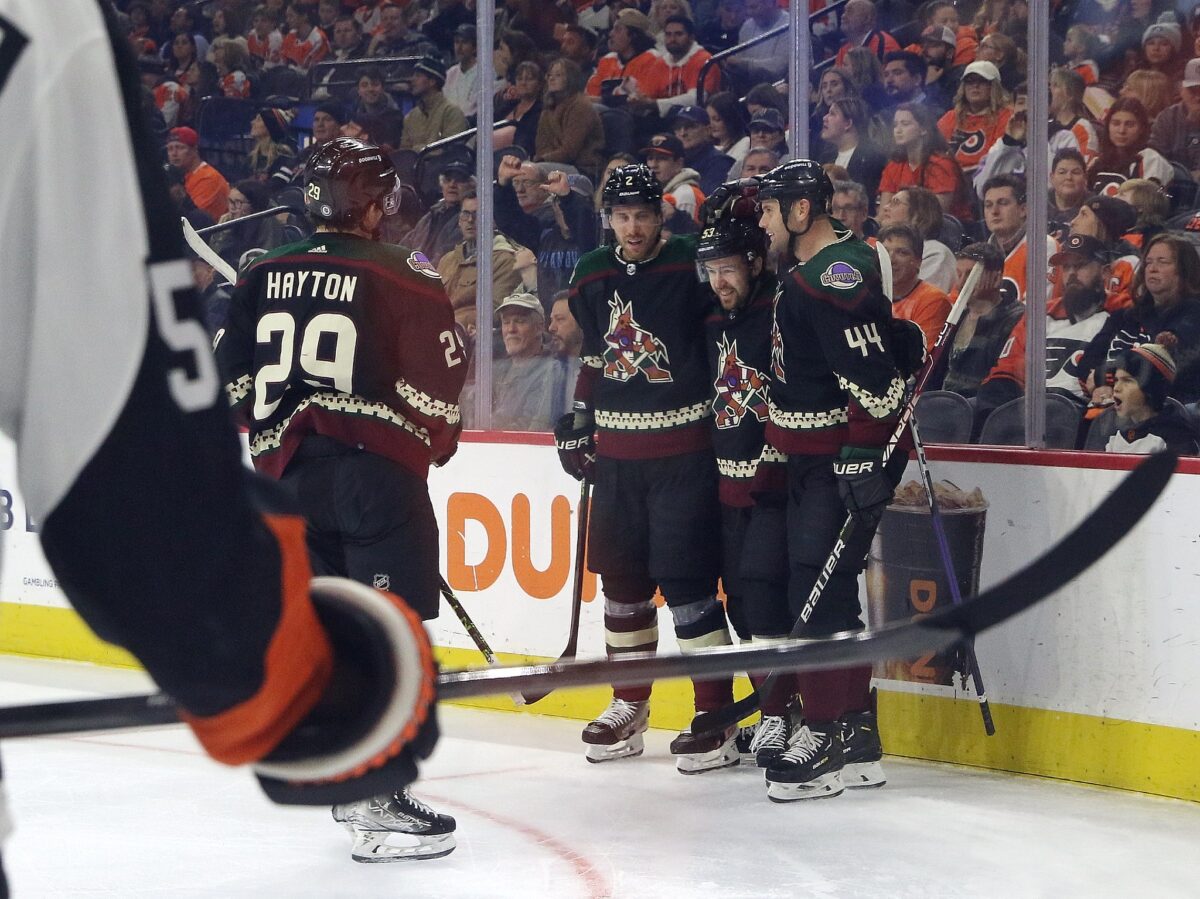 This season is considered by many to be the last year of "tanking" for the Coyotes during their current rebuild, as the team will have a much younger roster going into next season. While probably not a playoff contender for at least another two or three more seasons, 2023-24 will be a much-needed sigh of relief for fans, as the Coyotes begin to compete in the Central Division. With their new arena and entertainment district proposal on the ballot for May, the future of the organization is trending in a positive direction.
The Coyotes will look a bit different come the trade deadline, but the overall plan remains the same, finish with a top-five pick, and build for the future.
Mr. Evans is originally from Greenville, SC where he currently resides. Mr. Evans has been involved in hockey for the past 18 years now, following the Arizona Coyotes and St. Louis Blues. During his free time, Mr. Evans enjoys spending time with his family and girlfriend as well as being up in the mountains or taking pictures. Prior to joining The Hockey Writers, Mr. Evans previously worked for The Puck Authority, covering the South Carolina Stingrays of the ECHL and FanSided's Bleedin' Blue, covering the St. Louis Blues. You can find Mr. Evans on Twitter at @HaynesPEvans.