The rebuild in the desert has gone on for a while, but with all of the draft picks and good prospects they've acquired, there's an end in sight. The Arizona Coyotes aren't yet ready to come out of their rebuild as they have accumulated 22 draft picks over the next three drafts. With the players they currently have in their organization and the development time, they're still looking at four or so years left before competing. That being said, no team will return with the exact same roster as they did the previous season, so let's take a look at three Coyotes who won't be back in 2023-24.
Karel Vejmelka
The Coyotes found a diamond in the rough when they threw Karel Vejmelka into the fire. He has handled the starting job in Arizona amazingly as he has single-handedly won games for the team and allowed them to stay in almost every game. That being said, that's not exactly what management wants right now as they are in the middle of a rebuild and need high draft picks. The 2023 Draft is especially important as there appear to be can't-miss future stars at the top of it. With all the winning the Coyotes have done, in part thanks to Vejmelka's play in net, their chances of getting the first overall pick continue to drop.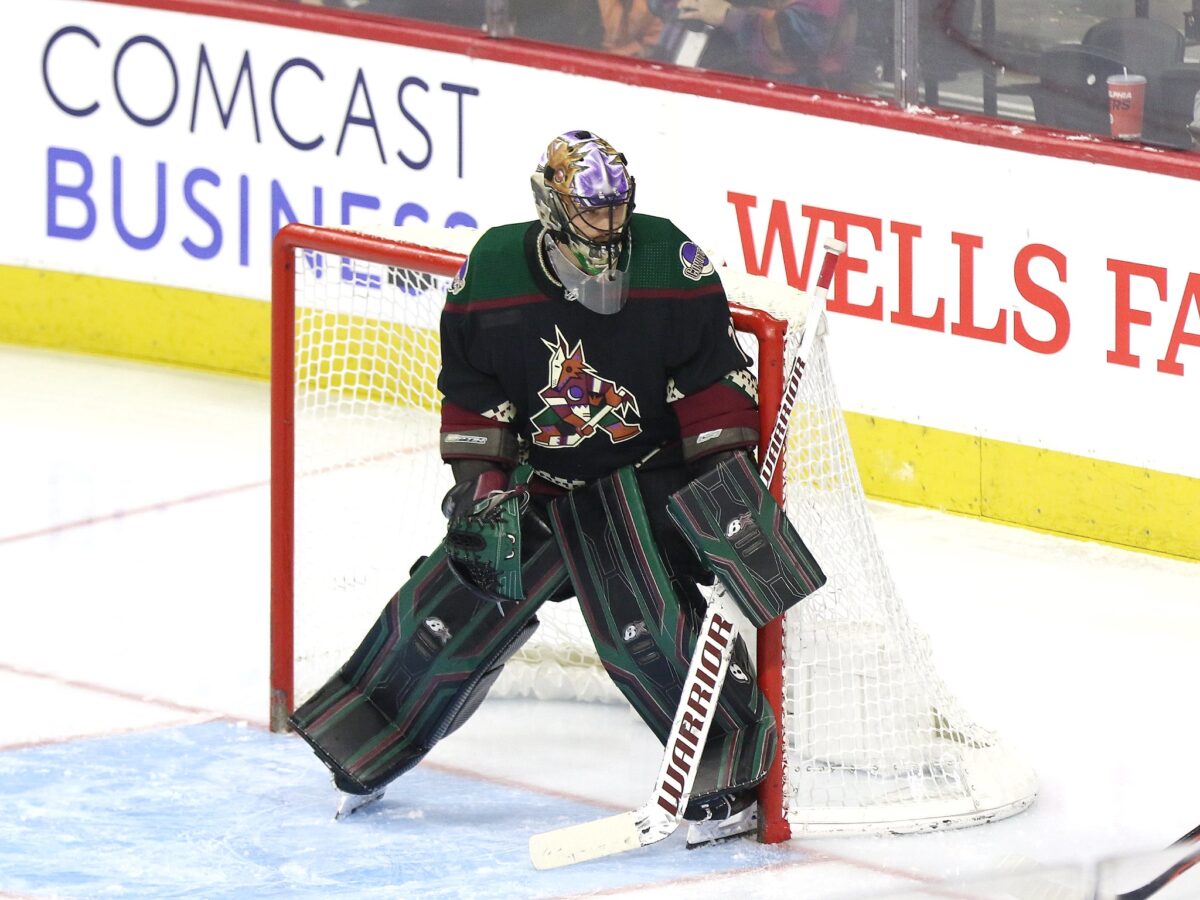 The Coyotes were taking calls on their starter before the trade deadline. On a contender, Vejmelka could contend for the starting job or be a great 1A or 1B netminder. His contract is very good and affordable as he still has two more years left at a $2.725 million average annual value (AAV) cap hit. Many, if not all teams, could fit that under their cap. There wasn't very much movement in net at this past deadline, but the offseason could see more goaltenders change teams. With a couple of young goaltenders behind Vejmelka and the rebuild not expected to be over in the next two years, the best course of action would be to trade him for a first-rounder and more if they aren't going to wait for a whole extra year to try and sign him long-term.
Brett Ritchie
Brett Ritchie is a fourth liner and fringe NHLer at best. He is a nine-year veteran of the NHL, but hasn't been able to stick with one team in the latter half of his career. He has also only reached the 10-point mark twice, both coming in his first four seasons in the NHL. He's either one of those players who signs late in free agency or mid-season at this point in his career.
---
Latest News & Highlights
---
The Calgary Flames didn't have use or room for him, especially since he doesn't bring the speed and scoring ability that they so desperately need this season. Though he scored six goals and recorded eight points in 34 games for the Flames, he played less than 10 minutes per game. He appears to just be a placeholder that the Coyotes needed to take back in the trade with the Flames at the deadline in order for it to work. Ritchie is slotted in on the fourth line, and has a goal in his two games, but isn't worth keeping around. There's a slight chance he could return, but the Coyotes are likely looking for some more effective veterans they can sell at the trade deadline next season and to fill the rest of their lineup with young players or prospects trying to gain traction in the NHL.
Nick Schmaltz
As the Coyotes may trade Vejmelka since he won't fit their timeline and is on a good contract, so too can they trade Nick Schmaltz for the same reason. The skilled forward is in his prime and once again playing at nearly a point-per-game pace on the Coyotes which is impressive with the talent surrounding him. He has been an underrated player his entire career, but is a very underrated scorer that has emerged as a highly-skilled player over the past couple of seasons.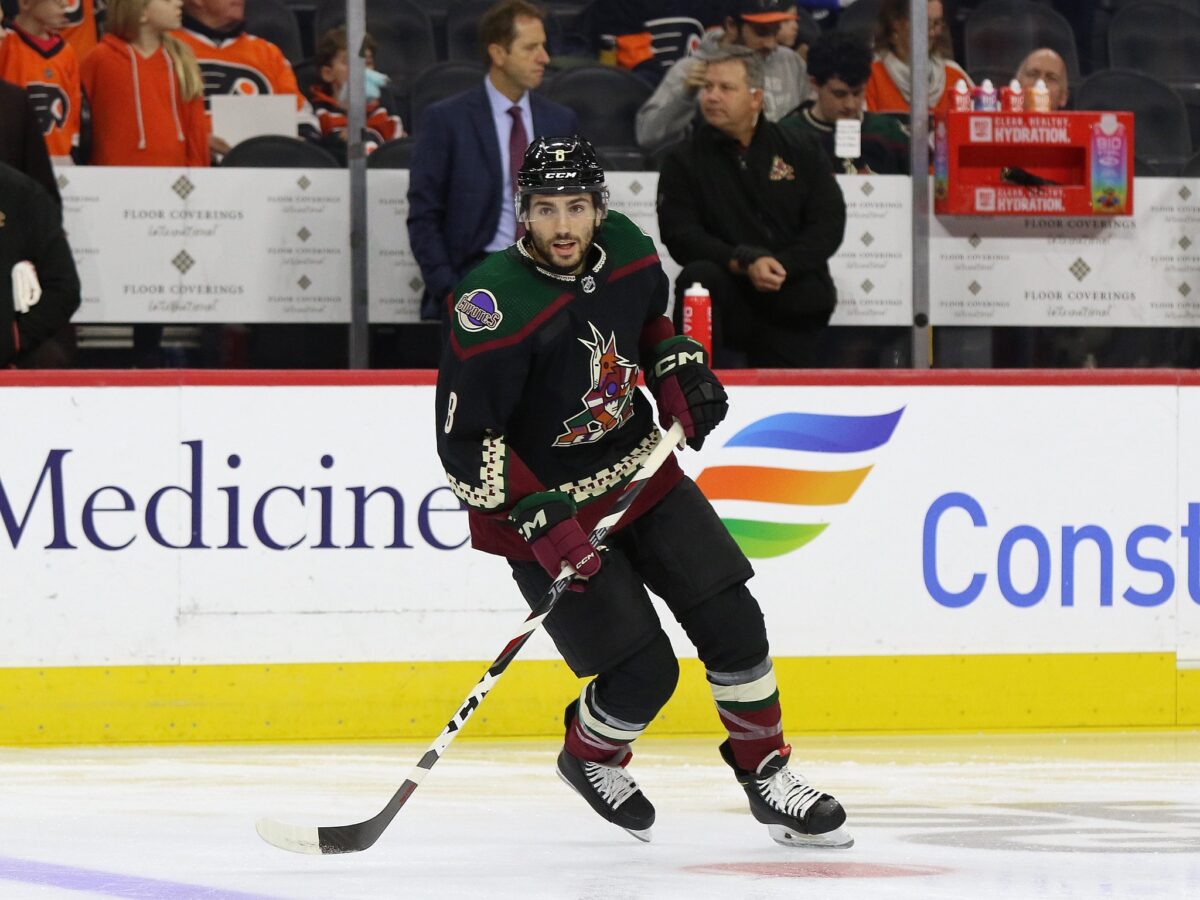 The 27-year-old is in the middle of his seven-year deal that sees him earn $5.850 million AAV for three more years. In the summer, his contract turns into a 10-team no-trade clause. It is also back-loaded which isn't the most ideal thing for potential trade partners. But seeing as the Coyotes are going to be on the hook for some big salary if they do keep him around, that's more incentive for a low-value team to move him off the books during their rebuild.
You may also like:
Schmaltz is undoubtedly a top-six talent and can play center or wing. There was some trade interest in him at the deadline, but nothing came of it. The offseason could be an easier time to move him and get some good assets in return before the 2023 NHL Entry Draft. He is in his prime right now and on a good contract. The Coyotes need to take advantage of this and teams will continue to show interest in the offseason with the number of points he produces.
The Coyotes are in a place where they are trying to draft as much talent as they can and only keep around the younger players they are sure can help them eventually come out of their rebuild. Sometimes contracts don't line up and other times players just aren't needed. Though the trade deadline saw a number of players already leave, the offseason could feature even more.
---
---