As the Stars aligned at Cedar Park last week for the start of training camp there were many new themes. First, they welcomed back the old bench boss (same as the new boss), Ken Hitchcock. Next, they introduced a few shiny new Stars in Ben Bishop, Alexander Radulov, Marc Methot and Martin Hanzal (not skating due to a minor ankle injury). Lastly, they entered camp already exceeding the 2017-18 NHL salary cap limit of $75 million by $196,355.
On the surface, the Stars' cap situation is no reason for panic, as the Stars have until opening night to be under the cap limit. According to their projected salary cap, the Stars currently have 24 players with NHL contracts. They need to get down to 23 by opening night. Therefore, once the Stars decide to trim a forward or defenseman, they will be under the cap limit.
However, when you start to peel the onion back, barring a trade, it becomes clear the Stars cap flexibility is, in a word, nill (pun intended).
The Stars 2017-18 NHL Roster
Forwards (14): Jamie Benn, Tyler Seguin, Alexander Radulov, Jason Spezza, Martin Hanzal, Radek Faksa, Antoine Roussel, Brett Ritchie, Tyler Pitlick, Devin Shore (two-way contract), Curtis McKenzie, Brian Flynn (two-way contract), Mattias Janmark and Adam Cracknell.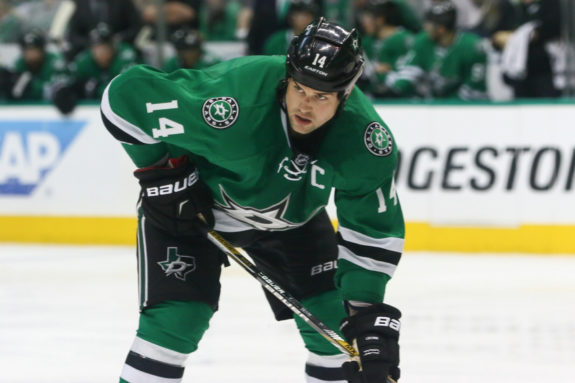 Shore and Flynn are on two-way contracts, so they are exempt from waivers. Ironically both are former University of Maine standouts. Shore has top-six potential and should have little trouble sticking with the big club. Flynn is a newcomer who spent the past four seasons in bottom six roles with the Buffalo Sabres and Montreal Canadiens.
Because of his waiver exempt status, it seems Flynn will need an impressive camp to avoid the minors. Or perhaps the Stars would risk exposing McKenzie or Cracknell. Placing Janmark on injured reserve would also allow the Stars to exceed the cap, but according to early reports, Janmark is looking good in camp.
Defense (8): John Klingberg, Marc Methot, Dan Hamhuis, Esa Lindell, Jamie Oleksiak, Stephen Johns, Patrik Nemeth and Greg Pateryn.
The Stars will definitely be reducing the above list to seven. The question is will they cut it to six. All eight are on one-way contracts and make it nine when you include 2014 first-round pick Julius Honka (two-way contract) who has nothing left to prove in the American Hockey League.
When time is on your side, use it. The competition at training camp will decide who ranks eighth and ninth from the above list. One or both of those players will be exposed waivers or perhaps traded.
Goaltending (2): Ben Bishop and Kari Lehtonen.
The Stars are hoping this tandem works out better than Lehtonen and Antti Niemi. The Stars have high expectations of Bishop. He has had success in the NHL with Tampa Bay and is excited to return to Texas, where he played as an amateur. There isn't another goaltender in the Stars system who could push Lehtonen out of a job.
Dallas Stars Defense and Young Forward Prospects
Let's assume the Stars demote or cut ties with two of Oleksiak, Nemeth, Johns or Pateryn. The addition of Honka will still leave the team with less than a million dollars of cap space.
The trickle-down effect means a rookie forward or two who has a good training camp like 2015 first round pick Denis Gurianov, Jason Dickinson or Roope Hintz will have a hard time making the cut with contracts all north of $800,000. If one or more makes the team we are back to potentially demoting Flynn or exposing McKenzie or Cracknell.
🚨💥 Roope Hintz finds the back of the net for Team Green, elevating them to 5-2 advantage. #TxStars

— Texas Stars (@TexasStars) September 17, 2017
This might give an edge to forward prospects like Remi Elie, Justin Dowling and Gemel Smith who are all slightly less expensive with salaries under $750,000. All three players had small samples of success for the big club last season.
Creating Cap Space
Even though the Stars will be able to get under the cap, the limited cap flexibility will impact their ability to potentially add a player of need via trade.
We touched briefly on using an injured reserve scenario. That could still happen if a player gets injured or dinged up enough to put on IR. If the Stars were to place someone on IR, the player must miss ten games spanning 24 days.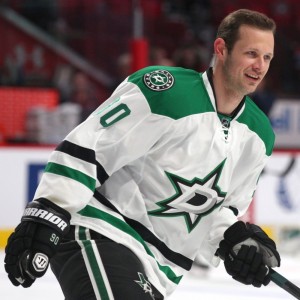 Teams can demote older players (35+) to the minors to receive $100,000 of cap relief. However, that option won't apply to the Stars whose oldest player is Spezza at 34 years old.
A trade is also unlikely because the contracts that would make sense to move (e.g., Spezza, Hamhuis, and Lehtonen) all have limited or modified no-trade clauses. In my opinion, the only tradeable veteran commodity is Antoine Roussel. He's an important energy player and fan favorite but he also doesn't have a no-movement clause and is entering the last year of his contract with a $2-million cap hit. If Curtis McKenzie has an impressive camp, this could be something to keep an eye on.