Sometimes you need to take one step backwards before you can take two steps forwards.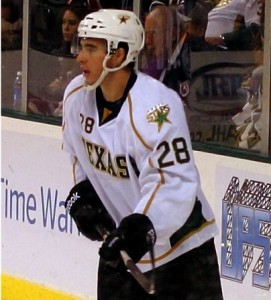 Thus is the essence of rebuilding an NHL hockey team. The jettisoning of veteran players to make room for young up-and-comers is never  an easy transition to make, but  it's becoming more and more evident that this is the surest path to success in the post-lockout, salary cap league. The Pittsburgh Penguins and Chicago Blackhawks have Stanley Cups to prove it, and the Edmonton Oilers are looking like they'll soon bear similar fruits of their labour as they follow the same path.
For the last few years the Dallas Stars have been, and still are, following similar blueprints to those teams. The pre-lockout Stars, a team that threw money at big name free agents with varying levels of success, is long gone, and now the focus is decidedly on preparing for the future through the development of youth.
While the end results of Dallas' recently-enacted rebuild are still far too early to anticipate, what the team is trying to achieve is undoubtedly interesting. Whereas the Pens, Hawks and Oilers were all benefactors of high draft picks (Edmonton with a staggering three first overall selections in a row), the Stars are trying to make due without the same access to enviable resources. Scott Glennie (8th overall, 2009) is the only top ten pick that the Stars have had in the last 16 years.
But if you can't build around quality then quantity is the next best thing. When Dallas started laying down the foundation for the future a couple years ago the team did so by adding as many prospects as possible to their pool, through both acquiring extra draft picks via trade and by signing late-blooming undrafted junior players. That same pool is now, according to Hockey's Future, among the league's deepest.
The roster that the Dallas Stars are icing in 2013 is the first serious trial run of that new philosophy, and in a big way. The Stars, according to the NHL's rookie requirements, have dressed six rookies so far this season: Reilly Smith, Antoine Roussel, Colton Sceviour, Brenden Dillon, Jordie Benn and Jamie Oleksiak. Between them they've only played a total of 45 games at the NHL level.
What's more, that's not taking into account Cody Eakin, who is only 21 but has played a total of 41 games (making him technically not a rookie), as well as Ryan Garbutt and Cristopher Nilstorp, who are both too old to be considered rookies (27 and 28 respectively) but have only played a combined 31 games. Philip Larsen, Tomas Vincour and Richard Bachman, three others that have dressed for the Stars this year, have all yet to play a full season at the NHL level.
Suffice to say, the Stars are a very young team, and dressing so many inexperienced players at once is a risky venture. The team's current 5-5-1 record is respectably modest, but it doesn't truly showcase the abundance of inexperienced mistakes and other growing pains that have occurred so far.
Still, growing pains are a sign of, well, growth, and that's something that doesn't always come easily. Without elite prospects coming up through the system, players like Sidney Crosby or Alexander Ovechkin that are capable of stepping into a lineup as rookies and immediately make an impact, the slow-and-steady method is the next best strategy for development: get the young guys in the lineup, give them limited roles, and then increase their minutes when they've proven themselves ready, all under the guidance of proven veterans. And by having so many players in the same battles it allows the team the flexibility to let players take on bigger roles only after they've earned it, or for some players to get their chances when others have faltered.
While the path from prospect to reliable pro will come slowly for Dallas' deep-yet-humble reserve of youngsters, it is already showing a lot of promise: Dillon looks right at home playing 20 minutes in a night on the blueline, Smith is generating scoring chances in bunches even if the statistical numbers haven't followed yet, and Roussel's pesky pestilence is making Stars fans go "Steve Ott who?"
It's unlikely that any of Dallas' rookies are likely to contend for the Calder at any point this season, but the Stars are trying to get the most out of who they have. It will be a long and frequently arduous process, but it's becoming increasingly clear that Dallas' development of reliable future NHLers on the right track.