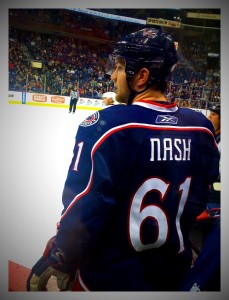 As we have been reporting on THW ( See The Young and The Restless and Jacket's Woes Lead to Media Friction) patience is wearing thin and nerves are getting frayed as the Columbus Blue Jackets remain mired in a death spiral of a slump, now reaching 5-11-5 over the past 21 games after a numbing 5 – 2 loss at the hands of the Phoenix Coyotes last night, in the second game of a four game road trip.  In the wake of that defeat, it appears that further action is in the works.
In the Puck-Rakers blog maintained by The Columbus Dispatch, Aaron Portzline reports that General Manager Scott Howson, Head Coach Ken Hitchcock and the full coaching staff held a "lengthy" meeting this morning at their hotel in Dallas, where the club awaits their next game against the stars on Wednesday night.   This meeting, held in a portion of the hotel lobby, was followed by another session with veterans Rick Nash, R. J. Umberger, Kristian Huselius, Raffi Torres, Mike Commodore, Jan Hejda, Antoine Vermette, Jason Chimera, Fedor Tyutin, Samuel Pahlsson, held in an adjoining conference room.  There have been no reports of how long that second meeting lasted, the subject matter of either meeting or the identity of those instigating the sessions.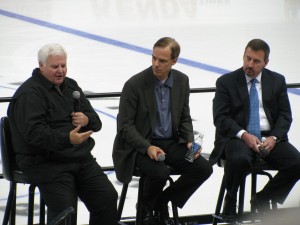 While the prospect of more talking may seem pointless to an increasingly restless fan base, this is a very positive sign, for a couple of reasons.  First, it shows that Howson is getting directly involved here, as I have advocated, and is apparently trying to find the elusive common ground.  The selection of players included in the second meeting is also noteworthy, representing the "middle core" of the squad — basically those players older than 24, excluding Fredrik Modin, the senior member of the team.  However, Modin has been on IR for most of the season, including virtually all of the present slide, so really can't be viewed as having a part in the psychic change that has overwhelmed the team since mid-November.   It is likely a tacit acknowledgment that Modin is unlikely to be a member of the squad going forward, as he is an unrestricted free agent after this campaign.
Another interesting aspect of today's events is the analysis provided by Portzline.  Here is an excerpt from his piece:
Even when a team is going well, he's banging on them to do better, to play better, to be more competitive. When a team is not going well, he bangs a little lighter, maybe, but it can still be an overwhelming environment, especially for a young team.

At some point, the players need to know that Hitchcock thinks they're good players and likes them as people. At some point, the vibe needs to be projected that hockey is a game. This sounds like 1970s psychology, I'm sure, but I believe it's reached this point.

Hitchcock needs to relax his grip on the reigns a bit, and the players need to start guiding the horses. But one is not going to loosen his grip until the other pushes forward to take charge. That it has gone on this long is, to say the least, disconcerting.
While Portzline remains steadfast in his belief that the players have not "tuned out" Hitchcock and his message, he is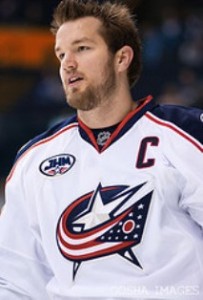 acknowledging that the atmosphere of tension and expectation needs to change, and that the coach has a significant role in making that happen.  Thus, he is slowly starting to see the signs we have noted in our prior articles, and acknowledge that this slump is far more than a case of individual bad play — it is a symptom of an underlying issue that needs to be addressed, one way or the other.
With all three legs of the triangle — GM, Coaches and Players–now actively engaged in what are hopefully really frank discussions, we are hopeful that the fear and tightness that has characterized the play on the ice will begin to disappear.  Portzline correctly notes, as we have previously, that both coach and players need to change to make this work.  Sure,  the Jackets have had more than their share of bad bounces over the last stretch, but sometimes you make your own luck.   There is no question that all of those involved both crave and demand success.  However, today they might just be a step closer to agreeing how to get there.  If they all can approach this with fresh attitudes, the talent and work ethic are there to get it done.
The events of the next several days should prove illuminating.  Stay tuned!


Fan of hockey at all levels, with focus on the Blue Jackets, Miami RedHawks and the business side of the game. I try to bring a rational, even-handed analysis to my writing, wtih just a touch of snark. I use my legal background to bring some more insight on the business side. Love family, travel, hockey, golf and curling.