Coming into this season two things the Islanders stressed were stay healthy, and get off to a fast start. Besides Nino Niederreiter's groin injury the team has been relatively healthy, and they won three of their first four games. Now to the part that everyone hoped wouldn't re-appear, a long losing streak that would bring back memories of losing 20 of 21 games around this time last year. Currently the Islanders are in the midst of a five game losing streak, during which they've scored only seven goals and see times where they can't seem to get a shot on goal for an extended lengths at a time. A tough upcoming schedule can quickly turn this five game slide to a free fall if they don't snap out of it soon.
Winning three of the first four masked the fact that besides first line – John Tavares, Matt Moulson, and P.A. Parenteau- they weren't getting consistent scoring from anywhere else. Players such as Kyle Okposo (3 points), Michael Grabner (3 points) , Josh Bailey (0 points), and Blake Comeau (0 points) have all under-achieved thus far, causing people to question whether coach Jack Capuano should juggle the lines. I think he's waiting for Niederreiter to return, as he's been sent to Bridgeport to get in game shape and is expected back in no later than two weeks, before deciding where the changes need to be inserted. Capuano already tried to send a message to Comeau by making him a healthy scratch for two games, although he's played better it's not translating into scoring opportunities. The team has failed to score more than two goals in any game during this losing streak, and for a team with this much talent on offense those results are unacceptable with most of the blame falling on those four players.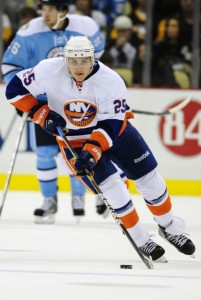 There has also been critics saying a team cannot rotate three goaltenders in and out of the lineup, it is unorthodox but so far I think it hasn't held the team back at all. Al Montoya was great early on then played poorly in Tampa Bay to start the losing streak and hasn't been seen since,  I haven't agreed with that given how well he played but it seems as though once you get sent to the back of the line you have to wait your turn. Evgeni Nabokov, still shaking off the rust from not playing for several months, has looked good aside from being prone to giving up long rebounds and mishandling the puck. It's still unclear whether the Islanders are showcasing him for a trade, if they are I'd give him at least another month to get up to speed and allow the team to receive maximum value for him. All-in-all each goalie has performed above average, though it would be ideal if one could standout and make Jack Capuano's life easier.
Personally I can't see this year's team following the same fate as last year's, they have more play-makers and goal-scores than in previous years now it's just time for them to perform. When Niederreiter returns I'd like to see him on the first line with Tavares and Moulson, but wouldn't mind giving a much-needed boost to the second or third lines either. When he does return I think it might be time for the Islanders to try and shop Comeau or Bailey in order to add another spark to the team that has been very sluggish at times. It almost seems that those two and the team have gone as far as they can go and they will never develop into the players the Islanders had once hoped.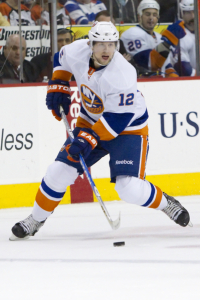 Usually games this early in the season aren't must-win, but Thursday's game against the Winnipeg Jets is as close as it gets. With games against Washington, Boston, Colorado, Vancouver, and the Rangers following it would vital to come away with two points v.s. the lowly Jets.