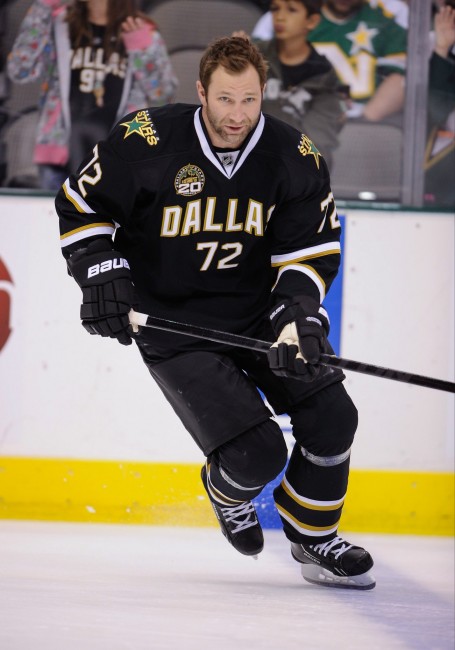 The good news for the Dallas Stars right now? Their top line, led by the 1-2 punch of Jamie Benn and Tyler Seguin and backed up by rookie Valeri Nichushkin, is red-hot right now. Benn has goals in four straight games, with nine points in his last five games. Seguin, after recently falling into a 12-game goal-scoring slump, snapped that slump with a vengeance, scoring three goals and eight points in his last four games.
The bad news for the Stars? Those two are the only ones doing much scoring lately.
Dallas dropped a gut-wrenching 3-2 overtime loss to the New Jersey Devils on Thursday night, a defeat that was made all the more frustrating considering Dallas trailed 2-0 early, but stormed back thanks to a second period goal by Benn and a tying goal by Seguin with less than a minute remaining in the third. Patrik Elias ruined Dallas' comeback with a powerplay goal only 40 seconds into OT.
The loss to the Devils had a lot in common with Dallas' previous game, a 4-3 victory by the Colorado Avalanche. Colorado had a 2-0 lead early, but Dallas fought back thanks to two goals by Seguin and one goal by Benn, before Avalanche forward Alex Tanguay scored the game-winning goal early in the third period.
Can you see where this is going?
With the Stars currently six points behind the Vancouver Canucks for the last wildcard spot in the Western Conference, there is practically no room for error if Dallas is going to sneak into the postseason as the 7th or 8th seed. It's going to be a frantic race to the finish, and the Stars are going to need all hands on deck if they want to pass the teams ahead of them.
Unfortunately for the team, goals have been hard to come by for the Stars lately outside of their top line. As dynamic as Benn and Seguin have been, the duo can't go it alone, and they haven't been given much support lately.
Rookie right wing Alex Chiasson, who burst into the NHL with a remarkable nine goals in his first 10 career games combined between the end of last season and the start of this one, has gone goalless in six straight, and only has one goal in his last 26 games. Ray Whitney, although always known more for his passing than his scoring, has gone four games without a goal. Erik Cole, who is third in the team in total goals with 14, also hasn't scored in four games. Recently-signed Ryan Garbutt? Six games on the schnide. Sparkplug Antoine Roussel hasn't scored in 18 straight games. Even 1st line right wing Nichushkin, who had a nice two-goal outing in a 7-1 romp over the Toronto Maple Leafs on January 23rd, hasn't scored in the other nine games out of his most recent 10.
Despite being a team strength in recent memory, the Stars' depth scoring has pulled a 180 and become a worrisome trend that has surfaced lately. If a couple more goals went in during the games against the Avalanche and the Devils then the Stars could have been three points higher in the standings. It's a problem that Dallas will need to find a consistent answer for soon if they hope to keep their playoff hopes alive.