Derick Brassard came to the New York Rangers in a deadline deal back in 2012-2013, along with players like John Moore, and Derek Dorsett. At the time, Brassard seemed like a high-risk, high-reward type acquisition, and thus far he's been high-reward. The Canadian centerman had been struggling to find consistency in Colombus, notching only 18 points in 34 games that season; but when he got to New York, he exploded for 11 points in 13 regular-season games. He followed that up with an impressive postseason where he had another 12 points in 12 games.
This success set Brassard on a path to becoming one of the most important Rangers' forwards, and now he's established himself as a top-two center. The former sixth-overall pick has incredible puck skills, great speed, and he can pass with the best in the game. If the team could get the forward to be just a bit more consistent, it could change the complexion of the Rangers' offense, and make them a force in the East.
Making a Difference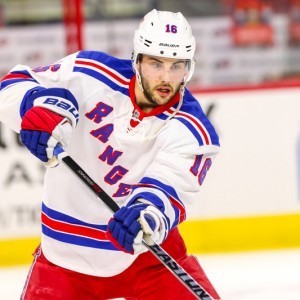 Brassard leads the club in power-play points (18), is second on the team in overall points with 50, and at this juncture, he also leads the team in shots with 150. The point is that the forward is a primary difference-maker up front. The only issue with the 28-year-old is that he can be prone to slumps, but he makes up for those slumps with big scoring outbursts. For example, in the past three games, he has four points, but in the six games before that, he had only one. If we rewind a bit further, we'll see that between January 25th and February 4th, he had a whopping eight points in three games, but those points came off a stretch of five games where the centerman had no points.
Brassard has had some of his best moments on the team with current leading scorer Mats Zuccarello, but lately, the two haven't had the same jump. Rangers' Head Coach Alain Vigneault spoke about the inconsistency of the tandem to the media, "Both those guys, they know they're an important element of our team, they put a lot of pressure on themselves to perform well and, perform consistently. It seems like when one of them is going the other guy is fighting it a little bit. I'm not quite sure why they've always been a pretty solid duo together."
For the Rangers to have any chance against the big teams in the East, they'll need their most skilled center to find that elusive consistency. The good news for Rangers fans is that Brassard is a solid playoff performer, and he usually scores important goals, like this one where he fired a laser beam past Dustin Tokarski.
Looking at the Details
Brassard is making strides towards becoming a complete player, and one area where that sticks out to me is in the face-off circle. The team has had some issues in the dot in the past, so it's encouraging to see the center try to step his game up on draws. When he first got to New York in 2013-2014 he was able to win face-offs 48% of the time; the following year that number moved up to 48.8%, and so far this years it's gone up to 51.1%. That number puts him third among Rangers centers behind Eric Staal (54.7%), and Dominic Moore (56.2%), so the club should be solid in the faceoff circle come the playoffs.
The Rangers always seem to have a streaky power-play, but if Brassard can balance out his game just a bit, we should see the special-teams unit get a jump start. The forward leads the team in power-play time per game with 2:38, and is one of the clubs go-to-guys regarding creativity. If he could find his swagger, and use his bullet of a shot more often, he could shoot life into an inconsistent power-play. This team is loaded with skill, but sometimes it just looks like no one wants to grab the reins.
My Take
Brassard is a terrific player to watch, and it's amazing to see him mature from a good prospect into a reliable center. His skill level is right there with the other top centers in the league, he just needs to find that next gear more frequently to knock down those dry spells. Brassard and Zuccarello are usually great together, but for whatever reason they seem to be on different pages right now. I think it's smart to break them up for a bit, just to shake things up but ultimately, if the team is going to beat a big team in the East, they'll need Brassard to lead the charge at center, with Zuccarello on his wing.
"Can't get enough hockey? Want to talk about it with our writers, and fellow fans? Join The Hockey Writers Group on Facebook today for the best hockey conversations on the web!"
(Photo courtesy of Amy Irvin / The Hockey Writers)