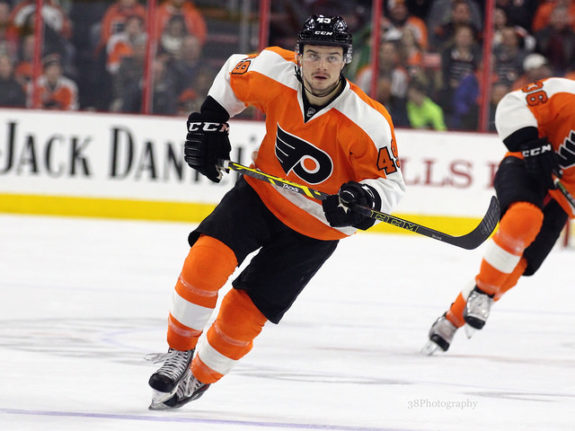 Amid one of the worst Flyers' losing streaks in recent years, there has been a silver lining to their struggles.
Called up when it appeared like injuries were going to ravage the forward group, Scott Laughton has forced his way into the lineup with his outstanding play during his limited stint with the Flyers.
The 2012 first-round pick's relentlessness on the forecheck thus far is encouragable, and the center has shown he isn't afraid of getting in the dirty areas in front of the net.
This was personified during Wayne Simmonds' game-tying goal Wednesday night against the Anaheim Ducks. With a defenseman draped all over him, Laughton found the rebound and got a shot off at Ducks netminder Frederik Andersen, leading to Simmonds putting it in the back of the net for the game-tying goal with mere seconds remaining.
Laughton's progress has slowly earned him the trust of head coach Craig Berube, who started Laughton on the fourth line in his first game this season but now has him playing significant minutes on the penalty kill.
"He's got grit in his game," Berube told Frank Seravalli of the Daily News. "He plays a hard game and he's physical. He's a very confident guy. There's no doubt he likes the challenge."
Laughton's fast rise from fourth liner to now centering Brayden Schenn and Simmonds makes sense, especially if you've been watching him play. It seems like every battle along the boards, Laughton comes out with the puck more often than not. He's not afraid to lay the hammer down on opponents, and he's made smart decisions with the puck, finding the right times to dump it in or carry the biscuit across the blue line.
Besides the Michael Raffl-Claude Giroux-Jake Voracek line's contributions, Schenn-Laughton-Simmonds could be seen as the Flyers' second most productive line since its inception, which isn't  hard to fathom given the secondary scoring drought that has crippled Philadelphia.
The numbers aren't there yet, but watching this line swarm around the offensive zone, you feel it's only a matter of time before they start putting the puck in the net. Simmonds scored twice the other night, and Laughton has picked up his first two points in his last two contests after not finding the score sheet his first seven games. As the lines familiarity grows, so should the lines production.
The "will Laughton get enough minutes to warrant his time in the NHL" debate seems like a thing of the past. The 20-year-old won't be heading back to Lehigh Valley any time soon, Laughton is here to stay.