Admittedly, I was one of the naysayers when I first watched the Detroit Red Wings prospect, Givani Smith. Smith was drafted in the 2016 NHL Entry Draft 46th overall and subsequently invited to the annual NHL Prospects Tournament in Traverse City, Michigan. Compared to the other skaters he seemed hot-tempered and sluggish. In the back of my mind, the last thing the Red Wings needed was someone to keep the penalty box bench warm. Aside from a few bouts from Justin Abdelkader in recent years, Detroit hasn't had an enforcer or fighter on the team in quite some time. Accustomed to not seeing that style of play from the Red Wings to me, Smith just didn't fit. I wrote him off.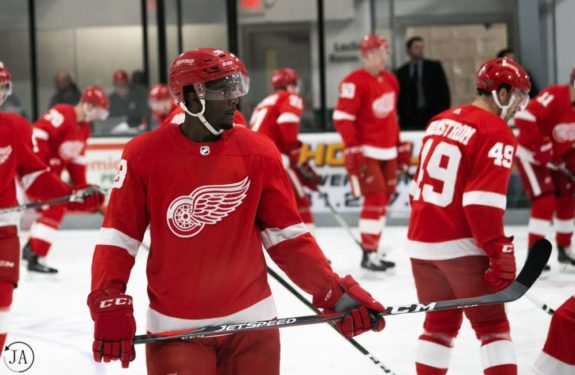 Givani Smith, now twenty, has not only defied stereotypical and cultural difficulties but has overcome his own battles to become a very promising prospect. He is proving that he belongs and disproving every preconceived notion I had of him.
Givani Smith: Racism & Middle Fingers
Givani is what is termed a "power forward." Much like the position of enforcer, its one of those made up positions that everyone in hockey seems understands. You don't try out to be a power forward – you either are big enough or you're not. Playing in such a position, the player is subjected to being likely one of the more disliked players to the opposing team's fans and players. They're supposed to be gritty and get under the skin of their opponents. For Smith, he was very good at being that type of player but wasn't quite ready for the mental toll it would take.
With the pressure of an incredibly rough 2017-18 season riding on his shoulders, and sidelined by injury for two months, Smith had dealt with the social media slurs and derogatory statements that the sleaze of society conjures up before. Being brought up with a tough mentality, Givani brushed it off – accepting it as part of the game – but never actually addressed the issue mentally. Things didn't erupt until the Kitchener Rangers, Givani's OHL team at the time, beat the Sault St. Marie Greyhounds to force a game seven during the playoffs. Responding to the chirps and slurs of the Greyhounds, Smith skated by their bench following the victory and gave them a good long look at his middle finger.
This action, reckless, careless and regretted by Smith, sparked an onslaught. Givani was given a two-game suspension for the action which resulted in him having to sit out game seven. The less-savory characters in the social media world, however, decided to take it a few steps further. So much so, that the whole situation made national headlines.
Givani Smith, a black player in the Ontario Hockey League, received threats and racist taunts from fans during the playoffs. "A lot of players of color go through this," his agent said. "It's almost par for the course. It's unfortunate." https://t.co/1XrVSMjdTE

— NYT Sports (@NYTSports) May 10, 2018
Smith's social media platforms were overrun with horrendous racial comments, hate messages and according to the official report, he had even received a death threat. Kitchener Rangers General Manager, Mike McKenzie told the Detroit Free Press, "Before we went up to the Soo there were racial things in his inbox on social media. It was pretty disgusting to see some of the stuff that he had to deal with." (from 'Detroit Red Wings Prospect Victim of Racism', The Detroit Free Press – 5/6/18)
Smith's Determined Resolve
Precautions were taken for Smith's protection following the threat. An escort and security detail were dispatched to ensure no further unwanted actions were taken. As scary, despicable, and a poor representation of the game as it was, Smith decided to let it go. At camp earlier this summer, Givani told reporters "It happens, and I'm over it now. I'm here. It's like the next chapter. I'm in camp." (from 'Red Wings Prospect Givani Smith: Racial Taunts are Part of Hockey', The Detroit News – 6/28/18)
Understanding that he's not the only black hockey player and certainly will not be the last, Smith is living out remarkable resolve to play his game in spite of those that hate for no cause. Surrounding himself by teammates that support him and a coaching staff whose concern is for his future, has helped Smith's resolve immensely. Racism is disgusting true, but Givani knows he can't let it hold him down. Determined to do the best he can, he's focusing on the future.
Honing a Mature Mind & Mature Game
Smith will be the first to tell you that those incidents in juniors are long-forgotten. They don't define him or his game. Nor should they. Through his personal battles on and off the ice, Givani has shown an admirable ability to move on and regain focus. Perhaps a little reckless in his final OHL season, Smith doesn't appear to conduct himself in the same way anymore.
A few short months following the incident, Smith was at camp and fully immersed in his profession. Givani has fully embraced the developmental model. Spending the summer wrestling with the past and learning from those around him, his conduct on the ice is now more controlled. He plays with composure but does his "power forward" job well. He is physical, gritty and an irritant to play against – as he should be. The difference now is that his emotions and mind are balanced. The same challenges exist as they did in juniors, but his ability to control his response has changed for the better as he tries to find his place within the Detroit system.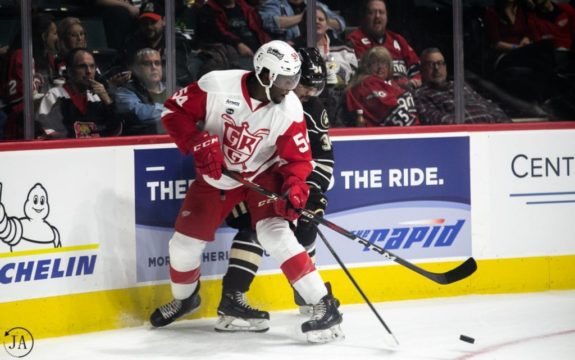 Consequently, growing his mental strength has improved his overall performance. Where I initially believed him to be sluggish, he has developed into a very fine skater. Currently working on his acceleration, Givani is spending quite a bit of time developing ways to use his 205-pound frame to power his way along the boards and create gaps for his teammates.
Givani is Proving Me Wrong & I'm Happy About That
I was happy to retract my ignorant assumptions about Smith. He stepped onto the ice this season with the Griffins, and his change was evident. Compared to the firey boy I saw in 2016 at the Prospect Tournament, he has come almost full circle and is now a strong asset. He has a fighter's spirit, which isn't a bad thing when its the right time and place. The same way Dylan McIlrath had to learn when not to drop the gloves upon his arrival in Grand Rapids, so did Smith. Under the coaching of Ben Simon, he's learned how to defend his team without hurting them which to me, shows impressive growth.
I will happily confess to being wrong in terms of his game as well. I originally thought Smith to be cumbersome. The first game he played with Grand Rapids left me feeling justly reprimanded for making that assessment. His skating is significantly advanced since I saw him in 2016. His puck handling, placement, board battles and everything in between have improved as well. I am now seeing the potential Detroit scouts saw several years ago.
Rough Start & Redemption
No doubt his struggles with his behavior and surroundings in the OHL have impacted how Smith is now. He's calm and maybe a little awkward off the ice but he's true to himself. He'll tell you that his junior career was a little untamed and immature, it's in the past and doesn't matter now. It does, however. The troubles encountered then will persist. Unfortunately, there's always someone who crosses the line. Givani's ability to handle those situations, trust his teammates and focus has been forever changed – for the better.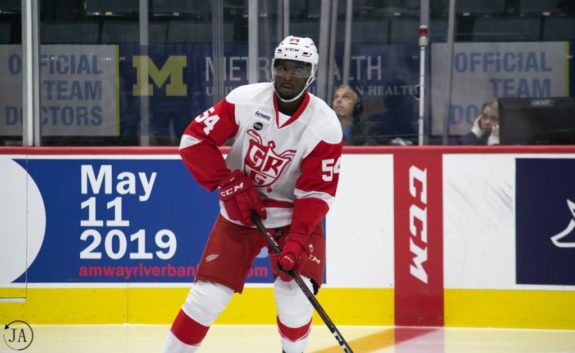 Redeeming what was a rough final season in the OHL, Smith is working hard to keep his place in Grand Rapids. Doing all that is asked of him and maintaining a good attitude is no easy task but Givani is performing it well. He hasn't earned a permanent spot in the Griffins line-up, but given his growth, I don't think it'll be long till he does. Givani is proving that he is willing to put in the work and earn a place with the Red Wings. In return, Detroit is willing to give him a chance despite his rocky past.
I am a Detroit Red Wings prospect journalist for Access Hockey MI covering the Grand Rapids Griffins and Toledo Walleye prospect development. Draft analyst for USHL hockey with the Muskegon Lumberjacks.