Part of the reason the New Jersey Devils traded Pavel Zacha a little over a year ago is because they couldn't afford to pay him $4-5 million a year on a new contract. It was also time for a change of scenery for the former sixth-overall pick, and the result was dealing Zacha to the Boston Bruins in exchange for Erik Haula. 
Things did not start great scoring-wise for Haula in New Jersey, but it wasn't all his fault. He was the victim of some of the worst shooting luck in the NHL. Eventually, that regressed to the mean, and he ended up with 14 goals and 41 points in 80 games. Fresh off a three-year extension and heading into Year 2 with the Devils, the team needs more of the same from him again.
Haula Did Everything Right Despite Poor Shooting Luck
Any Devils fan who watched the team last season will know how awful Haula's shooting luck was. Whenever he had a grade-A scoring chance, it seemed like he'd either hit iron or the opposing goalie would make the most acrobatic save you had ever seen. 

Haula totaled just eight goals across his first 73 games, but the shots were there. He totaled 144 shots on goal across that stretch but had just a 5.6 percent shooting percentage (SH%). He put 161 pucks on net for the season and was a particularly efficient shooter at five-on-five, averaging 7.92 shots on goal per 60 minutes, ranked seventh on the team. 
But it wasn't just shots on goal that Haula created. He was a highly efficient chance creator, with plenty of them being of the quality variety. He averaged 8.73 scoring chances per 60, ninth on the Devils, and 4.74 high-danger chances per 60, ranked fourth on the team.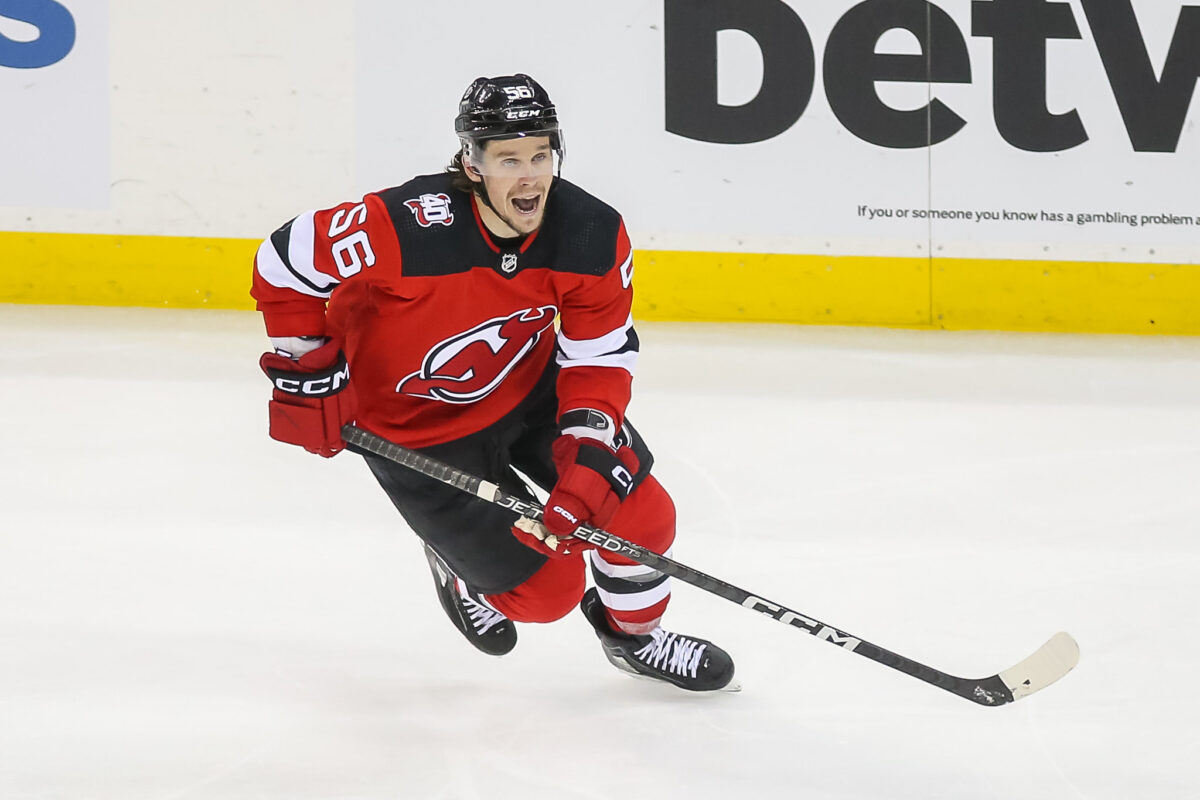 It was only a matter of time before the puck would find the back of the net, and it did during the final month of play. Haula finished with six goals across his last seven regular-season appearances. That carried over into the playoffs, where he had four goals in their first-round series against the New York Rangers. But it wasn't just counting totals and locker room presence that made him a good fit for a young Devils team. 
Haula finished the season with a 57.4 expected goals percentage (xG%) and had positive two-way impacts at five-on-five. He won 54.2 percent of his faceoffs, which led to him becoming a mainstay on the penalty kill, something the Devils will need again in 2023-24 since they lost some of their top penalty killers (Ryan Graves and Yegor Sharangovich) this offseason. 
Related: Devils' John Marino Primed for Another Big Season
---
Latest News & Highlight
---
And while Haula is not the best in transition, he still did well to create off the rush in his first season with the Devils. His weakness in transition gets negated when he's on the wing, though, especially if he's on a line with Jack Hughes and Jesper Bratt, something we could see some more of in 2023-24. 
Haula's Versatility 
Not only can Haula play in different situations, but he can also play left wing and center and saw plenty of minutes at each position last season. When on the wing, most of his time came on a line with Hughes and Bratt or Dawson Mercer. And both combos were quite impressive at five-on-five. 
Haula, Hughes and Bratt were particularly dominant, as the Devils posted a 73.3 xG% with them on the ice. That came in 182 minutes, a relatively meaningful sample size. I know there were plenty of complaints on social media (myself included) when coach Lindy Ruff paired Haula with Hughes and Bratt. But the Devils were clearly controlling play when this trio was on the ice. And if Haula hadn't gone through the worst shooting drought of his career, there likely wouldn't have been many issues. 
Haula, Hughes and Mercer weren't dominant like the previous trio, but they did fare well at five-on-five, posting a 52.13 xG%. If neither Bratt nor Mercer were on Haula and Hughes' line, it was Tomáš Tatar, with the three of them posting a 63.4 xG%. So Haula did see plenty of time on the wing.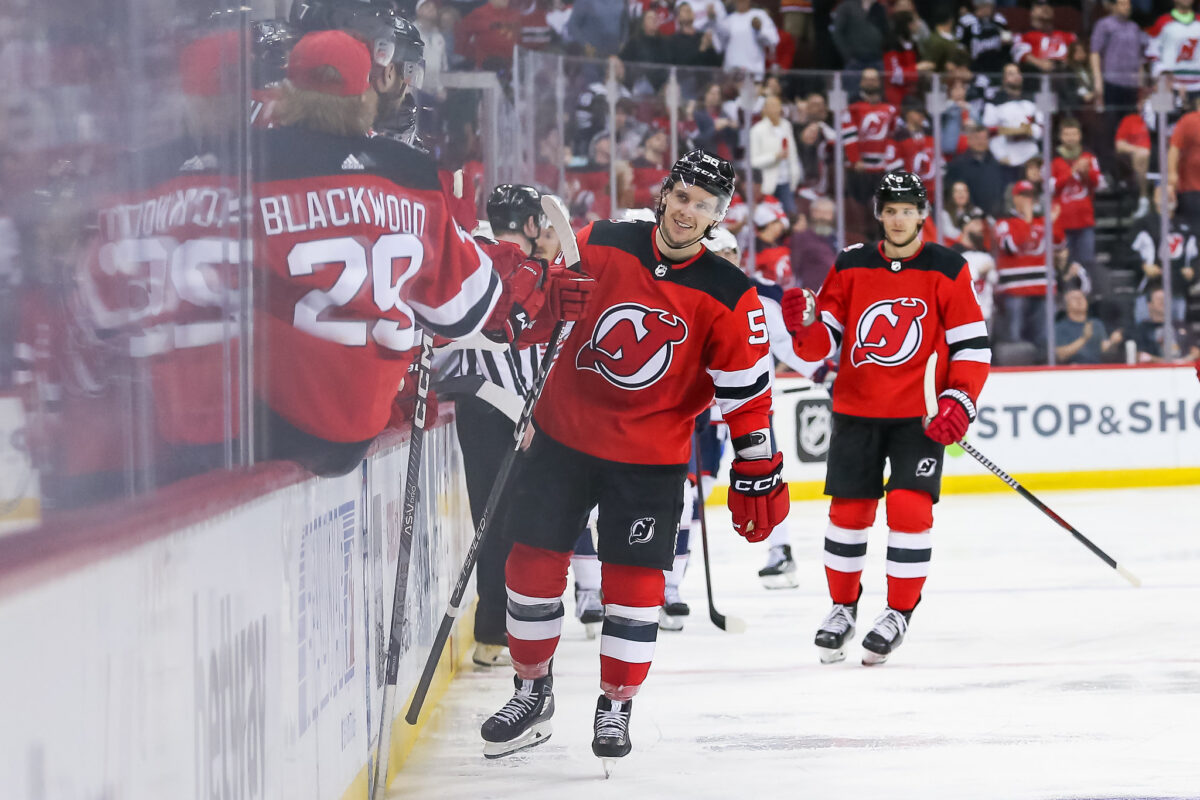 I suspect we'll see Ruff use Haula at left wing again, especially on Hughes' line. The results were overwhelmingly positive when Hughes and Haula were linemates, and it's unlikely Haula will go through the shooting slump he did to begin last season. At least his resumé suggests that should be the case. 
Haula is an 11.8 percent shooter for his career and shot well below eight percent until his final seven games of the season. If he creates shots and chances at the rate he did in 2022-23, they should find the back of the net much more often to start the new campaign. He totaled 18 goals and shot 12.8 percent in his final year with the Bruins, so it wouldn't be a surprise if he got closer to that. 
But while he will get minutes on the wing, I suspect we'll see more of Haula at center, partly because of how the Devils' roster looks now. Adding Tyler Toffoli through a trade locks up one wing position and could move Bratt to the left side. The Devils are also hoping that Alexander Holtz takes a step forward and solidifies a top-nine role in the NHL, which would take up another wing position. If so, this is what a Devils lineup could look like:
Timo Meier – Nico Hischier – Mercer
Bratt – Hughes – Toffoli
Ondrej Palát – Haula – Holtz
Nolan Foote/Tomáš Nosek – Michael McLeod – Nathan Bastian
There are fewer wing spots available for Haula with Holtz and Toffoli on the roster, at least regularly, like he saw this past season. So, while I don't think him playing on the wing will go away completely, I'd bet we'll see less of it in 2023-24 unless injuries arise. But having that versatility can only help. 
More of the Same From Haula
The Devils don't need anything different from Haula this coming season other than better shooting luck. His two-way play was solid, and he was one of the team's top penalty-killers and faceoffmen. If he provides those things while chipping in 15-20 goals and 40-45 points in a middle-six role, the Devils will be thrilled with him for a second consecutive season. 
* * *
Advanced stats from Natural Stat Trick