The best teams in the NHL have depth. Look no further to last season's Stanley Cup champions, the Colorado Avalanche, or the Boston Bruins right now, especially after their trade deadline moves. The New Jersey Devils have had decent depth for most of the season, but it's come to the forefront recently. 
Part of that is because they acquired Timo Meier from the San Jose Sharks at the trade deadline, which has pushed other forwards down the lineup. In doing so, it's moved Ondrej Palát and Erik Haula into third-line roles, and the team has reaped benefits. The third forward has rotated a bit, but when Jesper Boqvist complements Haula and Palát, the Devils have outplayed teams at five-on-five with this trio as their third line. 
Devils Had Struggled to Find the Right 3rd Line
The Devils have had a few third lines this season, not all of which included Haula at his natural position down the middle. That's because he spent a decent portion of the first half of 2022-23 as a left winger alongside Jack Hughes and Jesper Bratt. That trio excelled at five-on-five, posting a 69.2 expected goals percentage (xG%) in 173 minutes together, but the team's depth in the bottom six suffered as a result. 
---
---
During that stretch, the most common third line that head coach Lindy Ruff used was Boqvist, Dawson Mercer and Yegor Sharangovich. They spent 103 minutes together and posted a 62.7 xG%, but the scoring wasn't there. They only totaled two goals on 4.7 expected goals, so they were well underperforming expectations. That's likely why they couldn't stick as a third line. 
At times, Michael McLeod was centering the third shift, sometimes with Boqvist and Mercer as his wingers or Miles Wood and Mercer. The latter of those two combos was a disaster, as Wood, McLeod and Mercer totaled a 31.7 xG% in 47 minutes together. Those three players don't complement each other, especially Mercer, who's better suited for a top-six role.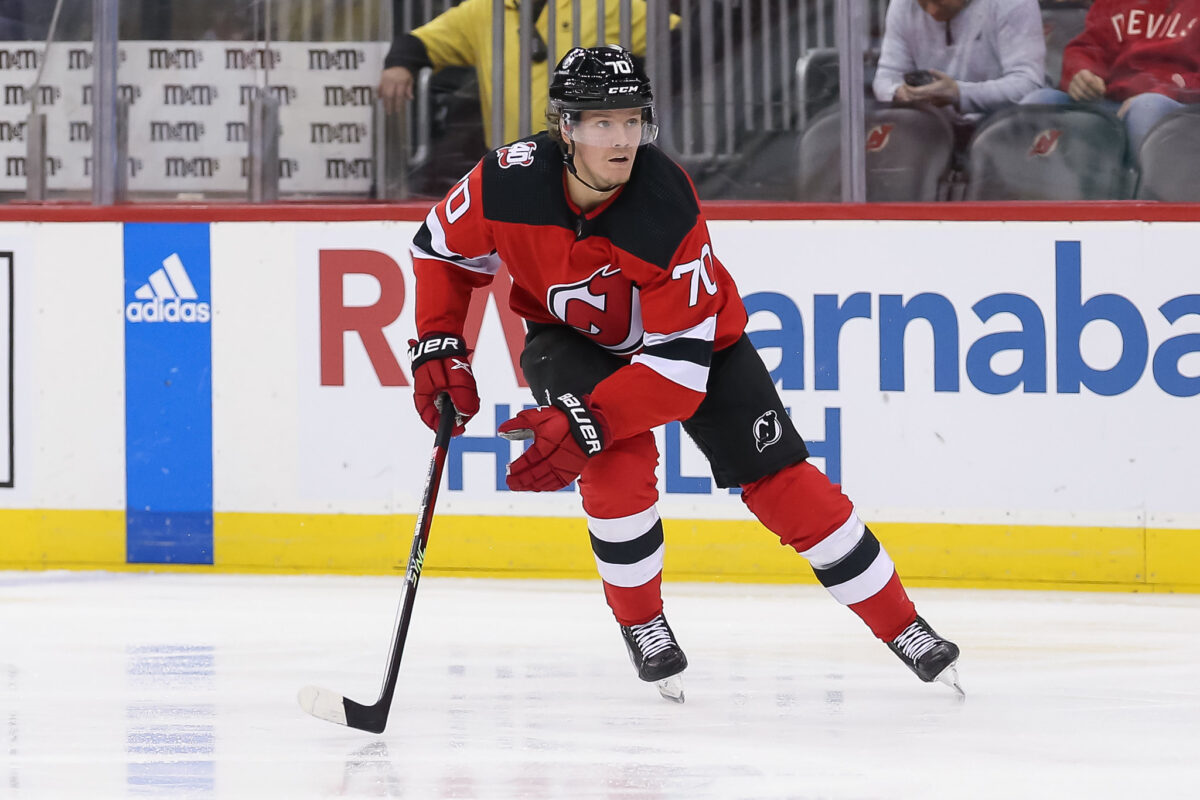 McLeod is a capable bottom-six forward, but he's at his best in a fourth-line role; his production with Wood and Nathan Bastian on the BMW line says as much. Once Ruff got comfortable moving Haula off Hughes' wing and back to center, the Devils' five-on-five play started improving. That coincided with the all-star break, which saw Haula back down the middle. 
Coming out of the break, Ruff tried different combos, one being Haula with Sharangovich and Fabian Zetterlund. They had a 72.9 xG% and scored three goals on 3.5 expected goals. But, of course, that line was short-lived since Zetterlund was part of the package that went to San Jose for Meier. 
Related: Devils' Timo Meier: 5 Observations From First 5 Games
---
Latest News & Highlights
---
Overall, the Devils' most common third lines had mixed results until this point of the season. But with the Meier trade came a new combo — Palát, Haula and Boqvist — that's had plenty of success in a small sample. Ruff split them up briefly when Boqvist joined Meier and Hughes on the second line. But if Sunday's 3-0 win against the Carolina Hurricanes is any indication, they should remain together for the foreseeable future. 
A 3rd Line That Complements Each Other Well
Palát, Haula and Boqvist haven't played much together (only 59 minutes), but they've impressed in their ice time. They've totaled a 73.5 xG%, ranked first among all Devils line combos to play at least 50 minutes this season. Not only are they generating offense, but their defensive numbers have been equally impressive; they've allowed 1.31 expected goals per 60 minutes. 
Ideally, that's what you want to see from a third line: scoring upside and two-way play. Haula has been a solid defensive forward all season, but with Palát at a minimum, he's started to score, with seven points in his last eight games. Even Palát's production has picked up, with five points in his previous seven games. 
These three players complement each other well because they each provide something different. For example, Haula has been a sound defensive forward and can get shots off in the offensive zone. Palát plays a heavy game on the forecheck and is a crafty playmaker who can carry the puck in transition. Boqvist is one of the team's best forecheckers, has solid defensive metrics and is highly efficient in transition.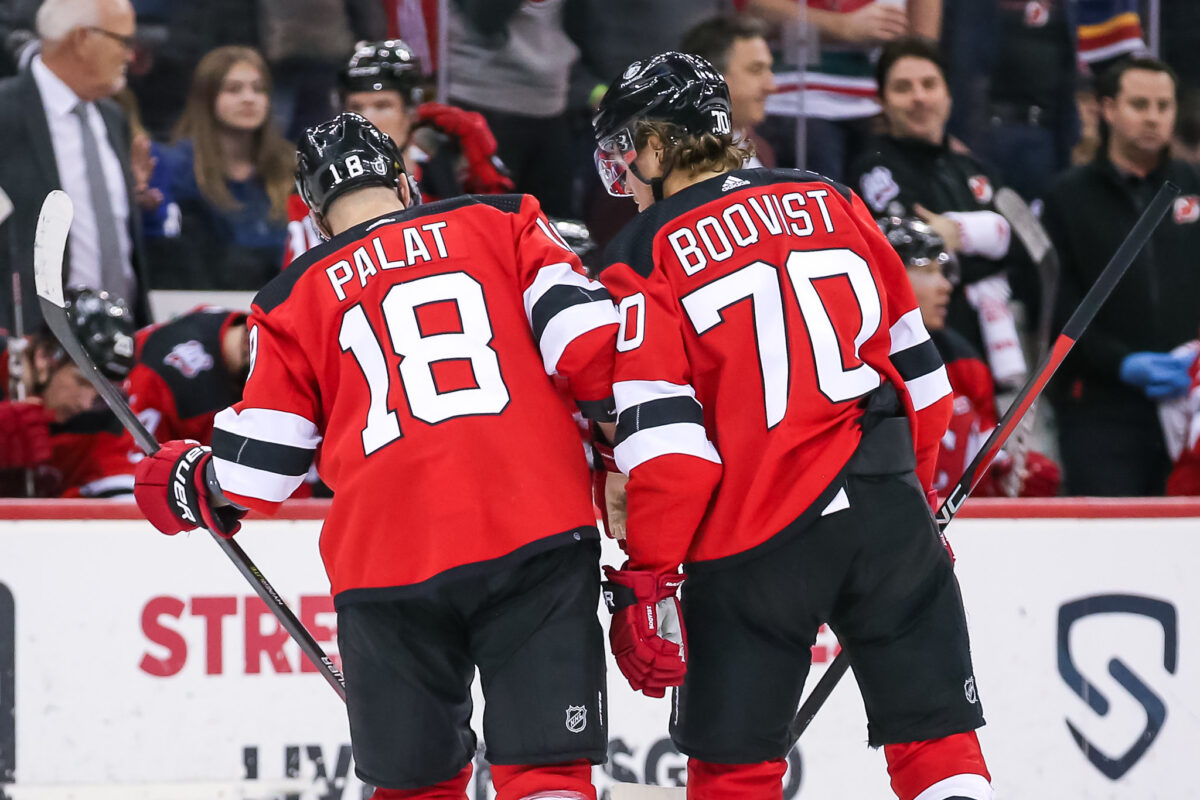 While Boqvist may not be a big-time offensive producer, Palát and Haula create opportunities. Haula ranks fifth on the Devils in high-danger chances per 60, while Palát ranks sixth. Boqvist doesn't need to put up points to have success on this line. He needs to keep doing what he does best, forechecking and creating space for his teammates and providing a defensive presence. 
It's also worth mentioning the brief experiment of Bratt, Haula and Palát. While they certainly weren't bad, they didn't seem to have the same juice as when Boqvist was in Bratt's spot. On paper, you'd think they would, given the caliber player Bratt is. But his best has come when he's either alongside Nico Hischier or Hughes; his two goals against the Hurricanes, which Hughes assisted on, is enough evidence. 
That makes the case clear: keep Boqvist alongside Palát and Haula. The added benefit of that is it should give Bratt an extended run alongside Hughes and Meier. The Devils play a different system under Ruff than just about any team in the NHL. It will take Meier time to adjust, so keeping him with steady linemates would help. 
Depth is crucial for any team, especially one in a race for first place, such as the Devils are with the Hurricanes. Until this point, they had struggled to find a viable third line. But with Palát, Haula and Boqvist, Ruff seems to have found one he can count on for the foreseeable future. It makes the team's bottom six better and should help keep the Devils neck and neck with the Hurricanes for first place in the Metropolitan Division. 
* * *
Advanced stats from Money Puck, Natural Stat Trick