It's been another quiet last few days for the New Jersey Devils, but there's still plenty of team-related news out there. In this version of Devils news & rumors, we'll take a look at Pierre Lebrun's update on Kyle Palmieri's future with the team. We'll also dive into the Devils' possible interest in Florida Panthers' defenseman MacKenzie Weegar. 
Plus, we'll go over the Devils re-signing Nick Merkley; and a farewell to a broadcasting legend. 
Devils Keeping an Eye on Weegar
Per the Fourth Period, the Devils are one of five teams who have checked in on the status of MacKenzie Weegar. He's a restricted free agent who's not happy with how contract talks have gone, and that's led to speculation the Panthers will trade him.
Weegar is not a game-breaking offensive defenseman, but the Devils are still smart to have interest in him. He's a high-end even-strength defender and has decent results on the penalty kill. His RAPM chart also shows someone who's had a very strong positive impact defensively at even strength: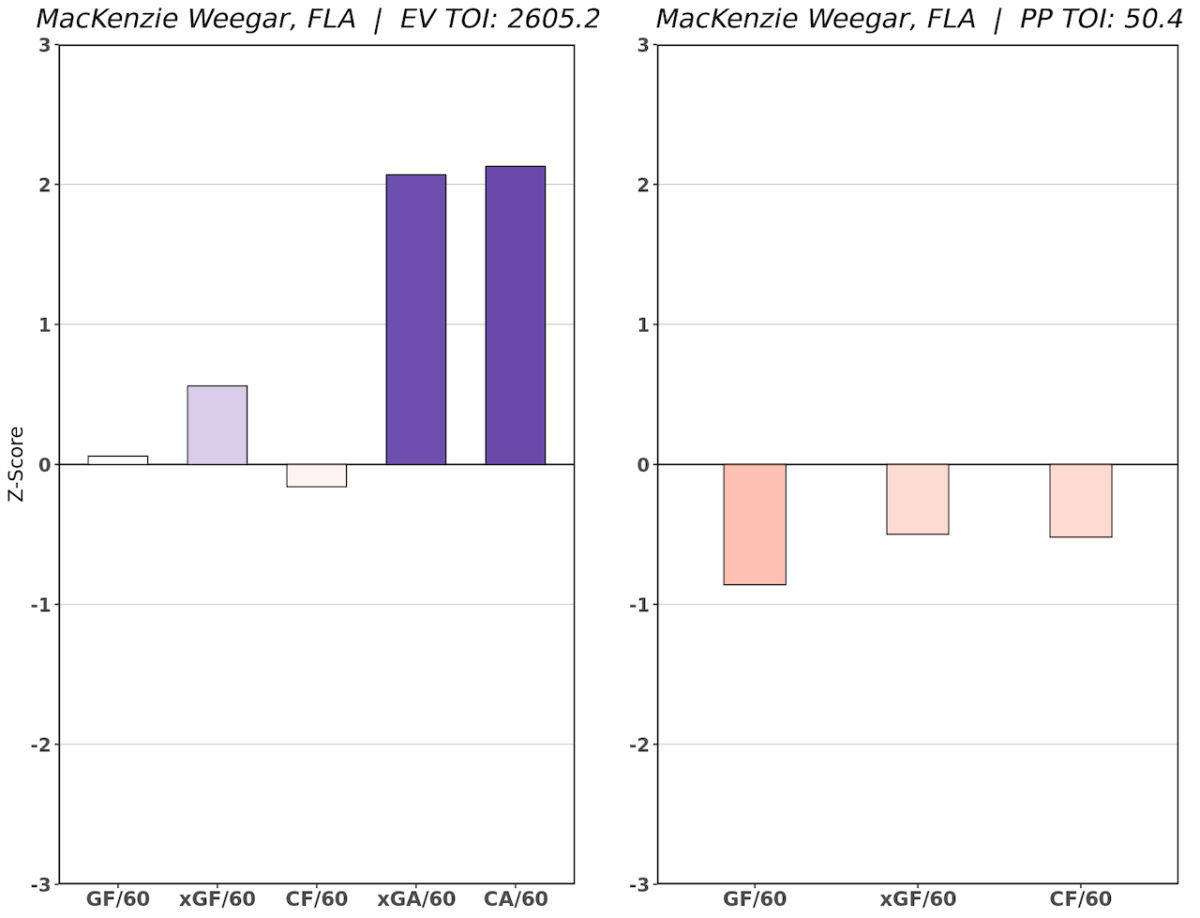 While Weegar is a right-handed shot, he's played primarily on the left side with the Panthers. With Ty Smith mostly playing the right side in juniors, it means the Devils could use someone like Weegar who can play on his off-hand. If they do acquire Weegar, their top four could consist of him, Smith, Damon Severson, and Ryan Murray, which would be a substantial improvement over last season. 
Update on Palmieri's Future
Palmieri's future with the Devils has been a hot topic for quite some time now. There doesn't seem to be a resolution one way or another, but The Athletic's Pierre Lebrun did have some tidbits about where things stand between Palmieri and the Devils. I'm not going to share every detail, but these are the main points to take away (From 'LeBrun: Erik Haula has interest, but finding a contract fit might be tricky,' The Athletic – 10/19/2020):
The Devils have not shopped Palmieri this offseason.
There haven't been meaningful contract negotiations, but the two sides are talking.
The goal as of now is to try and sign him. 
Palmieri has been the Devils' most consistent player over the last five seasons, averaging close to 30 goals per 82 games. That said, he'll be 30 years old when an extension kicks in, so it'll be interesting to see what his next contract entails. 
Related: Devils Goaltender Looks to Prove Themselves in the 2021 Season
Given how the market has shaped up this offseason, the Devils might be able to get him signed for cheaper than they would've pre-COVID. It also helps he's playing for his hometown team, so maybe he considers a slight hometown discount. If that's the case, it's probably more likely he re-signs rather than being traded away.
Devils Re-Sign Nick Merkley
The Devils took care of some housekeeping yesterday morning, signing restricted free agent Nick Merkley to a one-year, two-way deal that comes with a cap hit just over $874,000. Merkley was part of the return in the trade that sent Taylor Hall to the Arizona Coyotes. He spent most of his time in the AHL after the deal, where he had 19 points in 28 games with the Binghamton Devils.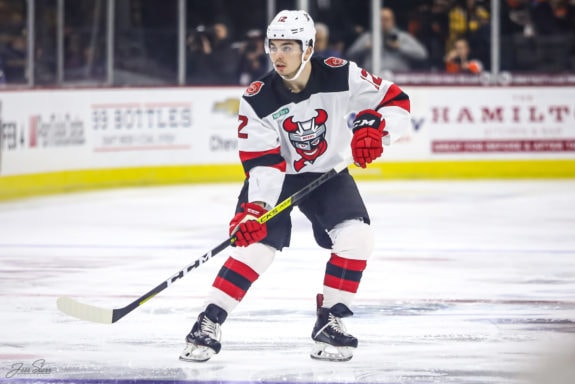 Though most of his time came in the AHL, Merkley had a brief NHL call-up before COVID-19 suspended play. It was only a four-game stint, so we're talking about the smallest of sample sizes, but he fared well. The Devils controlled over 51% of the expected goals with him on the ice, and he managed to make an impact offensively. He seems like a good bet for a bottom-six role, and last season's call-up may indicate he's ready for it. 
Happy Retirement, Doc Emrick
As many of you may have already heard, hockey play-by-play commentator Mike "Doc" Emrick announced his retirement earlier in the week. He had been NBC's go-to NHL play-by-play announcer for over a decade. But before then, he was the voice of Devils' broadcasts from 1993-2011, with color commentator Glenn "Chico" Resch alongside him for many of those years.  
Emrick had plenty of memorable calls as a Devils' broadcaster. But his best may have come on a national broadcast for NBC when the Devils defeated the New York Rangers in Game 6 of the 2012 Eastern Conference Finals. In overtime, Adam Henrique scored the game-winning goal to clinch the series for the Devils in what became known as "Henrique! It's over!" due to Emrick's call. 
Related: Devils Still Have Plenty of Cap Space to Spend
Emrick had a long and illustrious career as a play-by-play commentator. It's probably not one anyone will match in the near future. Not only is he the greatest NHL play-by-play of all time, but he's one of the greatest sports broadcasters of all time. It was a pleasure hearing his calls on Devils games for so many years, and I'm sure many Devils fans feel the same way. So with that, congrats on a wonderful career, Doc. And may retirement treat you well; because you deserve it after so many great years in the booth. 
The offseason continues to roll on. The Devils still have $18 million in cap space, so expect them to make another move or two to fill out their roster. Whenever that happens, we'll have it covered here at The Hockey Writers. 
* * *
Advanced stats from Natural Stat Trick, Evolving Hockey
---
---