Washington Capitals general manager Brian MacLellan has had to make some crucial decisions during the 2020 offseason. Some additional thought went into this year's contract offers and signings given the flat salary cap for next season. With the upper limit likely staying at or near $81.5 million for the near future, more challenges in the 2021 offseason are on the horizon and players and their agents will have to adjust their expectations accordingly. The Capitals currently have $16.3 million in cap space allotted for 2021-22. With some key players needing contracts, MacLellan will have to continue to find ways to increase that space.
Related: Top 3 All-Time Capitals Goalies
When general managers offered contracts before this season, they did so knowing that the percentage of the cap that went toward those deals would go down over time. That won't be the case now. At least not in the short term. This is of vital importance considering one of the franchise's all-time greats and two of their best young prospects are entering a contract year in 2020-21. How can both sides come to an agreement in light of the stalling cap?
Already the flat cap has affected Capitals goaltender Braden Holtby. As an unrestricted free agent with his credentials, it was going to be tough to re-sign the Cup-winning goaltender. However, given the unfortunate circumstances of negotiating during this time, Holtby signed with the Vancouver Canucks for less than market value at two years, $8.6 million. His AAV of $4.3 million was still too expensive for Caps management to fit under the cap.
In need of a veteran backup, former New York Ranger Henrik Lundqvist recently signed a one-year, $1.5 million contract which shaved off $2.8 million from the Capitals' goaltending tandem. That's even after factoring in Holtby's lower-than-expected signing in Vancouver. This was the first of many moves MacLellan will need to make to reduce spending ahead of 2021.
A flat cap is hard enough to adjust to over two seasons, but with the uncertainty of future revenue, the cap could stay modest for longer. And when it rises, it won't be as easy to predict by how much. This makes the 2021 offseason signings more difficult than the current situation.
New Outlook on NHL Contracts in 2021
While the underlying concern of managing under a flat cap of $81.5 million for the 2021-22 season is on every general manager's mind, the players and their agents also have to be aware of the league's economic situation. Could this mean a difference in negotiations next season? Players will have to understand that deals made before the pandemic will no longer be used as a comparison for their own situation given the different economic outlook.
The cap had risen every season since its inception and, before the pandemic, most expected the upper limit to be $88 million in 2021-22. With that number projected to be $6.5 million less now, the ability for a general manager to keep their core together will be that much more difficult now and in the future. Looking to the horizon from a cap perspective, a contract signed now could still take up the same percentage of cap space in two years reducing the valuable room to incorporate future contracts.
The Future Of Ovechkin
Captain Alex Ovechkin is due for a new contract ahead of the 2021-22 season as his thirteen-year, $124 million blockbuster deal comes to an end. He will re-sign and join veteran Nicklas Backstrom who recently inked a five-year, $46 million deal with an AAV of $9.2 million. The Capitals all-time assist leader is deserving of that contract considering he was underpaid in terms of AAV for many seasons. It would have been difficult to get marginal savings in future cap space here.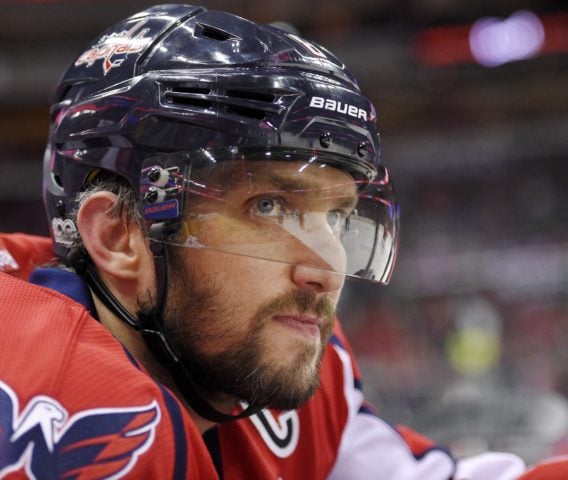 It's difficult to think Ovechkin would receive a percentage increase relative to the 1.37% margin Backstrom received ($6.7 million to $9.2 million AAV). In that scenario, the Capitals would be facing a potential $13 million AAV contract. Re-signing Ovechkin at that number would severely hinder cap space for other contracts. Even in a time when spending is limited, in the short-term at least, it will be difficult to ask the best player in franchise history to take a discount.
The captain has repeatedly expressed his desire to win another championship in Washington. Understanding the current economic situation, I expect Ovechkin to sign a more team-friendly deal than that of the $13 million mentioned earlier. However, this is not a situation where Ovechkin will receive less money, of course.
I expect his deal to be around $10 million for four or five years. When you consider his current AAV of $9.54 million, the Caps would indeed be getting a discount at that number. He could ask north of $11 million and I couldn't argue too much.
Vrana Part of Next Generation in Washington
Two other important players will require contracts after the 2020-21 season: Jakub Vrana and Illya Samsonov. They are still on an upward trend but expect them to get lower offers than what they may have expected pre-pandemic.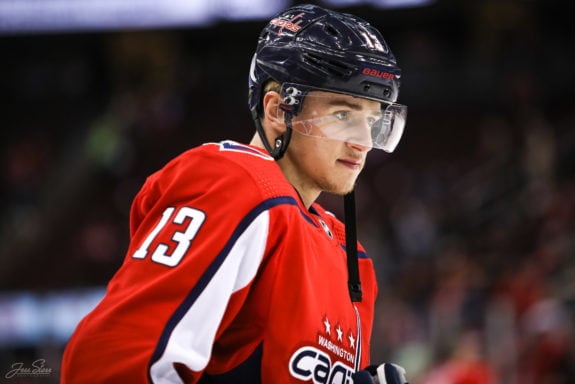 Vrana is entering the final year of a two-year contract worth $3.35 million AAV. His 25 goals in 2019-20 ranked third on the team, more than players with much larger contracts including Evgeny Kuznetsov and Tom Wilson. His speed is a weapon and no question the Capitals will re-sign the budding star. With another productive season in 2020-21, the pending restricted free agent (RFA) could have commanded a large raise next summer in previous offseasons, but he'll likely have to accept a smaller raise than he may have hoped.
You can look at former Capitals forward Andre Burakovsky and his signing history as an indication of what a contract could look like for Vrana. Both are former first-round selections with RFA status, similar ages and playing abilities. Coming off an entry-level deal in Washington, Burakovsky signed a two-year, $6 million contract before the 2017-18 season. Similarly, Vrana signed a two-year $6.5 million extension after his entry-level deal expired ahead of the 2019-20 season.
While providing some huge goals in the Caps' Stanley Cup championship season, Vrana hasn't been able to provide the same level of offence in the postseason since. He's had no points in 15 playoff games since 2017-18, and he'll need to produce at a better postseason clip to validate his top-six forward status. The 2020-21 postseason could be the determining factor on how big of a raise he can expect.
Look for the Capitals to re-sign Vrana to a two-year deal worth around $10 million, though a one-year deal at $5 million wouldn't be a surprise. This is also reminiscent of what Burakovsky received recently with a two-year deal.
Playing out a one-year, $3.25 million deal signed with the Colorado Avalanche after his move in 2019, The former Capitals forward recently signed a two-year extension beginning in 2020-21 for $9.8 million ($4.9 million AAV) to stay in Colorado. However, given that Vrana's career offensive stats are better, including a 0.54 points-per-game average versus Burakovsky's 0.49, it will be difficult to get Vrana signed for anything under the same AAV.
One could have seen a comparable to Carolina Hurricanes Teuvo Teravainen. He signed a five-year, $27 million deal ($5.4 million AAV) back in January of 2019 before much was known of the cap issues moving forward.
Set For a Bridge Deal in the Crease
Now that long-time starter Holtby has moved to Vancouver, the opportunity has come for the team's 2015 first-round selection, Ilya Samsonov to become the starter as he heads into the final year of his entry-level contract. This will put pressure on MacLellan during the 2021 offseason to sign him to a deal that maintains the balance within the flat cap. His new contract will likely increase more than any other of next season's signings in terms of percentage. Even a modest $2 million AAV in 2021 would be an increase of over 100% from his current $925,000.
Not available for the 2020 Playoffs due to an off-ice injury, MacLellan recently said he expects Samsonov to be ready for training camp. While management may be hesitant given the injury, the Caps will have a good understanding of his rehabilitation and its effects, if any, after another full NHL season.
As the future shapes up for Samsonov to become the starter, he'll need to be paid accordingly, though his play in the 2020-21 season will have an impact. Given the circumstances with the cap and his age, I expect him to receive a two-year deal in the $4 million range. This equates to 2.45 percent of the Caps' projected cap for 2021. A shorter-term deal would likely be due to the uncertainty of the future past 2021.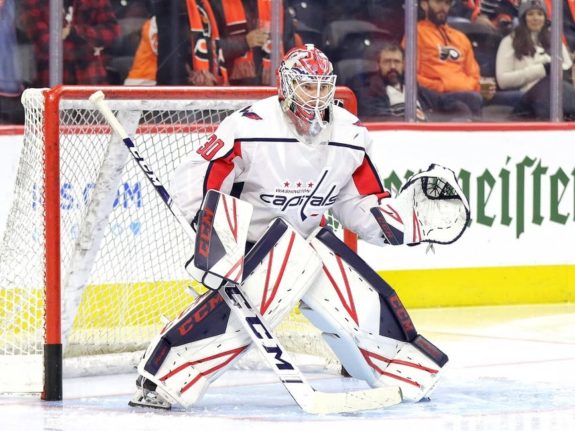 Even though the cap limit is higher now than it was then, I don't see Samsonov getting much more than Holtby's two-year extension signed early in his career, especially given Holtby's accomplishments at the time he was signed. He had already appeared in three playoffs, including a series win against the defending Cup champion Boston Bruins in 2012, and he had helped guide the Capitals to a division crown in 2012-13. In 2013, Holtby received a two-year, $3.7 million contract coming off his entry-level deal, which represented 2.26 percent of the $64.3 million cap.
Other Notable Contract Potentials
Recently signed to a one-year contract, Trevor van Riemsdyk will have one season to impress management before his next contract but I don't expect him to be re-signed in 2021. With the recent news that Michal Kempny requires long-term rehabilitation, this was a depth signing for the upcoming season.
Lundqvist will likely not be re-signed for the 2021-22 season either, as he was brought in to bridge a gap and help Samsonov in his first season as the team's starting goalie. Should the young prodigy prove he can handle the larger workload, the Capitals can look to either Vitek Vanecek ($716,667 million) or Pheonix Copley ($1.1 million) to be the backup in 2021-22 as they are both already under contract.
Set to earn $860,000 this upcoming season, Axel Jonsson-Fjallby will require a new contract for 2021-22. He's been loaned to a European club but will return to Washington when training camp opens for the 2020-21 season.
Finishing up his first North American season with the Hershey Bears, the fourth-round selection in 2016, showed signs of progress with 23 points in 61 games with Washington's AHL affiliate. Not much will change here as the Capitals will get him signed to a similar contract but he will have to clear waivers starting in 2021-22, so that is a consideration for MacLellan.
Related: Alex Ovechkin's Milestones Through the Years
With a full season still to play before these contracts need finalizing, unseen circumstances such as injuries and trades will alter these projections. However, considering the Capitals' desire to remain a Cup-contending team, it's highly unlikely, if not impossible, to envision a scenario where Ovechkin, Vrana and Samsonov aren't re-signed by the Capitals for the start of the 2021-22 season.
---
---