The New Jersey Devils may be a few weeks away from starting the regular season, but fear not. The World Junior Championship begins this Friday on Christmas Day, and the team will be well-represented at the tournament. They have six players participating among five different countries, some of whom the organization just drafted a little over two months ago at the 2020 Draft. 
For some Devils' prospects, it'll be a chance to showcase why they were high picks. For others, it's a chance to put their names on the map after being late-round selections. Let's dive into the Devils at the tournament and what to expect from each. 
Dawson Mercer (RW/C, Canada)
The Devils drafted Mercer with the 18th overall pick at the 2020 Draft. He finished the 2019-20 season with 60 points (24 goals, 36 assists) in 42 games between the Drummondville Voltigeurs and Chicoutimi Sagueneens in the QMJHL. His best attributes are his shot and stickhandling, but he's also an above-average playmaker. And he has the versatility to play right-wing or center. 
Canada boasts a load of talent up front (Quinton Byfield has practiced as a fourth-liner at times), so minutes will be hard to come by. So far, Mercer has skated as an extra during practice, but that doesn't mean he won't play. He was on the team for the 2020 WJC and played in seven games, though he didn't register a point. He'll get his chance, and his versatility to play down the middle or on the wing will help him get minutes. When he's in the lineup, he should be in a middle-six role while playing in all situations. 
Alexander Holtz (RW, Sweden)
The Devils drafted Holtz with the seventh overall pick at the 2020 Draft, and he's been on fire since then. The hype for him as a draft prospect was real, but he's taken his game up a level in the SHL. Before heading to selection camp, he had totaled 13 points (6 goals, 7 assists) in 19 games for Djurgården, as well as a Corsi share of 52.44%.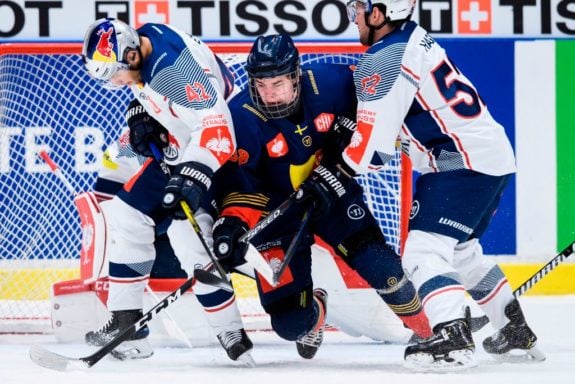 What makes Holtz so dynamic is his elite shot, but his playmaking has been eye-opening this season. He's going to play top-line minutes for Sweden and should see plenty of time alongside Detroit Red Wings' prospect Lucas Raymond. Holtz's had plenty of success for the Swedes at the international level, and this tournament will be no different. When all is said and done, he should be one of the top performers at the 2021 WJC. 
Arseni Gritsyuk (LW, Russia)
Gritsyuk was a fifth-round pick (129th overall) at the 2019 Draft, and while he's gotten the attention of some Devils fans, he's still one of the team's lesser-known prospects. That may not last for long, though. He finished the 2019-20 season with 63 points (28 goals, 35 assists) in the MHL — the Russian junior league. Coming into the WJC, he has 15 points in 14 games between the MHL and the VHL — the second division in Russia. 
He may not be the biggest in stature, at 5-foot-10, 174 pounds, but Gritsyuk has an intriguing toolkit. Here's what Dylan Griffing of Dobber Prospects had to say about him in February:
"The most notable aspect of Gritsyuk's game is his pure speed and his ability to use it to help on both ends of the ice. Offensively, he's a fantastic playmaker, and it's shown up on the scoresheet…"

Dylan Griffing of Dobber Prospects
Related: Devils' Holtz Could Be Top Performer at 2021 WJC
That offensive ability seems to be progressing nicely to start this season, given his production in Russia. It's also worth noting Gritsyuk has added about 15 pounds since the end of the 2019-20 season. Of the Devils' prospects attending the 2021 WJC, he may be the most interesting. He should have a top-six role for the Russians, and a strong tournament could really open some eyes about the potential he has. 
Shakir Mukhamadullin (D, Russia)
The Devils' selection of Mukhamadullin didn't come without raising some eyebrows. Though he was the 20th overall pick at the 2020 Draft, most scouting services had him ranked as a mid to late second-round prospect, with some even projecting him to go in the third round. Part of what likely made him a first-round pick was his start in the KHL, where he had six points in his first 14 games with Salavat Yulaev Ufa.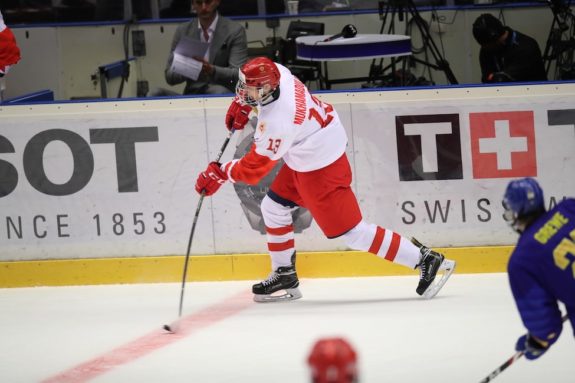 Mukhamadullin has cooled off since then, with three points in his last 17 KHL games, but he's still played meaningful minutes for Ufa. At 6-foot-2, 170 pounds, he skates well and has good mobility. He's shown some offensive upside at various levels of hockey in Russia, as well as an ability to move the puck effectively. His defensive game needs work, but the WJC may offer the opportunity to see how much progress he's made there. 
While the Russians have a talented team, their blue line is the weakest unit they bring to the tournament. Mukhamadullin is the most experienced of a defensive group that includes 2020 draft pick Yan Kuznetsov and 2021 draft-eligible prospect Daniil Chayka. Mukhamadullin will play top-pair minutes and see time on both the power play and penalty kill, so it'll be interesting to see how he handles the workload. 
Patrick Moynihan (C, Team USA)
Moynihan was a sixth-round pick (158th overall) of the Devils at the 2019 Draft. He spent the 2019-20 season at Providence College (NCAA), where he had 13 goals and 21 points in 34 games as a freshman. Like Gritsyuk, he's one of the Devils' lesser-known prospects, though he may not have the upside of Gritsyuk. 
Here's what Chris Wassel of Dobber Prospects had to say about Moynihan and his progression at Providence as a freshman: 
"January 2020 — Moynihan continues to gradually improve at both ends of the ice. He has nine goals and 16 points in 25 games for Providence. That is not too bad of a freshman season for the center." 

– Chris Wassel of Dobber Prospects
Related: 6 Underrated Devils' Prospects
"March 2020 — Moynihan finished the year in Providence with 13 goals and 21 points in 34 games. He managed to increase his shots on net by 0.5 per game. His shot is above average and showed some chemistry with Tyce Thompson at times."

– Chris Wassel of Dobber Prospects
From the looks of it, Moynihan is a solid two-way player whose shot gives him some scoring touch. He's not going to play up Team USA's lineup, but they will ask him to play tough defensive minutes and add some scoring depth in the bottom-six. He'll likely see time on the penalty kill as well. 
Jaromir Pytlik (C, Czech Republic)
The Devils drafted Pytlik in the fourth round (99th overall) at the 2020 Draft. He finished last season with 50 points (22 goals, 28 assists) in 55 games for the Soo Greyhounds in the OHL. This will be his second appearance for the Czechs at the U-20 WJC, as he appeared in five games last year and registered an assist.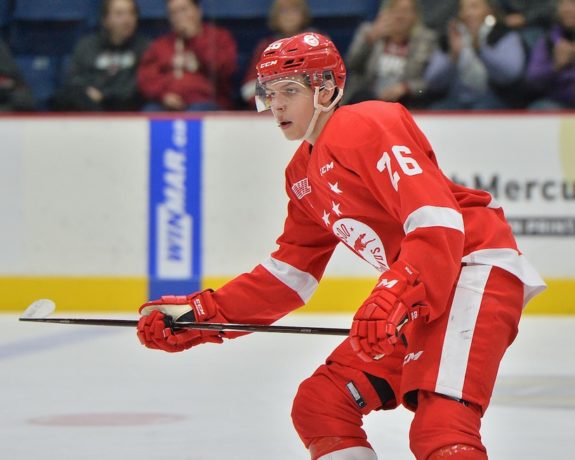 Pytlik's had little opportunity to play competitive hockey in 2020-21 since the OHL season is still on hold due to the COVID-19 pandemic. He's played in five total games for the Czech national team at both the U-20 and senior levels, as well as in four games in the Czech Republic's second division. But that's the extent of competitive hockey he's played over the last few months. 
The 2021 WJC will be the most Pytlik's played this season, and he should have a pretty significant role for the Czechs. He measures at 6-foot-3, 200 pounds, and has good two-way ability. There's a good chance he plays top-six minutes, and even as the team's first-line center, potentially with fellow 2020 draft pick Jan Mysak alongside him at left-wing. 
Devils' Future on Display
The Devils' draft choices seem to be paying off, as the six prospects they have in attendance ties them for third-most at the tournament with the Anaheim Ducks and the Toronto Maple Leafs. While some of their prospects may be further away from NHL action than others, the 2021 WJC offers a sneak peek of what the team's future could be. And it could show there are brighter days ahead in New Jersey after an extensive rebuild. 
---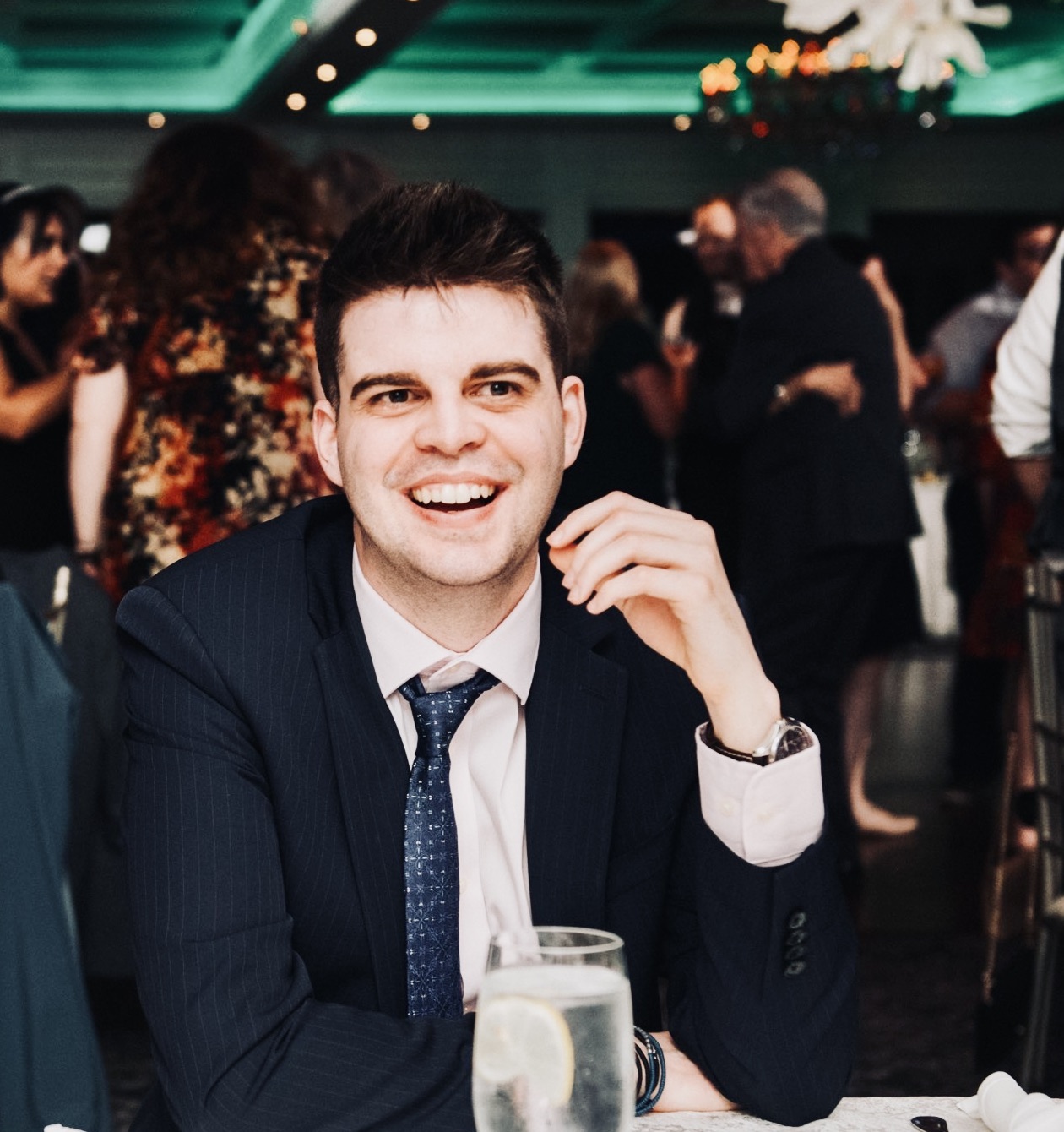 Alex Chauvancy is a New Jersey Devils writer for The Hockey Writers who has a penchant for advanced stats, prospects, signings and trades. He previously wrote for Devils Army Blog, a New Jersey Devils fan blog, from 2015-2017