The New Jersey Devils came to play in their 2-1 overtime win over the New York Rangers in Game 3. That put them back in the series, but to really make things interesting, they need to pick up another win to even up the series before they return to the Prudential Center for Game 5 on Thursday evening. Here's what to watch as the Devils look to make it two in a row tonight. 
Devils Almost Have the Ideal Top 6
In search of some punch up front, head coach Lindy Ruff reunited Timo Meier, Nico Hischier and Jesper Bratt as his first line for Game 3. The move paid off, as they controlled play at five-on-five, totaling a 77.57 expected goals percentage (xG%) while having a 9-0 advantage in high-danger chances. 
Bratt was arguably the Devils' best player, while Hischier played the two-way game that's made him a potential Selke Trophy finalist this season. Meier was throwing his body around and providing a physical presence that frustrated Rangers skaters and opened things up for Bratt offensively. In 47 minutes during the regular season, this trio posted a 64.96 xG% while controlling just over 68 percent of the scoring and high-danger chances. Granted, it was in a small sample size, but their regular season success carried over into their first playoff game together in Game 3. 
Related: 4 Takeaways From Devils' Game 3 Win vs. Rangers
---
Latest News & Highlight
---
Ruff shouldn't change a thing with the Hischier line, but the same can't be said for the second line of Erik Haula, Jack Hughes and Ondrej Palát, even though Ruff ran the same lineup as Game 3 during today's morning skate. That trio got caved in, posting a 26.08 xG% in Game 3, and Palát struggled, turning the puck over on the Rangers' lone goal and finishing underwater in most five-on-five metrics. 
Ruff should switch Palát with Tomáš Tatar, who played some with Hughes and Haula during the regular season. In 89 minutes together during the regular season, Haula, Hughes and Tatar posted a 63.4 xG%. Tatar is better suited in a top-six role rather than being in the bottom six, while Palát would likely mesh well with Michael McLeod and Dawson Mercer on the third line. 
Schmid Gets the Nod Again
The Devils made the decision to turn to Akira Schmid for Game 3 instead of giving Vitek Vanecek his third straight start. The risk was worth taking, however, as Vanecek had an .827 save percentage over the first two games. Schmid delivered, making 35/36 saves and stopped 2.80 goals above expected. 
It shouldn't come as a surprise that with his Game 3 performance, Schmid will get another crack at it tonight. The 22-year-old netminder was calm and collected in net, despite telling MSGSN's Erika Wachter during his post-game interview that he was very nervous before the game.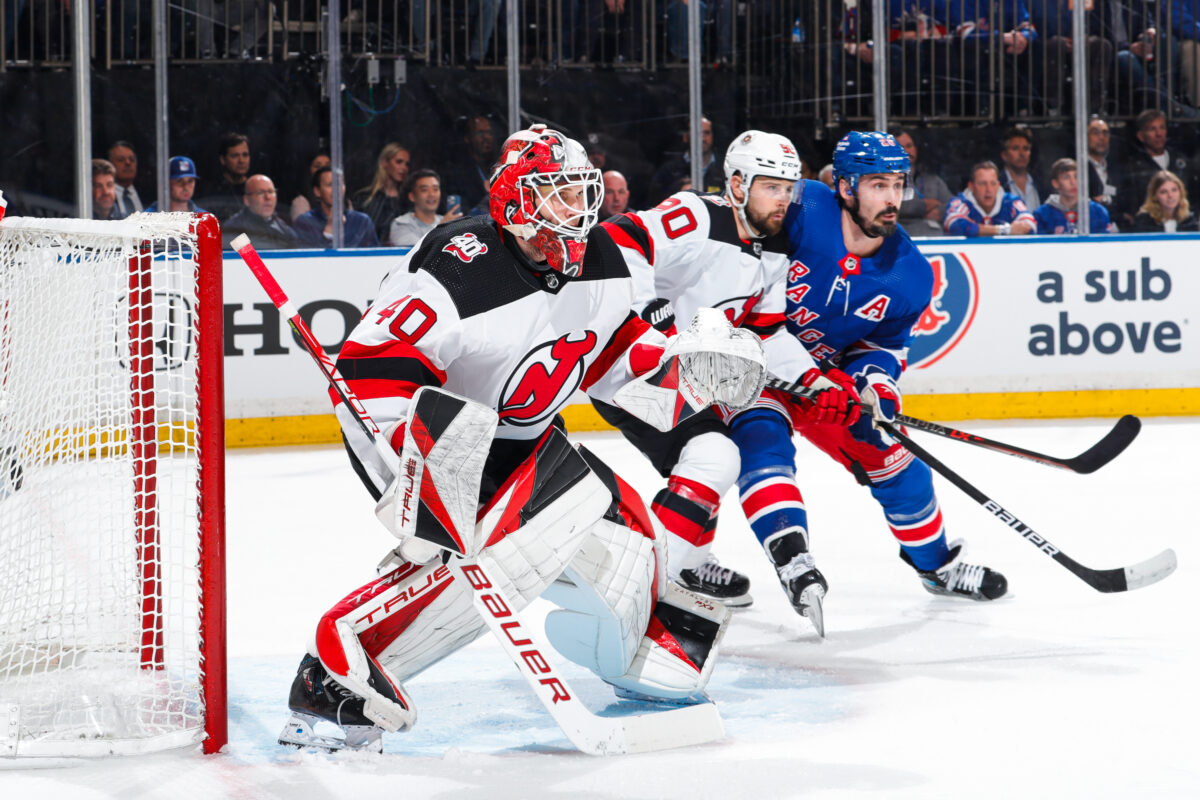 You wouldn't have noticed that by how he played, as he was as poised as one could be in his first NHL playoff start. Devils players, from Hughes to Dougie Hamilton, talked about Schmid's calm manner: 
"He's stone cold, no pulse, always relaxed and poised," said Hughes to Devils reporter Sami Kasan. "We have a lot of confidence in Schmid coming in. He showed everyone how good he is, and we'd like him to keep that going."
"He's been great all year. He's so steady and so calm," said Hamilton. "He showed it again (Saturday), coming to MSG in his first playoff game and to play like that is pretty impressive."
It's clear the team has plenty of confidence playing in front of Schmid, and why wouldn't they? He posted a .922 save percentage in 18 games during the regular season and was fantastic in four relief appearances, stopping 52/54 shots. There aren't many moments bigger than making your first NHL playoff start at MSG, and he rose to the occasion. The decision to give him another start is an easy one.  
Devils Have to Stay Disciplined
The Devils' penalty kill went 5/5 in Game 3, a significant improvement from their first two games. But they're playing with fire taking as many penalties as they are against a lethal Rangers power play. It's not like the Rangers didn't have chances on those five power plays, either. They got six shots on goal and generated 1.48 expected goals while up a man.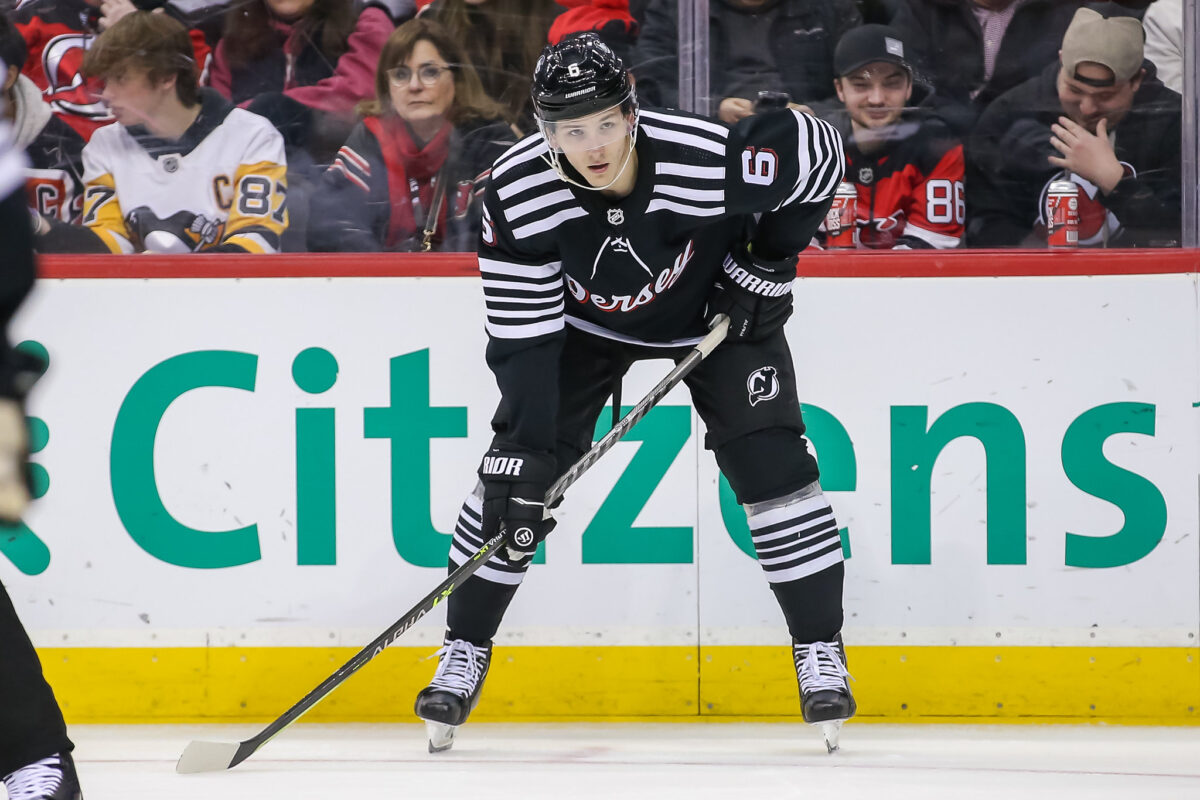 Schmid was a difference-maker on the penalty kill, and the team in front of him did well to clear pucks when they had the opportunity. But with a power play that has Patrick Kane, Adam Fox, Artemin Panarin and Chris Kreider, among others, it's only a matter of time before they find the back of the net again. That's why the Devils have to stay out of the box, especially when it comes to the careless offensive zone penalties they've taken. 
Devils Quick Hits
Even though Curtis Lazar played well on the penalty kill in Game 3, Ruff may want to consider scratching him tonight. He was a liability at five-on-five, as the Devils had an xG% of zero when he was on the ice in only 6:46 of ice time. Yegor Sharangovich, who also kills penalties, should return to the lineup, giving the Devils a fourth line of him, Jesper Boqvist and Nathan Bastian. 
One thing the Devils did a better job of in Game 3 was challenging Igor Shesterkin. They generated 15 high-danger chances, and Palát's screen on Hughes' power-play goal was crucial to Hughes scoring since he took Shesterkin's eyes away. The Devils need to continue getting traffic and screens in front of Shesterkin to finally break through at five-on-five, where they have just one goal in this series so far. 
* * *
Advanced stats from Natural Stat Trick