With a playoff berth on the line, the New Jersey Devils traveled to Buffalo to take on a Sabres team that had given up seven goals in each of their last two games. Though the Devils scored four times, they couldn't overcome a slow start against a Sabres team with some offensive firepower. Here are four takeaways from the 5-4 loss as they look to regroup and try to clinch their playoff spot tonight against the Ottawa Senators. 
Devils' Early Miscues Cost Them 
The Devils didn't get off to the worst start, but it quickly unraveled about seven minutes into the first period. They were sloppy defensively, as Dylan Cozens was left alone in front of Akira Schmid for an easy goal. Just 40 seconds later, Tage Thompson scored on a partial breakaway after John Marino made an ill-advised pass that deflected to Thompson, putting Ryan Graves in a bad spot. 
To the Devils' credit, they did score two goals in the opening 20 minutes to make it a 3-2 game at intermission, but their miscues didn't end after the first period. Alex Tuch scored on a shot that Vitek Vanecek would probably like to have back, and he'd add another on the power play after getting left unmarked in the slot for an easy redirection. 
Perhaps the thought of clinching a playoff berth got in the team's head a bit, but no matter what, they have to be better against the Senators tonight. Head coach Lindy Ruff mentioned in his post-game availability that the team wasn't ready to play and that it fell on his shoulders. Their defense did settle down after Tuch's first goal, as they only gave up two high-danger chances at five-on-five over the final two periods. But look for them to come out of the gate with more urgency against Ottawa. 
Time to End the Haula, Hughes & Mercer Experiment
To get Jack Hughes going, Ruff reunited him with Erik Haula and Dawson Mercer a week ago in their game against the Tampa Bay Lightning — a 5-2 win. While they played well in that game, they have struggled since then. They had a rough first period against the Sabres, as they were on the ice for two goals against and had a 6.03 expected goals percentage (xG%).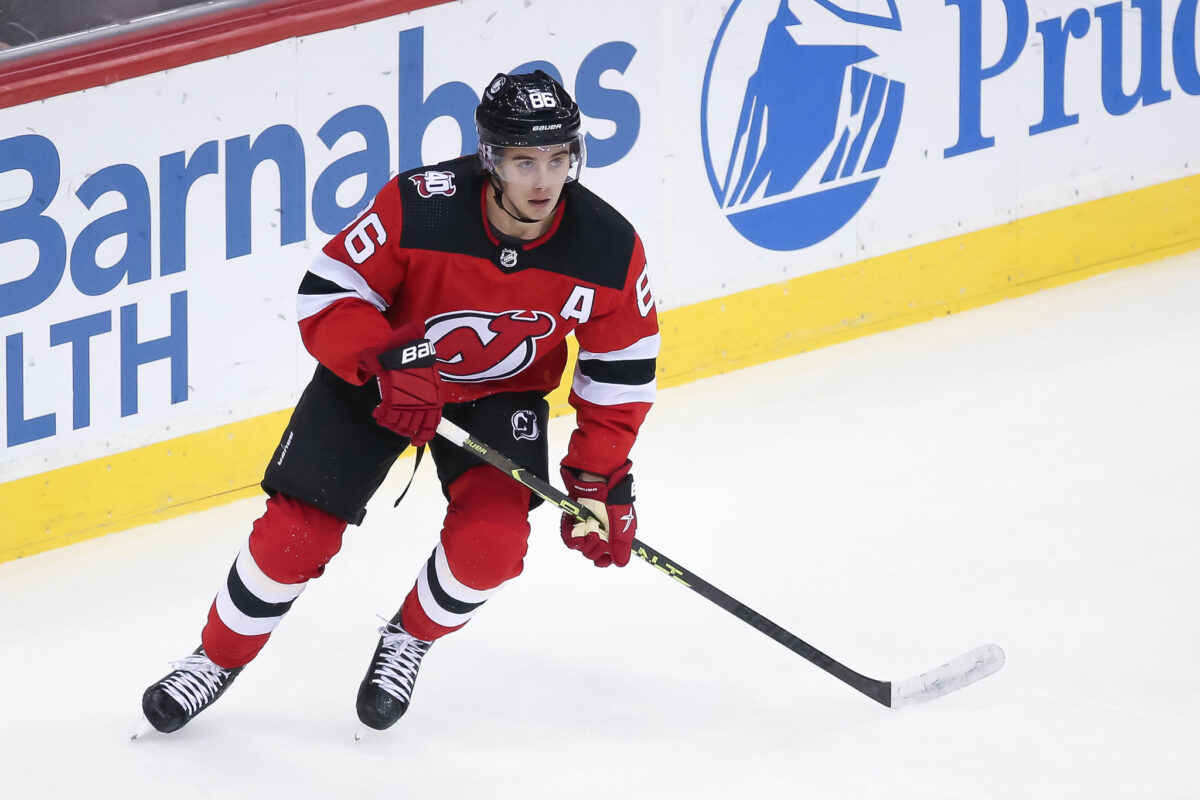 Ruff did break them up to start the third period, placing Ondrej Palát and Jesper Bratt with Hughes. That trio finished with an 85.99 xG% and was on the ice when Hughes scored his first goal. While there are probably better combinations to go to, the Devils really need to get a struggling Palát going; he has five points in his last 19 outings. If two players can help him find his game, it's Hughes and Bratt. 
Whatever the case is, it's probably time to end the Haula, Hughes and Mercer experiment. It hasn't worked in this go-around, and the team benefits more from having Haula as their third-line center since it strengthens their depth down the middle. 
Hischier & Meier Should Stick Together
Though Ruff returned to the line of Tomáš Tatar, Nico Hischier and Mercer in the third period, I'd like to see him keep Meier alongside his countryman in Hischier. The Devils had a 68.57 xG% across the first two periods against the Sabres with Bratt, Hischier and Meier on the ice. Ruff moved Meier to the third line with Haula and Jesper Boqvist in the third period, but ideally, that's not where you want him. 
Related: Devils' Erik Haula Continues to Be Veteran Voice the Team Needs
---
Latest News & Highlights
---
Meier's numbers alongside Hischier have been impressive since the Devils acquired him from the San Jose Sharks, with New Jersey having a 58-39 shot attempt advantage and 67.04 xG% with them on the ice (43 minutes). One combination I'd like to see Ruff try is Meier with Hischier and Mercer as the top line, leaving them with these units: 
Meier – Hischier – Mercer
Palát – Hughes – Bratt
Tatar – Haula – Boqvist
Yegor Sharangovich – Michael McLeod – Nolan Foote
With Meier, Hischier and Mercer, the Devils get a similar look to when Tatar is on that line, except Meier has more offensive upside than Tatar. It's a combo worth experimenting with, especially since Ruff will probably stick with Palát, Hughes and Bratt to start tonight's game against the Senators. And most importantly, it keeps Meier in the top six, where he should be regularly. 
Bahl Is Playing the Best Hockey of His Career
The Devils' top four struggled against the Sabres, but their third pair of Kevin Bahl and Damon Severson was on their A game. Bahl was particularly excellent, as he finished the night with two points (one goal, one assist) and even earned a promotion to the top pair with Dougie Hamilton in the third period. 
Bahl ended the game with a 61.81 xG%, and it wasn't an outlier performance. He's been playing the best hockey of his career over the last couple of weeks, providing physicality and stout defensive play while showing some puck-moving upside.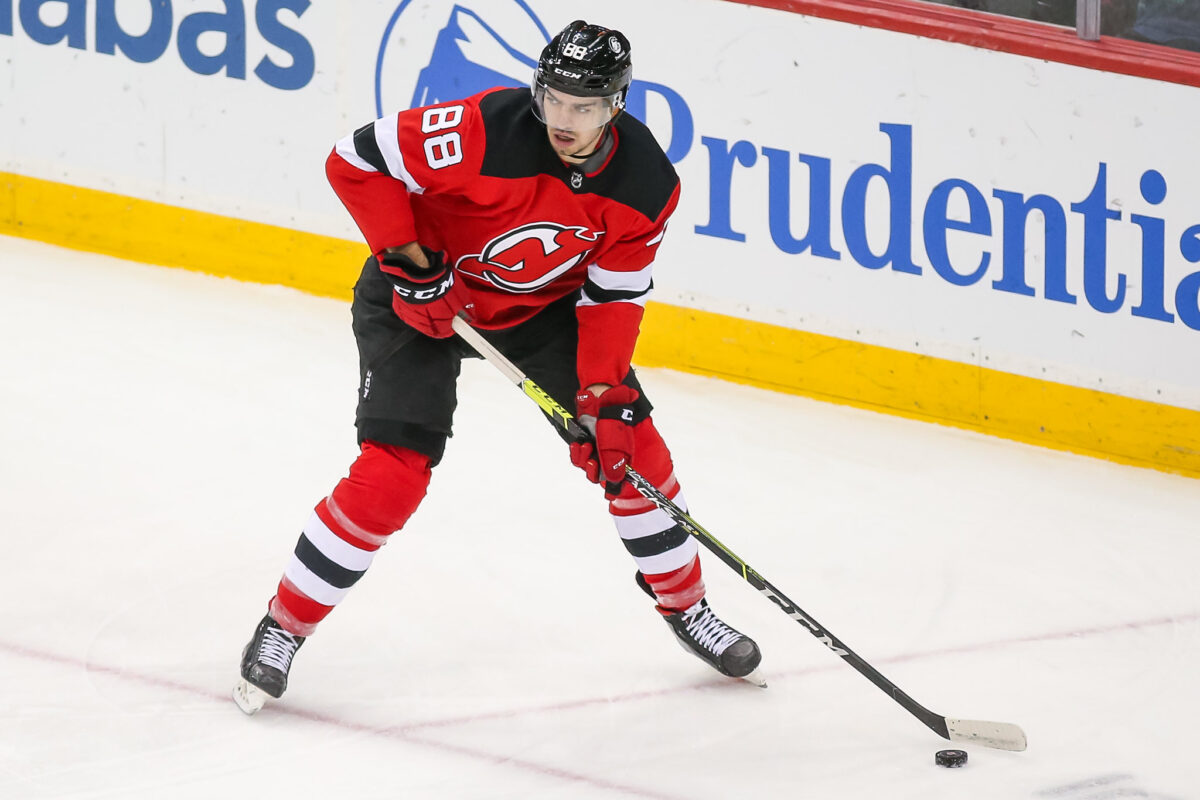 Bahl will likely remain in the Devils' lineup for the foreseeable future, but could Ruff actually mix up his defensive units? He's used the same defense pairs for most of this season, but with the Graves and Marino pairing struggling for the last few weeks, a shakeup might not hurt. If that's the case, Bahl could earn an even more significant role, and it'd be hard to argue he hasn't earned it. 
Devils Quick Hits
Jack Hughes is back. Well, he never really left. The goals and points haven't been coming for him as often as they had earlier in the season, but the shots and chances have been there. Last night, he broke out of his scoring "slump," totaling two goals and an assist; he even had a tally taken back on an offsides challenge. With ten games remaining on their schedule, getting him hot heading into the playoffs is what the team needs the most, especially if a showdown with the New York Rangers is on tap. 
The Devils' goaltending wasn't at fault for the loss, but Vanecek and Schmid did give up a combined minus-2.87 goals above expected. You would like them to have made a save somewhere, but their defense certainly didn't do them any favors. Given the busy schedule this month, a bit of fatigue could be settling into their game. Mackenzie Blackwood is nearing a return from an injury, and it seems like that's coming at the perfect time to give Schmid and Vanecek some rest over the final three weeks of the season. 
All the Devils need to do tonight is win, and they're in the playoffs. If they don't defeat the Senators, there are a handful of scenarios that would get the team into the postseason for the first time since the 2017-18 season when Taylor Hall won the Hart Trophy. 
* * *
Advanced stats from Natural Stat Trick