During their history, the New Jersey Devils have sported some solid players from Sweden. From Andres Carlsson to Jacob Josefson, and everyone in between, the team has featured a good number. Below is a list of some of those top players and their exploits in the Garden State.
5.) Johnny Oduya
The Stockholm, Sweden-born defenseman was a solid free agent find for New Jersey. Signing with the Devils in 2006-07, the lefty shooting defenseman soon became a fixture on the back end. Giving New Jersey an element of speed on the blue line, Oduya posted 70 points and a plus-45 rating, while routinely skating more than 20 minutes a night across parts of four seasons with the Devils.
Internationally, Oduya played on the Swedish Olympic team in 2010 and the silver medal winning squad in 2014 at Sochi, Russia.
4.) Adam Larsson
Originally selected fourth overall in the first round of the 2011 NHL Entry Draft, the Skelleftea, Sweden native appeared to have it all on paper. At age 19, the rookie Swede cracked the New Jersey blue line in 2011. That season Larsson helped the Devils reach the Stanley Cup Final, netting one goal in five postseason contests. Under the guidance of former assistant coach Scott Stevens, the big defenseman started to play into his position and showed more aggression. Last season Larsson was regularly paired with Andy Greene on the Devils top defense tandem, posting a career high plus-15 rating. Though flipped to Edmonton for Taylor Hall, Cory Schneider probably wishes he still had "Lars" to help clear out the defensive zone.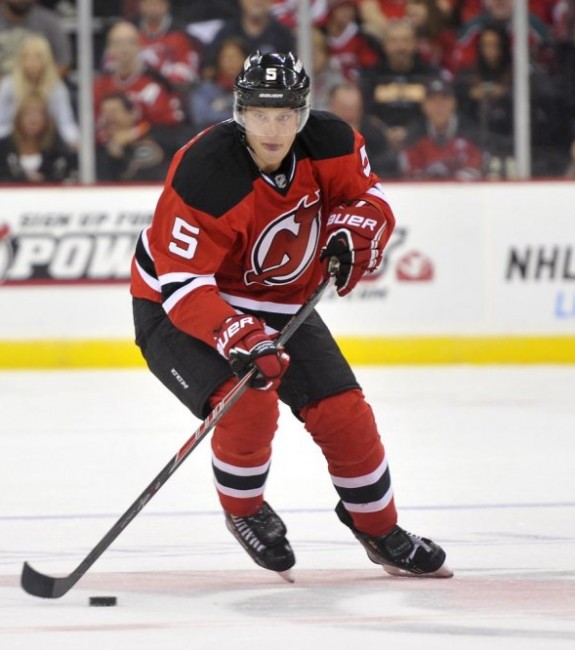 3.) Tommy Albelin
An underrated part of two title teams in New Jersey, the Stockholm, Sweden native skated in parts of 12 seasons between two stints with the Devils. Playing in 539 games with New Jersey, the Swedish defenseman recorded 152 points, a plus-75 rating and 251 penalty minutes. Across 77 postseason contests with New Jersey, Albelin registered 22 points and a pair of game-winning goals.
Internationally, he played on the Swedish Olympic team in 1998.
2.) Johan Hedberg
Hailing from Stockholm, Sweden, the man called "Moose" spent three seasons in net with the Devils. Joining New Jersey in 2010, "Moose" played more than perhaps any backup goalie during the Martin Brodeur era. During the Devils run to an Eastern Conference title in 2012, the New Jersey netminder went 17-7 with four shutouts, a .918 save percentage and a 2.23 goals-against average. In the ranks of Devils franchise history, Hedberg places third with a save percentage of .908, goals-against average of 2.42 and eight shutouts.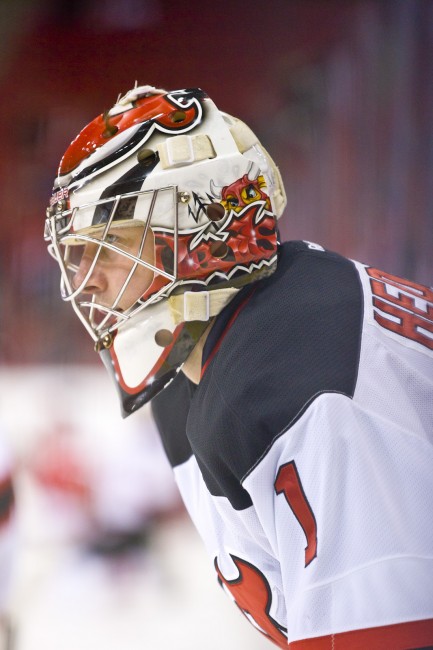 Internationally "Moose" was a member of Sweden's Olympic team in 1998 and 2002.
1.) Patrik Sundstrom
Acquired from the Vancouver Canucks in 1987, the Skelleftea, Sweden native played five seasons with the Devils. The Devils Center was a solid two-way player and with him came the playoffs in 1988. During Game 3 of the 1988 Patrick Division Final against the Washington Capitals, he set a single-game postseason record with eight points in a 10-4 Devils victory. The postseason saw the Devils Center post 20 points in 18 contests. With New Jersey, Sundstrom recorded two campaigns with more than 20 tallies. In 305 regular season games, the skating Swede scored 86 goals, dished out 160 assists and totaled 246 points.
.