Team Finland's struggles in the 2017 World Junior Championships (WJC) were well publicized. The defending gold medalists lost their first three preliminary round games before finally defeating Switzerland in their final game and sweeping Latvia in a relegation series.
The Finns didn't just have a bad tournament, it was historically bad. They now hold the distinction of being the only defending champion to find themselves in the relegation series. Their 9th place finish is the worst for the nation since the tournament's inception in 1977.
After missing #WorldJuniors QF, Finland releases head coach Jukka Rautakorpi. U18 coach Jussi Ahokas takes over. https://t.co/bRJdYU8LVV pic.twitter.com/uggCslDcPv

— 2020 IIHF #WorldJuniors (@iihf_wjc) December 31, 2016
Once their fate was sealed and it became clear that the team would not be advancing to the playoff round, General Manager Timo Backman relieved head coach Jukka Rautakorpi and his three assistant coaches of their positions. Jussi Ahokas, who was in Montreal scouting the tournament as he is/was expected to be Finland's head coach at the 2018 WJC, took over the bench in an effort to stop the bleeding. His efforts worked, as the team avoided the worst possible fate by defeating Latvia and avoiding relegation.
Blame the NHL
Without dissecting the team's failure too much, it's clear that losing their biggest contributors from 2016 hurt them mightily. Gone were Patrik Laine, Jesse Puljujarvi, Sebastian Aho and Mikko Rantanen who are all playing in the NHL this season.
In 2016, Laine was named tournament MVP, Puljujarvi and Aho finished first and second in tournament scoring and Rantanen was the team's captain. When you lose players like that it's nearly impossible to replicate success. All told, the team had only 5 returning players in this year's tournament.
Stingy with the OJ
Of those 5 returning players, no one felt more pressure than the team's captain, Olli Juolevi. Before being selected 5th overall by the Vancouver Canucks in the 2016 NHL Entry draft, Juolevi had a strong showing at the 2016 WJC. He tied USA's Zach Werenski in scoring amongst defenceman and was named to the tournament's All-Star team. This year, however, things didn't go quite so well for Juolevi. He finished the preliminary round with just one assist in four games and added an additional assist in the team's second relegation game.
Even more interesting was the fact that Juolevi averaged only 20:35 of time-on-ice per game during the preliminary round, good enough for 3rd on the team. Considering Juolevi's skill and experience it's surprising that former coach Rautakorpi would limit his captain to so few minutes.
When Rautakorpi was replaced last Friday, some analysts and media personalities proposed that his limited usage of Juolevi may have sealed his fate. It's an interesting narrative that we've seen play out in the NHL many times. The coach, for whatever reason, loses or never earns the trust of his top player, the team plays poorly and the coach is sent packing.
It stands to reason that as a new coach was brought in to sort through the mess, Ahokas would acquiesce to the pressure and play Juolevi top-pairing minutes. Except, that's not what happened.
Meet the New Boss, Same as the Old Boss
With Ahokas in charge, the Finns went 3-0. The team remained goal-starved but displayed flashes of traditional Finnish tenacity and showed reasonable improvement from their play earlier in the tournament. What remained unchanged however was Olli Juolevi's ice-time.
Under Ahokas, Juolevi averaged just half-a-minute more per-game, good for just 3rd on the team. In fact, Ahokas relied most heavily on Vili Saarijarvi giving him almost 3 minutes more per game than Rautakorpi had.
HIGHLIGHTS from Finland's first win at this year's #WorldJuniors, 2-0 vs. Switzerland. @leijonat @SwissIceHockey pic.twitter.com/0UlgZUHxP6

— 2020 IIHF #WorldJuniors (@iihf_wjc) January 1, 2017
Whatever the reasons were for limiting Juolevi's minutes, it seems that both Rautakorpi and Ahokas were in agreement with regards to his usage. It seems unlikely then that Rautakorpi would have been fired over something that appears to be accepted within the Finnish Association. Or, at least, accepted so long as the team was winning. So, the answer to the burning question, "Did Olli Juolevi get his coach fired?" is an unsatisfying "probably not."
Not a Total Loss
While it may provide little consolation to Juolevi, Finnish hockey fans and Canucks fans there's something to be gained from adversity. Provided he can maintain his self-confidence, Juolevi will learn from this experience and will be a better hockey player for having gone through it. From a player described as "brimming with confidence", it'll be interesting to see how Juolevi bounces back from his first real humbling experience on the big stage.
London Calling
While Juolevi's tournament can't be described as anything other than disappointing he does have a soft landing spot in London for the remainder of the season. The London Knights sit atop the OHL's Midwest Division and are expected to take another run at the J. Ross Robertson Cup once again.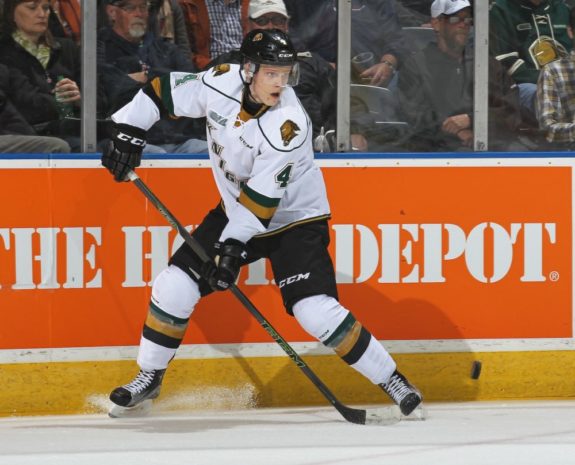 Juolevi has had a strong "Draft +1" season in London and will be a major factor in whether or not the Knights can repeat as OHL champions and ultimately Memorial Cup champions.
Of course, with London's top players from last season Mitch Marner, Matthew Tkachuk and Christian Dvorak all playing in the NHL, Juolevi will have to carry more of the load if his team is going to repeat last season's success.
Sound familiar? The "he got his coaches fired" narrative didn't quite fit, but the "redemption" narrative just might.
Copywriter and web developer by day, THW contributor by night. Rabid hockey fan, beer-league defenceman and tyke hockey coach always. Covering the Canucks from BC's Sunshine Coast.