It happened quickly. With about a dozen minutes to go against the struggling Ottawa Senators, the Sharks put out a line they rarely used before. Why? Well, it has been Coach Peter DeBoer's style to juggle lines in the third period of games. Why? Well, he always seems to bench fourth line forward Mike Brown in the third period, meaning only eleven guys play, forcing the line juggling.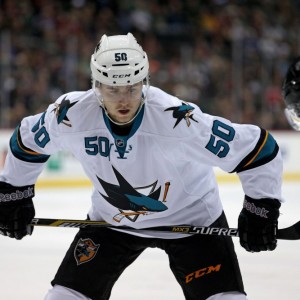 Wingers from the second line and third line, at least when the night began, joined up with the center from the fourth line. And the line buzzed. After a dangerous twenty or so seconds, Ottawa managed to clear their defensive zone. Briefly. Sharks defenseman Justin Braun helped turn the play before the puck reached center ice and hit center Chris Tierney with a quick re-entry pass near the right point. Tierney immediately moved the puck to winger Joonas Donskoi whose puck handling brilliance on the play is on full display in the video below. Donskoi drew defenders his way, opening up a seam for a cross ice pass to speedy winger Matt Nieto (a poor change by Ottawa aided the cause), who cruised in front of goalie Craig Anderson before slipping the puck under Anderson's left leg pad for a go ahead goal.
While the night would end not so well for the Sharks (a shootout loss), that line combination continued to look dangerous in subsequent shifts.
It Works, Does It Matter Why?
As a group, these three players make sense. Donskoi's puck skills are tremendous. Tierney is a creative, crafty player who, for whatever reason, only seems to find his game after New Year's Day. Nieto is about speed. He has had trouble finding a role with the Sharks this season, having been bounced around the line-up a good bit. Having players on his line that can open space with their strong puck skills seems likely to bring out the best in Nieto. I'm still not convinced Nieto is a fit for this team. I said he was at a career crossroads this season. If he is going to succeed, this looks like his best shot.
Successful line combinations with lower tier players are far more a matter of chemistry than logic, meaning whatever logic I just applied to the line is irrelevant. What is relevant is that the line worked. Once. A journey of a thousand miles begins with a single skating stride. Or something like that. Once is enough to convince me this combination needs to be tried again and given an extended chance to succeed. Maybe it was a handful of lucky shifts against a defense that simply didn't match up well. But it didn't look that way.
There is History Here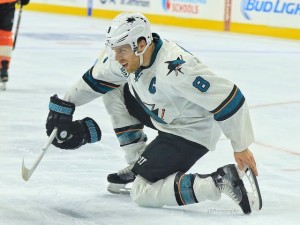 Sharks fans understand that productive lower lines are critical to team success. In February 2011, the Sharks rolled out a third line featuring Joe Pavelski, Kyle Wellwood and Torrey Mitchell. The Sharks would go 26-6-3 from February 1 until the end of the regular season. The trio scored 63 points and went +42 in that time frame. Getting that sort of productivity from a third line resulted in the hottest extended streak in Sharks history. It is folly to compare the Nieto-Tierney-Donskoi line to the Pavelski line from 2011, but having a strong third or even fourth line that gives the team a major competitive advantage is something the Sharks haven't had in a long time. You don't need three great players for that. You need three players with great chemistry.
The Risks and Rewards
The new line is not imposing. The biggest player on the line is Tierney, who is 6'0" and 195lbs. The Sharks have 17 players who have played 20 or more games this season. In terms of hits/game, Donskoi, Nieto and Tierney rank 15th, 16 and 17th. There is no 'physical presence' with this group. Tierney will also need to show better in the face-off circle. His 44% win rate doesn't cut it (Nieto and Donskoi have only taken nine face-offs between them).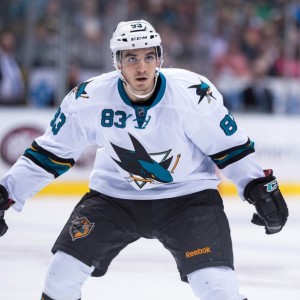 All three are young players. Donskoi, at 23, is the oldest. All three players are inexpensive; 11 Sharks players carry an individual cap hit greater than this entire line. None of the three will be an unrestricted free agent at the end of their current deals. This could be a cost-effective line for the Sharks for several more seasons should it continue to play effectively.
This line has only shown itself for less than a period of hockey and I'm projecting out a few years into the future. Yeah, it is early to get on this Cheechoo train. Still, this feels different; it has 'real deal' feel to it, which isn't something I can say about a lower Sharks line in a long time.
The line is not free from risk, but the upside is too exciting to overlook. Let's hope Peter DeBoer doesn't overlook it.
Against Ottawa, a poorly cleared puck against the Tierney-Nieto-Donskoi trio was quickly returned into the Sharks attack zone and was in the back of the net a few moments later. If this quick, agile, slippery trio can create space on the ice, it can be effective. If this line can frequently turn small puck bobbles by the other team into dangerous scoring chances for themselves, they can change the trajectory of the Sharks season.