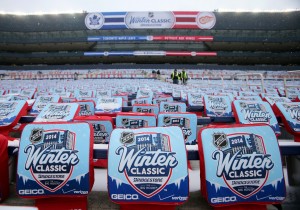 It's been talked about for the last week leading up to the NHL's Winter Classic in Ann Arbor. On Tuesday, rumours became reality when Dave Nonis and Dion Phaneuf took to the podium prior to practice announcing that Phaneuf and the club had reached an agreement on a long-term extension that would see the Leafs' captain paid $49-million through the 2020-21 season.
"We feel that his game is getting better, and he's a player that we can build around and add to and try to keep this team moving forward to become a contender," said Nonis. "We're thrilled ot have him signed, and we're looking forward to moving ahead with him and the other players we have signed to longer-term deals."
The #Leafs have signed Dion Phaneuf to a seven-year contract extension: #PhaneufSigned pic.twitter.com/4gYEXHpl8u

— Toronto Maple Leafs (@MapleLeafs) December 31, 2013
While some will question the move made here by the Leafs, one thing is for certain. People are going to have to get used to seeing number three in a blue and white jersey. Plus, it's not the worst thing that could happen. In fact, it might be better than some are saying.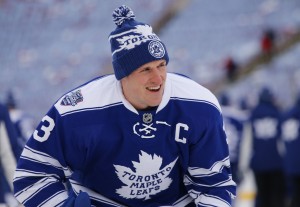 Age And Contract Length
Admittedly, it was shocking hearing that the Leafs were resigning Phaneuf to a seven-year extension. It seemed long and premature for what his teams have accomplished over his career. But, if only for a second, think about his age and where that factors into this contract.
Phaneuf is 28. By the time the contract ends, he'll be around the age of 36 (give or take a few months). As we've seen over the past few seasons, players have been signed to contracts that take them far past the age of playing – Luongo, Pronger, and evidently Ilya Kovalchuk. In Phaneuf's case it's not impossible, nor improbable, that he could play the length and even past the seven-year extension.
"From our standpoint, it wasn't that Dion can't play longer," said the Leafs' general manager. "He was eligible for an eighth year. I think he'll play beyond the term of his contract. I don't think there's any reason why he can't play the seven years and then look for another contract."
The Big, The Rough and The Physical
Remember when Phaneuf played for Canada at the World Juniors Hockey Championships? Remember how he used to lay opponents out – sometimes receiving a minor penalty, simply because the hit was just that earth shattering?
That's the type of player he is. He's a tough player to play against and will often give players some stick business to rub them off the puck. Now Phaneuf has 102 hits in 39 games this season. He ranks 27th overall in the National Hockey League and second on the Leafs in that category behind only Cody Franson (third in the NHL with 143).
More inmportantly, even with his 102 hits, Phaneuf is not among the highest penalized players. With 50 penalty minutes, he ranks 38th in the league. But remember 15 of those minutes came on one play – a hit from behind on Bruins' rookie Kevan Miller.
Phaneuf By The Numbers
Are you still not convinced? If you ask the Leafs' GM, Nonis will tell you to take a look at his captain's career numbers. He has 355 points in 639 (110g-245a) career games – which ranks him 111th all-time among defensemen. He's a plus-14 player with nearly one thousand career hits. He also has 25 career game-winning goals and anchors the Leafs – and formerly the Flames – powerplay.
Yes, Phaneuf has seen a decrease in his offensive numbers since his career-high 60 in 2007-08, but his defensive play has developed to a point where he is currently working on a career high plus-minus rating this season.
So what does Dion think about his development over his decade long career?
"It's an honour to be captain of the Toronto Maple Leafs with the history of the organization," he said at the press conference on Tuesday. "I've definitely grown into the role and I've learned a lot. I'm very comfortable in the role. It's an honour to be the captain of such a storied franchise, but I've definitely learned a lot, and I feel that I've grown as the leader of our team."
Surely there's been ups and downs in his 10-year career. Toronto and its fans bare witness to it every now and then. But every player – every defensemen – makes bad passes, bad plays, and sometimes stands there while the opposition skates down the ice and scores. The reason Phaneuf's have been so publicized – especially in the 2012-13 playoffs – is because he plays in a media savvy market. It's a market that specializes in picking apart the home team and finding ways of critiquing every player.
But is the Phaneuf deal a good deal for the Leafs? Did Dave Nonis make the right move in locking him up long-term with big money? He sure thinks so.
"If you're signing players because you don't have anyone to replace them, you're making mistakes," he said. "We signed Dion to this deal because he deserved it. It's not that you don't have anyone to replace Dion, it's that he's done enough to prove to us that he is a player that is near the top of the League in terms of how he stacks up against the top defensemen."
And as Nonis stated, if there was one thing for sure, it was that Phaneuf would've found a seven-year deal on the open market.
For questions or comments, you can follow Andrew on Twitter @AndrewGForbes