The Toronto Maple Leafs have had a couple of opportunities to clinch a playoff spot. So far, however, those games have both amounted to losses to the Washington Capitals and the Tampa Bay Lightning respectively.
Frustration is starting to set in. Everyone feels it, from the management team to the coaching staff to the players themselves. Fans are a special case. Many live and die by the way this team performs. It's tough to see the players and the organization you love so close to achieving success, only to have it snatched away after a poor performance.
It's not easy to wrap up a spot in the NHL postseason. Yes, losing two games when a playoff spot is within your grasp is tough, but those losses are not the be all and end all, despite them feeling like it.
Leafs Control Their Own Destiny
Let's all step back and take a good, hard look at the situation that the Leafs find themselves in. Before the game against the Pittsburgh Penguins on Saturday night, the Blue and White sit with 93 points with two games remaining. They only need one more win to officially clinch a postseason spot.
Neither of their remaining two games is a walk in the park, however. The first is against the aforementioned Penguins on  Saturday, with a date against the Blue Jackets slated for Sunday. Both are home games, which you would hope help to bolster the troops.
It's also worth noting that the Penguins and Blue Jackets have been locked into the second and third spots of the Metro. The Washington Capitals have already sewn up the division, so the Penguins and Jackets have essentially nothing on the line for these games.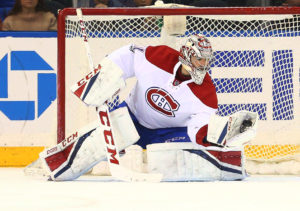 The Leafs have started to worry about the two teams chasing them for the final wild card spot. Those clubs are the Tampa Bay Lightning and the New York Islanders. At the time of this writing, they both have 90 points with two games remaining on the docket.
They need to run the table for a chance to secure a spot, which essentially means they are unable to lose a game. In an odd twist of fate, the Leafs can actually be helped out by one of their fiercest rivals on Friday night. The Montreal Canadiens, who sit first in the Atlantic, will be taking on the Lightning.
If the Habs beat the Bolts in regulation, it's curtains on their season. If you're a Toronto hockey fan, your best move is to cheer your heart out for your French rivals.
The Leafs can only rely so much on other teams to bail them out, however. Eventually, they need to take matters into their own hands and secure themselves a crucial win.
A Look at the Whole Season
After a tough loss with so much on the line, it's natural to be upset. It's also worth taking a step back and examining the season as a whole and getting a much-needed dose of perspective.
The Maple Leafs last year finished dead last in the standings. For most of the season, they iced a squad that was filled with players who we simply knew wouldn't be around long-term. The objective was to give them the best chance of winning the lottery and selecting first overall.
That outcome is exactly what happened and Leaf fans now routinely cheer on the exploits of Auston Matthews, who is having himself a fantastic rookie season.
No one thought that the Leafs would be contending for a playoff spot this soon into their rebuild. The Hockey News ranked the Leafs at the bottom of the Atlantic in their 2016-17 prediction. Over at NHL.com, not a single writer had the Leafs anywhere near the playoffs.
Leafs will still probably make the playoffs and even if they don't the season has already been a success. Sorry if you were expecting panic.

— Down Goes Brown (@DownGoesBrown) April 7, 2017
From my perspective, I personally didn't have this Leafs team in the playoffs either. I thought that they were a squad with a lot of talent that would fully realize it in the coming years. I fully expected a bottom five finish and a chance at a high draft pick that would hopefully result in Swedish defenseman, Timothy Liljegren.
No one could have predicted just how good the rookies would be. They have surprised so many people and have taken the league by storm. Every game, it feels like they are breaking some sort of record that has stood for decades. No one could have counted on how Matthews has scored 39 goals, or that Mitch Marner and William Nylander would each have 60 or more points.
How about the fact that Connor Brown has nearly 20 goals and is almost never talked about? Or that Nikita Zaitsev is playing top line minutes in his first year in North America?
It's been an incredible ride this year for a team comprised of so many young players. It's worth remembering that whether they make the playoffs or not, this year has been far more than Leafs fans could have expected.
Bare Bones
A shot to be a part of the Stanley Cup playoffs is on the line for the remaining two games of the Leafs season. They are 7-3-0 in their last 10. To get an even better look, they are 11-4-1 in their last 16. The last couple losses sting because there was so much on the line.
Losing these two games does not suddenly mean the season is over. They have a three-point lead with two games left. It's an amazing position to be in, especially for a young team that wasn't supposed to be anywhere close to the postseason just yet. The sky is not falling and everything will sort itself out in short order.
This is a young club trying their hardest to clinch their spot. Many have never faced the type of adversity that they are feeling right now. It's a good proving ground and these players will benefit from the experience of being in such a close race this late into the season.
It's been an amazing year punctuated by highlights at every turn. This team is going to be something special in the coming years and these valuable tests are going to be a positive in the long run.
If the Blue and White want to make the postseason, they are going to have to come out with intensity and fire Saturday night against the Penguins. Mike Babcock will prepare a game plan and these young and bold Leafs will need to work their tails off to perform it.
If they do, there's a spot waiting for them among only the most elite teams in the NHL. Toronto is collectively holding its breath, and if the Leafs pull this off, the playoff-starved city will explode like never before.
My name is Anthony Fusco. Through school, I completed a joint degree involving an Honours B.A. in Journalism from Wilfrid Laurier University and a Videography and Broadcasting degree through Conestoga College.
I currently work for the University of Toronto as a Varsity Sports Announcer and for the Toronto Maple Leafs as part of their game presentation squad.
I'm also the play by play voice of the Kelowna Falcons, a baseball team located in British Columbia.
My goal is to one day be a hockey broadcaster.