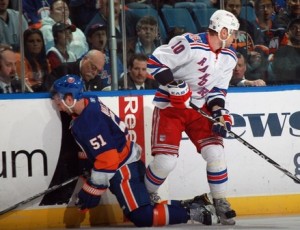 There was a time, not so long ago, when the most heated rivalry in all of sports took place on a sheet of ice. Take the Yankees-Red Sox, Lakers-Celtics, and perhaps the Cowboys and Redskins and pour some gasoline over those traditionally ugly clashes. That will give you a sense of what the New York Ranger-New York Islander battles of 1975 through 1994 felt like.
The rivalry was ignited by JP Parise's overtime goal, accelerated by the epochal 1978-79 semi-final series, and gave birth to one of hockey's greatest dynasties. The Blueshirts  four game demolition that jumpstarted their Cup run seemed to symbolically bring the curtain down on twenty years of ill will. Sure, there have been some flare-ups now and then, an occasional brawl and goaltenders challenging the opposing  benches, yet the passion and disdain between players and fans alike has never again approached the level that it once had achieved. Gone are Trottier and Bossy, Potvin and Smith. Messier, Leetch, Graves and Richter's presence materialize only in the retired number section of the Madison Square Garden rafters.  The '1940' chant is a faded memory, and 'Potvin sucks' seems to be losing its luster after all these years as well. There have been no playoff series, no flashpoint moments and, to be quite honest, it seems like forever since the Islanders were relevant.
That may be starting to change.
The Isles, while still the butt of many NHL jokes, are stockpiling young talent. John Tavares, if he played almost anywhere but Long Island, would be a household name. As it is right now, he's only one of the most talented and dangerous forwards in the game. Matt Moulson is a legitimate goal scorer, and Michael Grabner can skate with anyone in the league. The impending move to Brooklyn should help the Isles self-esteem, so long as the building is not filled with Ranger fans looking to avoid Manhattan prices. If the Isles can put the sad Rick DiPietro saga to rest once and for all, that would go a long way towards reestablishing some semblance of credibility.
The Rangers have been battling injuries and an identity crisis during this truncated season, trying to figure out who they are and how to fit all the pieces into a jumbled puzzle. Recently, it seems they have figured it out, with three straight wins sparked by the dominant play of Rick Nash and Ryan Callahan. With Marc Staal out indefinitely, the blue line has taken a major hit, but the fact remains Broadway is seeking much more than the respectability Long Island continues to search for. Could a potentially on-the-rise Islander team challenging a Cup contending Ranger squad be enough to resuscitate a rivalry the league desperately needs?
Let's face it, all sports are fueled by rivalries. The NHL needs them probably more than any other professional league at this point in time. Gary Bettman and his administration can attempt to manufacture rivalries through realignment, wildcard teams and other slight of hand maneuvers, but the bottom line is that rivalries are born and bred on the ice and in the crowd, not in some board room on Sixth Avenue. Rangers-Islanders was a natural, born out of contempt and the culture clash of glitzy, big money establishment versus laid back, farm country newcomers. Yet, the underlying force that fed the New York-New York beast was relatively simple; the teams played big games against each other, and playoff battles were a rite of spring.
The teams sit separated by just two points in the Eastern Conference standings as they get set to battle tonight on the Island, though the Rangers hold two games in hand.  While this is far from a do-or-die game for either, the clock is ticking on the shortened season, magnifying each game's importance. Will that be enough to stoke the fires of what used to be the NHL's version of the Hatfields and McCoys? Former Islander tough guy Micheal Haley will be wearing Ranger blue, which should amp up the intensity, yet ultimately the cure-all will be these two teams playing desperate hockey come April. For tonight, we'll all have to settle for a big one in March, and hope it is a prelude of things to come.
Or a look back at how things used to be.