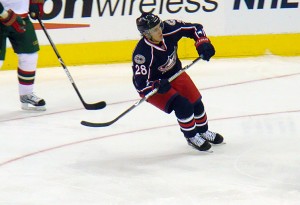 As the hockey world turns from the Stanley Cup Playoffs and begins to focus on the 2011 NHL Entry Draft that takes place next week in St. Paul, Minnesota we take the opportunity to reflect on some draft history.  Teams place a lot of importance on making the correct draft choices and that becomes especially true when a team picks within the first round.  The importance making the right draft selections is essential for an NHL organization to succeed.
After looking through previous year's draft logs, there is a trend that stands out that should cause some teams to be concerned – especially those teams holding the sixth overall pick.  Dating back several decades, the NHL Draft has been responsible for turning out the future stars of tomorrow whether they get drafted first (Sidney Crosby) or one-hundred seventy-first (Pavel Datsyuk).  Whether a team picks first or the last in the draft, history shows there is some risk involved with choosing a player but when the sixth overall pick comes due there are too many examples of this pick becoming "busts" for teams to ignore.
Let's take a look at some sixth overall selections who have disappointed at the NHL level.
1989 – Adam Bennett (Chicago Blackhawks)
Mats Sundin was the first overall pick in 1989 and Scott Thornton (3rd), Stu Barnes (4th) and Bill Guerin (5th) were chosen before Chicago made the 6th overall selection that year.  The Blackhawks chose defenseman Adam Bennett who couldn't stick for more the 69 games in the NHL and didn't survive the AHL either.  Bobby Holik (10th) and Mike Sillinger (11th) are just two veteran NHLers who were chosen after Bennett and played over 2300 NHL games combined.
1990 – Steve Scissons (New York Islanders)
The 1990 Draft saw the first five players selected become star players and valuable members on NHL rosters but the Islanders were robbed as centerman Scissons only played two NHL games.  It hurts more knowing that Darryl Sydor (7th), Darien Hatcher (8th), Drake Berehowsky (10th) and Trevor Kidd (11th) had solid NHL careers.  The 1990 NHL Draft featured a strong start as Owen Nolan (1st), Petr Nedved (2nd), Keith Primeau (3rd), Mike Ricci (4th) and Jaromir Jagr (5th) all had fantastic careers.
1995 – Steve Kelly (Edmonton Oilers)
Kelly was able to play in 149 NHL games scoring 9 goals and 21 points but he never quite reached his potential.  Steve Kelly was on the move early in his career as Edmonton traded him to Tampa Bay who later sent him to New Jersey.  Fortunately, Kelly got into playoff action with the Devils and won a Stanley Cup in his brief career.  Later, Kelly played for the Los Angeles Kings and Minnesota but the majority of his professional career was spent toiling in the minors.
Bryan Berard (1st), Wade Redden (2nd), Aki Berg (3rd), Chad Kilger (4th), Daymond Langkow (5th), Shane Doan (7th), Kyle McLaren (9th), Radek Dvorak (10th), Jerome Iginla (11th), JS Giguere (12th) and Jay McKee (13th) surrounded that sixth overall pick which has to hurt the Oilers for making the Kelly pick – especially with great leaders like Doan and Iginla being selected shortly after.
1997 – Daniel Tkaczuk (Calgary Flames)
Oh boy, this Tkaczuk selection has to really hurt the Calgary franchise when they take a look back at the players selected above and below the former Barrie Colt.  The Boston Bruins selected centerman Joe Thornton first overall and the talent didn't stop there as Patrick Marleau (2nd), Olli Jokinen (3rd), Roberto Luongo (4nd), Eric Brewer (5th),  Paul Mara (7th), Sergei Samsonov (8th), Nick Boynton (9th) and Marian Hossa (11th) have all made significant impacts at the NHL level.  The Flames should definitely attempt to erase their Tkaczuk pick from their memory as Daniel ended up playing 19 career NHL games scoring 11 points.
1998 – Rico Fata (Calgary Flames)
It was the second year in a row that the Flames held the sixth overall selection and this time they decided to put their faith in the small speedy winger Rico Fata from the London Knights.  Fata had a decent junior career but his playing style didn't translate to success at the NHL level as he was limited to 230 NHL games.  The small stocky winger did get a good taste of NHL action but the Flames were expecting more from the sixth overall pick as Fata recorded just 63 career NHL points.
Fata bounced around the NHL playing with the Rangers, Penguins and Capitals but failed to stick with any club. Fata is currently still playing hockey in Europe (Switzerland) but it's safe to say that the Flames would have rather drafted later first round picks in Manny Maholtra (7th), Nik Antropov (10th), Alex Tanguay (12th), Robin Regehr (19th), Simon Gagne (22nd) or Scott Gomez (27th) instead.
1999 – Brian Finley (Nashville Predators)
The 1999 NHL Draft featured a few historic events as Atlanta's Patrik Stefan became a first overall flop, twins Daniel (2nd) and Henrik Sedin (3rd) were drafted in back to back picks by Vancouver and the overall talent from '99 has been considered dismal.  Regardless of how poor the 1999 draft turned out to be, Nashville were victims to the cursed sixth overall pick when they selected goaltender Brian Finley from the OHL's Barrie Colts.
Finley had all the accolades to be a top netminder including an OHL Championship, Top OHL Goaltender award and several OHL All-Star Team nominations but in the end he failed to reach the NHL.  Finley would see action in four NHL games over three different seasons with two NHL teams (Nashville and Boston).
2004 – Al Montoya (New York Rangers)
Goaltenders typically take a few years to develop so one cannot write off Montoya just yet especially coming on strong with the Islanders after being picked up late last year.  However, Montoya is definitely running out of time to prove himself and needs to make the most of his opportunities to avoid becoming another sixth overall bust.  In the year that saw superstar Russian forwards Alexander Ovechkin and Evgeny Malkin drafted one and two, Montoya has been a disappointment.  Andrew Ladd (3rd), Blake Wheeler (5th), Ladislav Smid (9th), Drew Stafford (13th), Travis Zajac (20th), Corey Schneider (26th) and Mike Green (29th) are all 2004 first round picks who have made their mark on the NHL.  Can Montoya quiet the doubters?
2005 – Gilbert Brule (Columbus Blue Jackets)
The former WHL Rookie of the Year entered the NHL as a very promising prospect but he is already on his second NHL team in a very young NHL career and his chances are fading fast.  The diminutive forward oozes skill and that's part of the reason he was a high draft choice but Brule has struggled to find his way in the big league.  In a draft year that featured Sidney Crosby (1st), Bobby Ryan (2nd), Jack Johnson (3rd), Carey Price (5th), Devon Setoguchi (8th), Anze Kopitar (11th) and Marc Staal (12th) it is beginning to look like Brule has become another case of the cursed sixth overall pick.
2006-2010 – Derick Brassard, Sam Gagner, Nikita Filatov, and Brett Connolly
It would not be fair to write off any player drafted within the last five years simply because it often takes teams several years to develop their prospects to the point where they are comfortable a regular shift with the big club.  However, each of the last five sixth overall draft picks has received some sort of red flag or criticism early in their careers.
Derick Brassard appears to be trending in the right direction but there is a history of injuries attached to the Jacket's centerman.  Sam Gagner was drafted from a high flying London Knights' team but has yet to take that next step in his career that the Oilers were hoping for.  He is extremely young (21) so there is still lots of hope but most people thought he would have topped his rookie season numbers after four NHL seasons.  Filatov was once projected to become the next big Russian star but after a feud with former Jackets' coach and a progression that seems to have stalled many people are starting to doubt the young scoring winger.  Brett Connolly has yet to play an NHL game and he was drafted by the Lightning knowing his history of injuries and that is cause for concern after passing up on a player like Cam Fowler.
All five of these sixth overall picks since 2006 have extremely high upside but the hockey world and their teams will be watching them closely in hopes of nixing the curse of the sixth overall pick.
If teams had the benefit of hindsight, there would be little risk or excitement involved in the annual draft but there is an alarming pattern occurring with the sixth overall pick.  In most cases, the sixth pick is not high enough to select that top tier player and teams have to make a decision between several similar players.  There are no guarantees with any draft pick but in today's NHL teams usually expect any first round selection to make an impact in some way or another.
In recent years, NHL organizations have invested more time and money into their scouting departments so their expectations are higher.   Historically, several fantastic players have come through the NHL after being selected in the sixth position so all hope is not lost.  Peter Forsberg ('91), Ryan Smyth ('94), Scott Hartnell ('00) and Mikko Koivu ('01) have all made their teams proud of their sixth selection but it seems that teams do have concerns about the astounding number of sixth picks who have left their teams wanting more.  For the sake of hockey, let's hope that this curse ends soon.
For the record, the Ottawa Senators hold the sixth spot in this year's draft and have been rumoured to be shopping it hard.  Can you blame the Senators?