Twenty years ago today, the Anaheim Ducks (Mighty Ducks of Anaheim back then), New Jersey Devils, Paul Kariya, and Scott Stevens became forever intertwined in one of the most dangerous yet thrilling sequences ever seen in the Stanley Cup Final. It was June 7, 2003, and it was Game 6 at the Arrowhead Pond in Anaheim.
After a stunning, brutal, and by all accounts illegal hit (by today's standards) by Stevens, Kariya returned late in the second period after missing only 11 minutes of action. Shortly after, he delivered an absolute howitzer labeled for the back of the net to give the Ducks a commanding 4-1 lead. There was no universe in which Devils goaltender Martin Brodeur was stopping that shot, and it was one of the most electrifying moments (and calls by Gary Thorne) in playoff history.
Ducks Come Out Storming in Game 6
The Ducks were on an unlikely run as the seventh seed in the Western Conference. They dispatched the mighty Detroit Red Wings, which had two full lines of Hall-of-Famers, the top-seeded Dallas Stars, and the upstart Minnesota Wild. The Devils, meanwhile, were in the middle of their own dynastic run that also featured a roster of Hall-of-Famers, including Stevens, Scott Niedermayer, and Brodeur.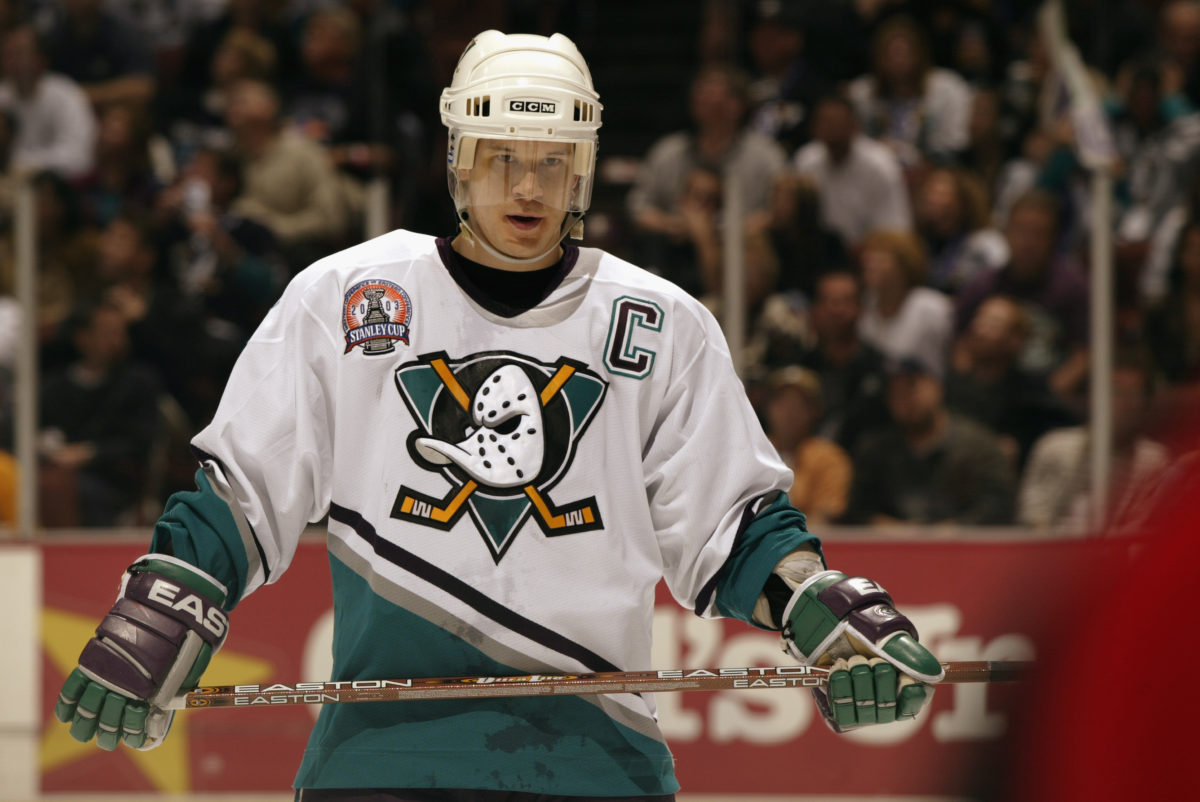 The Ducks traded home wins with the Devils in the series and arrived at a must-win Game 6 to keep their hopes of a championship alive. They came out swinging, playing like a team that wanted to send the series back to New Jersey for a seventh and deciding game.
The Hit by Stevens
With the Ducks in complete control of the game, Kariya and his linemates, Petr Sykora and Adam Oates, were trying to keep the pressure on the Devils. Entering the attacking zone, Kariya chipped the puck to the left and skated right. Stevens, playing on the left side, skated left to right to meet Kariya, making considerable and forceful head contact, sending Kariya brutally flat on his back on the ice. It would definitely be an illegal hit in today's NHL; heck, it should've been illegal back then. His head was hit first and the puck was gone. Stevens was not penalized.
---
Latest News & Highlights
---
Stevens made a living punishing players for skating with their heads down and cutting across the middle. He hurt players (Kariya and Eric Lindros – to name a couple) and famously played with the belief that hits were as responsible as goals or huge saves for changing the momentum of a game. Maybe he was right. After all, that was his era. You don't see it as much now. Today, hits like the one on Kariya are suspendable offenses, especially in cases of injury.
The Comeback By Kariya
After spending several motionless minutes on the ice, Kariya shakily stood up but was unable to leave on his own. As he was helped off by teammates and trainers, there wasn't a person in that building that thought he'd return to the game, let alone the series.
This was in 2003, when not only was that hit not penalized, but the attention paid to head injuries was a fraction of what it is today. No spotters, no official concussion protocol, and no Department of Player Safety. Who did Stevens have to answer to, and who was to stop Kariya from staying in the game if he said he was OK? Nobody on both counts. Lo and behold, Kariya, visibly (though probably not physically) no worse for wear, shockingly returned to the bench the same period to the roar of the Arrowhead Pond of Anaheim crowd.
Kariya sped down the wing with a full head of steam and one thing on his mind: shoot the puck as hard as he can. Doing exactly that, he put the Ducks up 4-1 in the game and brought the entire stadium to its feet, roaring, unlike anything that stadium had ever experienced.

Unfortunately, it was the Ducks' last highlight of the series and Kariya's as a Duck. The team lost Game 7 3-0, and Kariya left the organization in free agency that summer. It was a bitter ending to an otherwise Cinderella season for the young Anaheim franchise.
Kariya's Goal Will Forever Be a Ducks Top Moment
Under what seemed like near-impossible circumstances, Kariya bounced back and delivered a moment that will live on in franchise history, right up there with Teemu Selanne's Game 5 overtime winner against the Red Wings.
Related: Paul Kariya – The Original Mighty Duck
The Stanley Cup Final is littered with memorable, larger-than-life moments. There's Bobby Orr's flying goal. There's Brett Hull's game-winner in 1999. How many memorable moments did Wayne Gretzky have during their run? Too many to count. The list goes on.
This game was 20 years ago today, and it is still talked about. It will always be talked about – the electricity of the moment, the goal call by Thorne, and Kariya's comeback. However, to remember it all is to also remember the devastating hit Stevens delivered and the impact it had on Kariya's health going forward. It was one of many nasty hits Kariya suffered in his 989-game career, which led to his bitterly leaving the game in 2011, but this goal will always be a highlight.