We're back with a prospect update and the first of 2021! The Anaheim Ducks have a few new additions to the prospect pool, so it's time to recap and analyze their performances. Welcome back to our series updating you on some of the Ducks' top prospects and picks from the 2020 NHL Entry Draft.
Colangelo Gets First NCAA Point With Northeastern
It's been a busy month for Sam Colangelo. After representing Team USA at the 2021 World Junior Championship, winning a gold medal, and registering one goal in seven games played, he returned to Northeastern University to make his NCAA debut. Northeastern actually began their season on Dec. 12, but Colangelo was already in Team USA's bubble for the WJC and couldn't make his debut. He eventually made his first NCAA appearance on Jan. 9 against Merrimack, where he was held pointless but managed to record four shots on goal.
Colangelo grabbed his first NCAA point on Wednesday in Northeastern's 7-0 victory over New Hampshire – a primary assist on Grant Jozefek's goal. Colangelo won't have an issue adapting to the NCAA thanks to his size and defensive acumen, but it will be interesting to see how his offensive abilities improve against tougher competition.
Upcoming Games: Jan. 22/23 vs. New Hampshire
Andersson Scores First HockeyAllsvenskan Goal
Axel Andersson has returned to Sweden and is currently playing for Södertälje SK in HockeyAllsvenskan. He had previously played for the team during the 2018-19 season, amassing 5 assists in 41 games played. Andersson had 3 goals and 21 assists for 24 points in 43 games played with Moncton during the 2019-20 season.
As of this writing, he's played 29 games for Södertälje during the 2020-21 season, putting up one goal and four assists. He picked up his first HockeyAllsvenskan goal in style on a nice give-and-go to complete an impressive rush from the defenseman. It's still possible that Andersson could return to the San Diego Gulls once the 2020-21 American Hockey League (AHL) schedule is determined.
Upcoming Games: Jan. 17 vs. Timrå, Jan. 20 vs. Väsby
Hunter Drew Returns to San Diego
Hunter Drew was really posting some fantasy numbers while on loan with HC Banska Bystrica in Slovakia. In 20 games in the Slovak Tipos Extraliga, Drew recorded nine goals and seven assists for 16 points, as well as a staggering 111 penalty minutes. Posting an abnormal amount of penalty minutes isn't out of the ordinary for Drew, who posted 369 penalty minutes in 167 Quebec Major Junior Hockey League (QMJHL) games.
His stint in Slovakia was highlighted by an impressive four-goal game back in mid-November. Drew played the majority of the 2019-20 season in the American Hockey League with the San Diego Gulls in which he recorded two goals and five assists for seven points in 29 games played. He's returning to San Diego now for the start of the 2020-21 AHL season.
Sundsvik Returns From World Juniors
Albin Sundsvik returned to Skellefteå AIK of the Swedish Hockey League after featuring for Sweden at the 2021 World Junior Championship. At the tournament, he recorded one goal and two assists for three points in five games played while centering the top line with Alexander Holtz and Lucas Raymond. Sundsvik made his SHL return on Jan. 9 against Växjö.
Through 25 games this season, he has amassed two goals and one assist. His game generally doesn't involve a lot of offense, hence why he had only three goals and one assist in 38 games played for Skellefteå AIK in the SHL during the 2019-20 season.
Upcoming Games: Jan. 19 vs. Luleå, Jan. 21 vs. HV71, Jan. 23 vs. Djurgården
Blake McLaughlin, Jackson LaCombe and Jack Perbix
It's been an excellent start for the University of Minnesota, who started the season on a 10-game winning streak and currently sit with a record of 11-2-0. Out of the three Ducks' prospects on the team, Blake McLaughlin leads the trio in scoring with three goals and four assists for seven points in 13 games played. He picked up a goal and an assist in their most recent victory, a 5-3 win over Wisconsin.
Jackson LaCombe returns from the 2021 WJC having won gold with Team USA. At the tournament, he registered one assist in six games played. He scored his first goal of the season in Minnesota's 3-2 loss to Notre Dame on Friday. Through nine games played, he has one goal and three assists for four points.
Jack Perbix has been centering Minnesota's fourth line for much of the season. He picked up an assist on LaCombe's first goal of the season on Friday and currently has three assists in 12 games played.
Upcoming Games: Jan. 21/22 vs. Arizona State
Trevor Janicke
Trevor Janicke has been bouncing between the third and first lines for Notre Dame over their last few games. On the season, Notre Dame has a record of 6-6-1 after losing their first two games of the year. Janicke has featured in all 13 games for the Fighting Irish and has amassed one goal and three assists for four points. He is pointless in his last three games and has just one assist over his last six.
Upcoming Games: Jan. 21/22 vs. Michigan
Henry Thrun and Ian Moore
It's been an eventful season for Henry Thrun, as he wasn't able to return to Harvard due to COVID-19. He was loaned to the Dubuque Fighting Saints of the USHL where he only played two games before joining up with Team USA for the 2021 WJC. He won a gold medal alongside fellow Ducks' prospects Trevor Zegras, Colangelo and LaCombe. He featured in seven games and recorded one assist. It's now rumored that Thrun will not return to Dubuque, but instead head to Florida to train with a group of Ivy League players.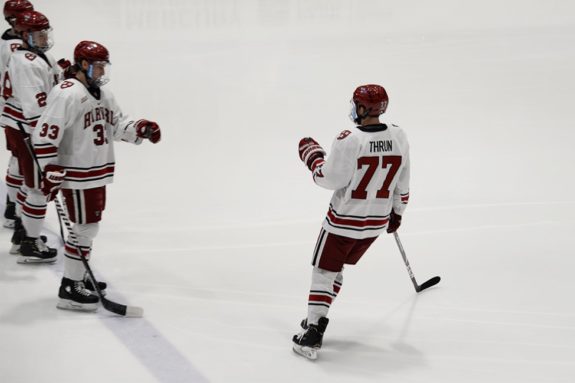 Meanwhile, Ian Moore is loving life with the Chicago Steel in his rookie USHL season. Chicago is one of the best teams in the league, sitting with a 13-3-2 record. The defenseman made the switch after the Ducks drafted him out of the high-school circuit where he recorded 46 points in 28 games last season. Moore currently has one goal and two assists in 15 games played with the Steel.
Upcoming Games: Jan. 22/23 vs. Youngstown
Thimo Nickl and Matthew Hill
Due to uncertainties surrounding the start of the QMJHL season, Thimo Nickl decided to join up with Rögle BK's J20 side in the J20 Nationell in Sweden. He spent the 2019-20 season with the Drummondville Voltigeurs in the QMJHL, amassing 10 goals and 29 assists in 58 games played.
Nickl had one goal and four assists in nine games played with Rögle in the J20. He was promoted to Rögle's SHL team on Jan. 2 – he's skated with the team and been on the roster for five games so far. He was supposed to represent Austria at the 2021 WJC, but missed the tournament due to COVID-19.
Upcoming Games: Jan. 19 vs. Djurgården, Jan. 21 vs. Djurgården, Jan. 23 vs. Luleå
Mathew Hill is currently on loan from the Barrie Colts of the OHL and is playing in Denmark's U20 league with Esbjerg U20. He has amassed two goals and three assists for five points in three games played. Hill isn't usually known for his offensive production, so I would chalk this up to playing in a less competitive league.
Artyom Galimov
At the 2020 NHL Entry Draft, Artyom Galimov became the first Russian drafted by the Ducks since goaltender Igor Bobkov in 2009, and their first Russian skater since Stanislav Chistov in 2001. It was Galimov's fourth time through the draft and he was selected 129th overall by the Ducks. During the 2019-20 season, he received the Alexei Cherepanov Award (Rookie of the Year) for his production in the KHL. He amassed 13 goals and 10 assists for 23 points in 55 games played with Ak Bars Kazan.
Through 27 games this season, Galimov has four goals and seven assists for 11 points. It's a disappointing total, especially after he started the season with nine points in 18 games played. Kazan currently sits first in the KHL with a 34-8-4 record.
Upcoming Games: Jan. 17 vs. Torpedo, Jan. 19 vs. Dinamo Riga, Jan. 21 vs. Lokomotiv
---
---
Fan of the Anaheim Ducks for my whole life. I'm a die hard fan living in London, Ontario. Excited to be writing about the team I love. Talking all things Ducks on the Forever Mighty Podcast!