We're back with a prospect update, and what a week it was for some of the Anaheim Ducks' prospects! The AHL season began, and we finally got a look at Trevor Zegras and Jamie Drysdale. It's time to recap and analyze their performances. Welcome back to our series updating you on some of the Ducks' top prospects and picks from the NHL Entry Draft.
Ducks' Prospects Thriving in San Diego
The San Diego Gulls kicked off their 2020-21 season on Friday night, and in doing so, we saw the professional debuts of several Ducks' prospects, including Zegras, Drysdale, Jacob Perreault and Lukas Dostal. The four are arguably the Ducks' top prospects in their system, and they sure haven't disappointed in two games for the Gulls this season. Starting with Zegras, the ninth overall pick in the 2019 NHL Entry Draft showed why Ducks fans should be excited about his impending arrival.
In the season debut against the Bakersfield Condors, he registered one goal and two assists to lead the Gulls to a 4-1 victory. He followed that up on Saturday night with a beautiful goal in which he pump-faked the defender to gain space and wired it past Condors' netminder Olivier Rodrigue. He also grabbed another assist when Sam Carrick deflected his shot pass into the net. As of Sunday morning, Zegras leads the AHL in scoring with two goals and three assists in two games played. There are plenty of games still to be played, so take that with a grain of salt, but it's an impressive start for the Bedford, New York native.
Meanwhile, we also saw the debut of 2020 sixth overall pick Jamie Drysdale, who has been allowed to play in the AHL until the Ontario Hockey League resumes play. He was reserved in his first game of the season but broke out in the Gulls 4-3 victory over Bakersfield last night. The young defenseman found himself on a breakaway and wired a wrist shot past Rodrigue to give the Gulls a 2-1 lead in the first period. Drysdale was named the first start of the game and has one goal and one assist in two games played. Perreault, who is also in San Diego due to the OHL's season postponement, made his debut after an impressive preseason. He picked up an assist in the opening game of the season, feeding Matt Lorito for the Gulls' fourth goal of the game.
Last but certainly not least, Dostal made his North American debut after joining the team from the Finnish Liiga and started in both games for the Gulls. He was excellent in his season opener, stopping 29 of 30 shots on goal and earning the second star of the game. He followed that performance up with an even better outing on Saturday night, making 40 saves en route to the 4-3 victory. Again, it's early on in the season, but Dostal has a 2-0-0 record with a 2.00 goals against average and a .945 save percentage.
Artyom Galimov & Sam Colangelo
Artyom Galimov featured in all three games for Ak Bars Kazan this week and was held pointless. He managed to record six shots on goals and two hits while averaging just under 15 minutes of time on ice. He made the highlight reel last week when in a game against HC Kunlun Red Star, he undressed defenseman Jake Chelios, son of Hall of Famer Chris Chelios, and then converted on the no-look backhander to give Kazan the lead. His goal was the KHL Goal of the Week on Wednesday. His point totals remain the same, at five goals and eight assists for 13 points in 35 games played.
Upcoming Games: No games this week
Sam Colangelo and Northeastern University returned to action this week after having their previous two games against Boston College postponed. On Tuesday, they lost 6-2 to Boston College, and on Friday, they lost 4-1 to UConn. Colangelo recorded one assist and seven shots on goal across those two games. He now has two assists over five games played this season.
Upcoming Games: N/A
Axel Andersson & Albin Sundsvik
Axel Andersson featured in both games for Södertälje SK this week, recording one assist and three shots on goal in the process. He has been making strides offensively this season and now has two goals and seven assists for nine points in 37 games played. He will likely finish out the 2020-21 season in Sweden and join up with the Gulls in San Diego after that.
Upcoming Games: Feb. 9/10 vs. Mora, Feb. 13 vs. Västerås
Albin Sundsvik featured in three games for Skellefteå AIK of the Swedish Hockey League last week. He registered two assists, both coming against Djurgårdens IF on Feb. 4, and four shots on goal while playing an average of approx. 13 minutes per game. He now has three multi-point performances in his last six games. Through 34 games played this season, he now has five goals and five assists for ten points.
Upcoming Games: No games this week
Blake McLaughlin, Jackson LaCombe and Jack Perbix
The University of Minnesota crashed back down to Earth this weekend after previously winning four games in a row. They played Wisconsin on Friday and Saturday, losing both games by scores of 4-1 and 8-1, respectively. Blake McLaughlin recorded an assist on Minnesota's lone goal on Friday. Jack Perbix and Jackson LaCombe finished scoreless, as his impressive run of form came to an end.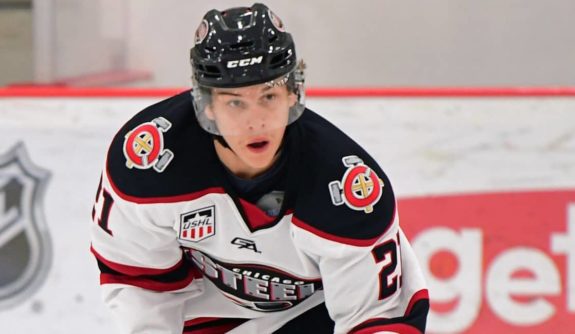 McLaughlin now has eight goals and 11 assists for 19 points in 20 games played. LaCombe has three goals and ten assists for 13 points in 16 games played, and Perbix has two goals and four assists for six points in 19 games played.
Upcoming Games: Feb. 12/13 vs. Notre Dame
Trevor Janicke, Thimo Nickl and Ian Moore
Notre Dame got back to their winning ways this week, beating Ohio State twice by a combined score of 14-2. Trevor Janicke broke a five-game point drought on Saturday in which he recorded an assist in Notre Dame's 8-1 win over Ohio State. He went scoreless in their 6-1 victory on Friday, recording one shot on goal. Through 20 games played, he has one goal and five assists for six points.
Upcoming Games: Feb. 12/13 vs. Minnesota
Thimo Nickl failed to get into either of Rögle's SHL games this week. He's skated with the team and been on the roster for 13 games so far, but he's only actually played in two games. It may be time for Nickl to return to the Quebec Major Junior Hockey League soon and play with the Drummondville Voltigeurs.
Upcoming Games: No games this week
Ian Moore made his return to the Chicago Steel lineup this week, playing in two of their three games. He played in both Friday and Saturday's matchups against the Green Bay Gamblers. He picked up right where he left off in January, recording a goal and two shots in Chicago's 7-3 victory on Friday and registering one goal, one assist and two shots in their 9-3 victory on Saturday. His third multi-point game of the season brings his totals to four goals and four assists in 18 games played.
Upcoming Games: Feb. 11 vs. Des Moines, Feb. 13/14 vs. Dubuque
Thanks for checking out our latest prospects update of the 2020-21 season. Stay tuned for a fresh update on Ducks' prospects from major junior, NCAA, Europe and around the world!
In the meantime, if you want to hear my thoughts on the team's prospects and current affairs, check out The Forever Mighty Podcast for all the latest Anaheim Ducks talk and analysis.
---
---
Fan of the Anaheim Ducks for my whole life. I'm a die hard fan living in London, Ontario. Excited to be writing about the team I love. Talking all things Ducks on the Forever Mighty Podcast!