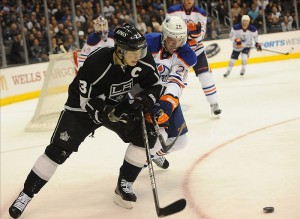 It wasn't long ago when Dustin Brown's bags were all but packed, with a rumored one-way ticket about to be delivered to his door.
Rewind to exactly one year ago today. With just 12 goals, he was on target for his lowest tally since 2006-07, his second full season in the NHL. He was on a pace for a mere 42 points, his fewest since his rookie year. So he caught fire and saved both his and the Kings' season at that point, did he? No, he most certainly did not. Instead, Brown proceeded to sink even further into an abyss, suffering through a dismal fourteen game period where he notched just one goal and three assists. He was struggling so badly, his previous output seemed almost Crosbyesque by comparison.
Not coincidentally, Los Angeles sleepwalked through a 5-6-3 stretch, losing ground in their battle to eke into the playoffs. Always a streaky player who was never quite sure if he wanted to be a power forward or a dipsy-doodle puckhandler, Brown was doing neither very well. Apparently at their wits end, Kings' management had seen enough. Something had to be done to shake up the team. As the February 27th trade deadline approached, his was one of the biggest names being floated about on social media as available for the right price. The Toronto Maple Leafs, Boston Bruins, New York Rangers and Philadelphia Flyers were alleged suitors, amongst numerous other teams. Bob McKenzie even tweeted that "most assuredly" he had been made available.
To add insult to injury, he got a ration of you-know-what about this:
The turning point
At the height of the trade rumors, Brown's breakout game against the Chicago Blackhawks (three goals, one assist) on February 25th not only saved his Kings career, but, ipso facto, won them a Cup. It served to immediately snuff out the whispers, and kick-started an incredible stretch for both him and the team. Brown recorded 23 points in his last 21 regular season games, nearly doubling his season point total in the process. Meanwhile, a team that seemed afraid of the opponents' nets finally put it all together, averaging 2.83 goals/game over that time frame after a league low 2.08 goals/game during the first 61 games of the season. With the offense finally clicking, the team posted a 13-5-3 record to finish the season, barely capturing the eighth seed.
Brown continued his rampage in the playoffs, tying for the team lead in points and leading in number of opponents leveled by devastating hits. Counting the playoffs, the team went 29-9-3 to finish the season starting with the Chicago game, including their 16-4 playoff run. For a Captain repeatedly questioned about his leadership skills over the years, he matured into what Kings fans had been hoping for, right before their very eyes.
The team takes notice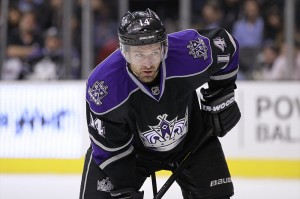 His evolution into a true leader did not go unnoticed by the team. "Big players need to elevate their games when it matters most," said right winger Justin Williams during the playoffs. "That's what leaders do. That's what Dustin is doing right now. If you look at a lot of championship teams — when I won it in 2006 (with the Carolina Hurricanes), our captain, Rod Brind'Amour, elevated his game, scored big goals, was a captain. He's reminding me of Roddy that year, because he's scoring big goals, game in and game out. He's not carrying the team, but he's being one of the best players on our team, which we need him to be, and turning into a heck of a leader."
Top line center Anze Kopitar agreed. "I think he realizes we need him to play like that in order to be successful, and right now he's clicking on the ice, and making plays, and he's getting the bounces because he's scoring big goals, obviously. That's what good captains and good leaders do."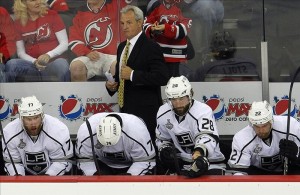 Head coach Darryl Sutter was effusive in his praise for Brown's (as well as Mike Richards') leadership skills: "It's always better from a teammates standpoint, coaching standpoint, if (captains) have a strong identity, because that's how you want your team to play," he said during the Finals. "And we're fortunate that we have (former Philadelphia Flyers captain) Mike Richards and Brownie both that are so close in those areas, in terms of what they bring, in terms of leadership, we're lucky like that."
A new season, a new challenge
The Kings are young, fast, deep, tough, and now — experienced. They have seven former 30+ goal scorers, a former Norris Trophy finalist and the runner-up to the Vezina Trophy. Most of all, they now possess something that many questioned as recently as twelve months ago: a captain with demonstrated leadership skills. On the eve of a truncated 48-game NHL season, Dustin Brown stands ready to lead Los Angeles in the defense of their Stanley Cup.
Walter McLaughlin is a Los Angeles Kings correspondent for The Hockey Writers. He is an avid sports fan, having followed the Kings since living in L.A. in the mid-1970's, as well as suffering through Seattle sports teams' general futility. He has a Bachelor's degree in Finance and has worked in community banking for over 25 years, specializing in SBA loans. He is married and has two daughters.