Last year. the Capitals went from worst to first in their division during a lockout shortened season.  At only three games in, the 1-2 record is not necessarily an indicator on the direction the Caps season is headed in.  However, there are some early questions surrounding the Caps that they will need to address if they are going to make a postseason run.
What's happened to Martin Erat?
Erat was brought in at the trade deadline last year to help the Caps described "win now" mentality.  Though he was considered to be having a slow season in Nashville because of a bad team, early indications are that the Caps brain trust seems to think he has lost a step.  It could be argued that it makes sense to have a veteran on the fourth line with Tom Wilson and that it is a good idea to spread out the team's scoring talent.  However, many thought Erat would be on the team's second line this year and again be a 50-point scorer.  Now it appears the sway in opinion is that Erat maybe does not deserve the lower minutes, but has not done anything to prove otherwise.
In an odd twist, Michael Latta was brought up from Hershey today.  Latta came to Washington with Erat as part of the Filip Forsberg trade.  Reports are he is filling in for Backstrom who is not at practice due to his girlfriend giving birth this morning.  Who he could replace in the lineup is an interesting question that will play itself out soon if Latta shows promise.
Where is the improved even strength scoring?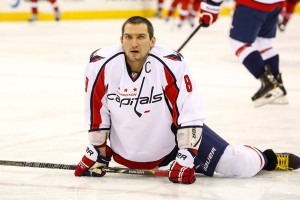 When Grabovski was signed to replace a departing Ribeiro, the thought was power play scoring may drop a bit.  However, Grabovski statistically made guys he played with in Toronto better during 5-on-5 play or so goes the argument.  Well, Grabovski has had a great start in Washington, but only Ovechkin and Grabovski have scored even strength goals so far.  On the other hand, the power play team is getting a goal on every other extra man opportunity as of today.  That surely will not last, but will the even strength situation get better as the power play comes back to Earth?
Is this another Holtby slow start or will the Caps be goaltending by committee?
Holtby has had another slow start and is allowing over four goals a game.  The Chicago game skews that stat a bit and he has allowed fewer goals in each of the three first starts.  Oates believes he is the better choice over Neuvirth, so he will continue to get the chances to improve.  The defense in front of him is not that great, but he has let in some soft goals early on.  How many more bad games can Holtby have before he is benched?    The Caps have to be hoping the Holtby that played in Dallas starts showing up and not the Holtby in Chicago/Calgary.  If not, we might see a lot of both keepers this year as specific team strategy dictates—usually not a good recipe for playoff success.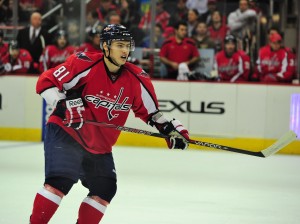 Have the Caps lost faith in Dmitry Orlov?
Connor Carrick gets an early season start on defense with only six d-men dressing for the Caps.  Hillen gets injured and Olesky gets moved into a starting role.  Orlov was thought to have a lot of promise, but the prospect does not seem to be getting considered for reprising a starting role.  The Capitals had a weak defense to begin with and now they are thin with an early injury, but Orlov is still in Hershey.  They might need to make a move here to shore up the blue line, but that might mean they need to also trade Orlov while he still has some trade value.  Unless the Capitals think he just needs some more time in Hershey before he plays a meaningful role.
My name is Tim Bourcier and I am contributor for the Washington Capitals and hockey in Europe. Prior to working with The Hockey Writers, I worked with a professional hockey club in Budapest, Hungary. I also wrote articles for the MOL Liga and international hockey tournaments. I am near a PhD in Economics and I have eight years work experience as a statistician.
You can check out my previous work, new stuff and wonky analysis over at my blog: bourciertm.wordpress.com. Also, check out my blog for the KHL team in my home city at www.bearshockeyblog.com