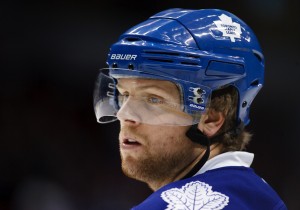 The Maple Leafs' season is now 10% complete following a 4-2 loss in Philadelphia. The first 8 game segment has been at once interesting, exciting, concerning and surprising, and has left fans and followers without a solid idea of what the rest of 2011-12 holds for the Blue & White. Last season's fast start turned sour quickly, and any excitement over the current 5-2-1 record is tempered by the evidence the Leafs have been anything but dominant on the ice. In fact, Toronto has had to dig deep to weather a storm from Ottawa, or come back to gain points against Calgary, Winnipeg and Montreal.
The Good
Phil Kessel has started like a house on fire, leading the league with 9 goals and 15 points. Notoriously streaky, the pace may not continue. Yet Kessel has improved all-around. Many have noticed his play off the puck has improved, he's better defensively, he's creating more offensive opportunities by getting himself away from coverage. The 9 goals is an excellent start, and would go a long way to helping Phil hit a coveted 40-goal level. Joffrey Lupul also has started well, with 4 goals. That kind of pace suggests he can be a 25 goal scorer, a level Lupul had reached in his career before various injuries slowed him. Combined, it's a great start for 2/3 of what is supposed to be Toronto's top line.
Dion Phaneuf has continued his strong play from last season. The captain has 9 points, is +7, and has played solidly on the blue line, averaging over 26 minutes per game. Despite the rumors that Phaneuf was a dressing room cancer and could never live up to his huge contract, Dion has instead grown into the role of captain and is leading on and off the ice. GM Brian Burke will be vindicated for taking on Phaneuf and his contract if this kind of play continues.
Very bright for Toronto has been the play of 2 rookies, Matt Frattin and Jake Gardiner. Frattin has only 1 assist, but has been creative in the attacking zone and been decent defensively. Gardiner has added speed and creativity from the blueline, though he will take time to grow into a better defender. Both of the youngsters have done well, though numbers may dictate one or both be sent down to the AHL. Granted, both have their shortcomings, neither has been tagged a sure shot for the Calder, but it's been some time since Toronto had 2 rookies contributing at this level.
Also among the pleasant surprises have been Matthew Lombardi and Dave Steckel. Lombardi was not expected to be ready, but has fit into the roster centering various lines. Steckel has also moved around at centre and provides some excellent skill in the face-off circle, and contributed an unexpected 3 goals already. It's given the team some depth, some speed, and probably most importantly, better skills at the face-off dot which has put the Leafs in the top 1/3 of the league for face-off percentage.
The Not So Good
For starters, the 5-2-1 record is a little misleading. Consider the Leafs played their first 5 games at home, and have gone 1-2-0 on the road so far. Consider also that the 5 wins have come against MTL (2), OTT, CGY and WPG, all teams which have struggled early this season, while the losses have come to a young COL team as well as stronger BOS and PHI. Absolutely it is important to beat the teams beneath you in the standings, but the fact is almost any team can win on any night, and the Leafs will have get points from stronger opponents if they hope to have enough to make the playoffs.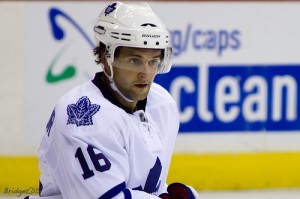 While Kessel has been almost unstoppable, he represents 40.9% of the Leaf goal scoring. To this point only 5 of the 22 goals scored have come from the Grabovski-MacArthur-Kulemin line, and only 2 from the defense. This is not a situation that can continue if the Leafs hope to win games. Unfortunately, coach Ron Wilson has also had to use a combination of Bozak, Lombardi and Steckel to spell the injured Tim Connolly at centre with Kessel and Lupul. The truth is that while each has shown flashes, Bozak, Lombardi and Steckel have never established themselves as top line centres, and may never. That could spell trouble for maintaining the production from the top line.
In terms of keeping the puck out of the net, what was thought to be a deep NHL blueline has shown early weakness. The Leaf defenders have been outskated or outmuscled at various times, often resulting in opposition goals. None have been perfect, most have had noticeable gaffes, and perhaps of greatest concern is Luke Schenn, who after finally signing a contract, has seen as little as 12 minutes of ice time. He seems a shadow of the maturing blueliner that had fans projecting him as a future captain. Mike Komisarek had played better to start the season, but suffered lately with the type of play that made him a target of fan's ire last season. The worry is that maybe the team has more 3rd pairing defenders than legitimate 1st pair guys.
Maybe most inexplicable, the team continues to struggle with special teams. This despite roster turnover and 2 new assistant coaches. A powerplay of 15.4% and a dismal 75% penalty kill is the best this team can muster, which will surely be a recipe for disaster should it continue much longer.
Going Forward
Starting with the next game in New York, changes should be evident. The expected return of Tyler Bozak from injury and the debut of Tim Connolly will give the team 6 centers. Bozak had been playing fairly well with Kessel and Lupul, though Connolly likely takes over there. The hope is that some combination can be found that will keep Kessel firing and spark some goals from the other lines. One wonders if there will be a shake-up of the Grabovski line, if they are unable to get going. But, the whole point was to get Kessel and his line scoring to support the production that was seen last season from the Grabovski line. Without a solid 2nd line, the team will be no further ahead.
James Reimer could also return to the net. Jonas Gustavsson wasn't terrible, but he's allowed 13 goals in only 3 appearances. That's just not good enough. Regardless, the bottom line is the defense need to be better. That should go without saying following a game where Jaromir Jagr was allowed 3 breakaway chances on the Leaf net. It may result in a demotion to the press box, and possibly the recall of Keith Aulie.
Also obvious is the powerplay should be much better. If the Grabovski line were clicking as they did last season, perhaps the pp numbers would already be better. But a team that can put Kessel, Phaneuf and John-Michael Liles should be scoring more than 15% of the time. Without a more effective powerplay, the Leafs will find themselves on the losing end of the score more often than they'd like.
Certainly this is predicated on an idea that no trade is imminent. Rumors always swirl in Toronto, and with the number of bodies present, anything could happen suddenly.
No doubt, Toronto has to be pleased to have banked 11 points in the first 8 games. That is a better start than the previous season, and in the quest for a playoff berth, every point is going to help. But there are no parade plans yet. The schedule will not continue to be so favorable, the opponents will be tough to beat. Unless this team can fix some of the apparent weaknesses, it'll be yet another tough year for the Leafs and their fans.