The 2023 prospects have been weighed and measured. They've completed their team interviews and fitness testing. They've also spoken to the media. With that, the NHL Combine is done and it's time to turn our attention to Nashville and the draft.

We now continue our series counting down to the draft by emptying the 2023 NHL Combine notebook. As usual, this will include news, insights, observations and commentary about the weekend in Buffalo.
Seeing the top of this draft class in person for the first time, one theme clearly stood out. The amount of top-end talent this year is legit. In most seasons, players get to show off their personalities in these kind of interviews. This season was different. There was a lot of focus from the top players. It's not that they don't have personality. They certainly do.
---
Latest News & Highlight
---
As soon as we walked into Harborcenter, I had someone say don't expect too much this year in these interviews. When the event was over, I thought back to that statement and it was perfectly accurate. Teams holding any first-round pick could land a great player. That's how deep this class is.
We have a lot to talk about. So let's dive right in.
Emptying the Notebook
In terms of top stories, two things stood out. The Chicago Blackhawks are getting the best prospect since Connor McDavid in Connor Bedard. The way he carries himself is off the charts. He is as much a superstar off the ice as he is on it. Once the Blackhawks get a good team around him, they're going to be dominant for a long time.
Bedard spoke to the media on both Friday and Saturday. It was clear that his friendship with Kent Johnson and Andrew Cristall have had an impact on him outside of playing in-line hockey together. In fact, Bedard asked questions of Johnson about the leadup to the draft. "Kent, him having the experience in the NHL and playing that last whole season, (I was) asking him questions and learning what he thought of it. (He's) been great for me and skating with him all the time."
Bedard also had some glowing praise for Cristall. "I think he's probably the smartest hockey player I've got to play with and watch this year. Just the things he's able to do up there and what he does with the puck. How he creates offense is some of the best I've ever seen."
Bedard chose to complete the fitness testing and finished in the top-25 in certain categories. He went into this weekend saying he was looking forward to the testing. He stayed true to his word. Meanwhile, Adam Fantilli and Leo Carlsson elected to skip the testing due to their recent participation at the World Championships.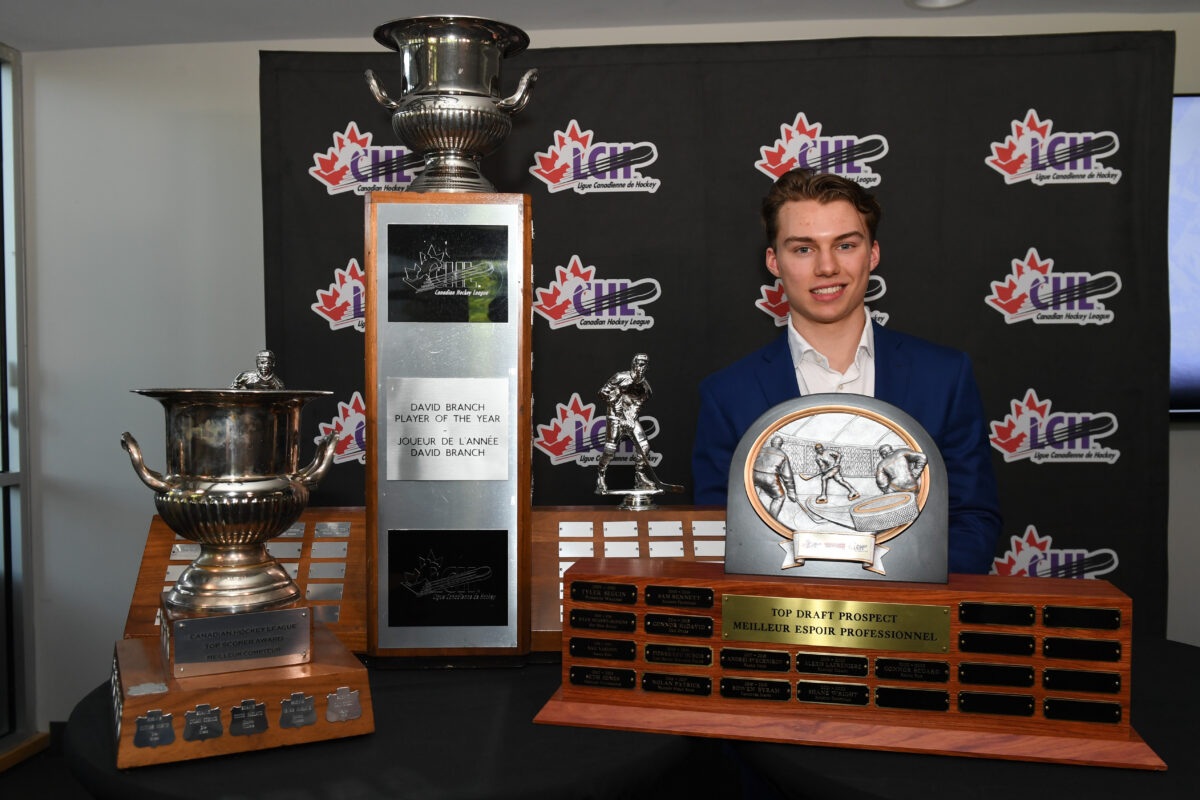 The other top story was the absence of Russian players at the Combine including top prospect Matvei Michkov. Central Scouting Director Dan Marr was asked about this on Friday. He admitted that the nine Russian players would be welcomed at the Combine if they could get there.
Marr went on to talk about the current geopolitical climate. "We can't control the geopolitical situation over there. We talked to all the agents for the players and it's difficult to travel. It's difficult to get visas to enter the U.S. and we just left it open. There were top-nine Russian players. We just said if you were available and in the United States then you're invited to attend the Combine."
Marr also said that the NHL does have a scout in Russia at this time and was able to watch some of the live games. However most NHL teams currently do not have a scout in Russia and have to depend on video. GM Jarmo Kekalainen of the Blue Jackets said they don't have a scout in Russia right now. He also said he thinks "no one has a leg up" when it comes to Russian prospects. Most everyone is in the same boat.
As for what this means when it comes to Matvei Michkov specifically, the most common feeling I heard was that he is going to drop some. Marr said he still expects Michkov to go in the first round just based on his talent. However the chances of him falling outside the top-five are real.
One of the stories I was watching this weekend was the Arizona Coyotes and if prospects had to answer questions about the team's future and what their thoughts were. Of those I spoke to that had confirmed meetings with the Coyotes, they said the questions were pretty standard about getting to know the players. GM Bill Armstrong was seen Saturday watching the fitness testing most of the day.
Fantilli spoke on both Friday and Saturday as well. A lot of attention would be placed on his interviews with the Ducks and Blue Jackets. I asked him Friday how those interviews went. This is what he said. "They went well. They more asked pretty standard questions about myself, my family, my experiences at World Juniors, World Championships. They just wanted to get to know me a little bit better and I really liked it. I was able to get to know them the best I possibly could in that timeframe. So they just wanted to get to know me as a person and ask me a couple of questions about those experiences."
The Blue Jackets did take Fantilli to dinner as well as Carlsson and Will Smith. Unless there is a major surprise, one of these three will go third overall to the Blue Jackets. Don't expect a trade of this pick here.
The overwhelming majority of folks I spoke to believe the Ducks will take Fantilli second. His size and skill as a center would be extremely hard to pass up.
I think the Blue Jackets know who their leading contender is for third overall. However I can't sit here and tell you who they're 100% taking between Carlsson or Smith. Carlsson said the team asked him if he thinks he'll be a center in the NHL to which he said yes. He played wing most of the time but then played top-line center at the World Championships.
Meanwhile Smith said his interview with the Blue Jackets went well. He took the extra step and said he appreciated the extra time outside of 15-20 minutes to get to know each other in a casual setting. While Carlsson's future next season will be discussed with his new team, Smith will be at Boston College and can't wait to get started there.
Kekalainen and the Blue Jackets will pick the player who they think will have the best career. It's not just about next year. This fact alone absolutely puts Smith in the third overall conversation.
Therefore, the 2023 NHL Draft in Nashville is expected to start at third with the Blue Jackets. It would be shocking if Fantilli fell to them.
Could there be a surprise pick at third? I suppose. Michkov is not expected to go third. Two guys I had suggested to me that could go third in a shocking twist of events: Nate Danielson or Oliver Moore. Don't hold your breath though. I don't think anyone else was taken out to dinner by the Blue Jackets this week.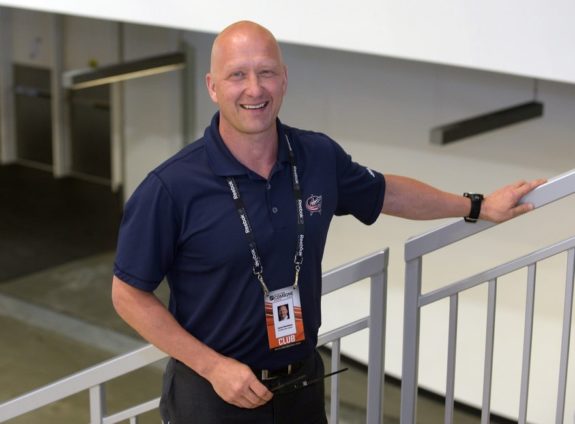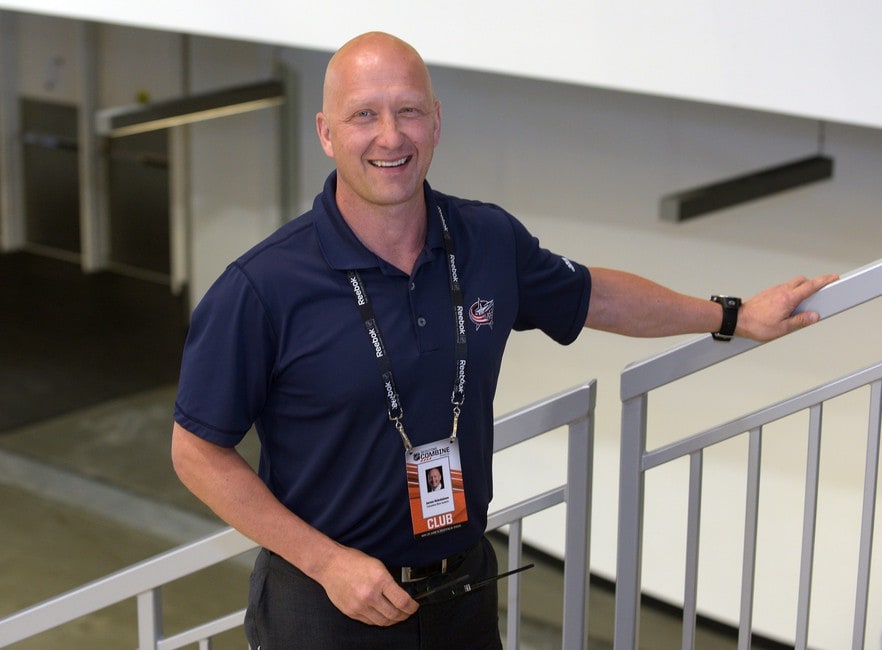 Speaking of Moore, he was one of the very last interviews of the Combine. He was also one of the best overall performers in the fitness testing. With his skating, there are some folks who think he's the most underrated player expected to go outside the top-five. It's easy to see why.
I asked Moore about why many believe in his game: "I just think some of the attributes I hold like my speed and competitiveness. I think that's something maybe scouts see in me that will translate to the NHL game. I think I'm not afraid to get to the hard areas and I think I'm a player who wants to produce as well and get to the net."
Here's Moore on his linemate Will Smith: "I think he just does everything with the puck. He's a 200-foot player. Talk about getting to the hard areas. He was always in position to score and in positions to finish with his hands and his creativity. It was unbelievable to watch with that whole line too."
Here's Moore on Carey Terrance, his linemate on Team USA at the U-18's: "Playing with him was really easy. He's a really fast player. He thinks the game fast and scored 30 goals in the OHL for a reason. He's a goal scorer and a lot of fun to play with."
Terrance was interviewed by 20 teams this week in Buffalo. He says the biggest thing teams wanted to know about him was his character. "I think that's the thing coming into the interviews you want to show off, right? Show off your personality. Show off your character. That was the biggest thing for me."
The biggest growth in Terrance's game was his confidence. By the end of the 2022-23 season, his confidence was in a better place. What does he attribute that to? "I think it's coming in the first year and it's building confidence throughout my first year and my second year coming in. I had confidence. I knew I could score goals. I didn't have as many as I wanted in my first year but I was confident I could come in (this season) and score. I think once you get the first couple out of the way, having Malcolm (Spence) on my line who is really, really skilled. He gets me the puck a lot and I put it in the net. So a lot of credit goes to playing with him every game."
According to Terrance and a few other prospects, they believe Trey Augustine is the best goaltender available in this draft.
As for best available defenseman, most believe it's either David Reinbacher or Axel Sandin-Pellikka. However Dan Marr said on Friday if it were up to him, he would pick Etienne Morin. That will be a story to watch at the draft is when defensemen start to go given the number of high-end forwards available.
Wacky question time. Not too many came out this year. That was part of the reason why we mentioned this class was focused. However a few interesting ones came up.
Montreal asked prospects which animal would you be on and off the ice and why?
Seattle asked prospects which emoji would you use to describe your season and why?
Apparently the Blue Jackets asked some, not all prospects how would people talk about you at your funeral? This question seemed to upset many fans at the darkness of the question. I have no issue with this question. I have actually been asked this question in previous interviews. It made me think about what is truly important in life.
Nick Lardis is going to make someone really happy. Amazing what an in-season trade can do to change your fortunes. He interviewed well and also tested well.
Eduard Sale spoke to over 20 teams this week.
Carlsson said he knew where Columbus was on the map. Quite the light-hearted moment that was filled with laughter.
Colby Barlow spoke to 22 teams this week. He got the animal question from Montreal and said he'd be a bull. Fits him perfectly. Terrance said Barlow was the hardest guy to play against in the OHL.
I asked prospects this week if they'd rather score the winning goal, setup the winning goal or block a shot to seal a one-goal win. The overwhelming majority wanted to score the winner or block the shot. Barlow said they go hand-in-hand. Those that said score say it's a dream of their's. Those that said block say it's a willingness to do whatever it takes even if it hurts.
Nico Myatovic spoke to 27 teams this week.
Carson Rehkopf spoke to 26 teams this week. Both he and teammate Hunter Brzustewicz give a lot of credit to Mike McKenzie for turning the season around and helping them with their own games.
Rehkopf on McKenzie: "He's been awesome. He's always let me play my game and he's taught me a lot. He's taught me both sides of the ice. I'm really grateful for what he's done for me."
Brzustewicz on McKenzie: "I thought Mike was hard spoken on us. I think that's what our team needed and I think he did a good job of that. I think our team really excelled when he took that upon us and got us ready before games and got into us even if it was good after games." Brzustewicz went out of his way to acknowledge Chris Dennis, the former coach of the Kitchener Rangers. "He was a great coach and a great guy. Maybe he just wasn't the right fit for our team."
Brzustewicz said he spoke to 18 teams this week. Teams asked about his family and what he thought his weaknesses were the most. He cites his shot mentality as his biggest area in need of improvement.
Who is the toughest OHL'er for Brzustewicz to defend? Ty Voit. "Give him a shoutout for sure."
David Reinbacher spoke to 23 teams this week.
Matthew Wood spoke to over 20 teams this week including the Sabres. He's a huge Tage Thompson guy. Had glowing praise for him during the interview.
Defenseman Cam Allen opened up about his season in Guelph not going the way he wanted it to go. "I don't think many guys within our group were satisfied but I think we saw a lot of growth throughout the season. We learned a lot of things that's going to really help us in how to succeed next year. It's the same thing with my game as an individual. It's a learning experience."
What does Allen think he's improved at the most to this point? "I think finding the strength within my game and trying to morph my game into one that will transfer well to the NHL. So just finding out my strength within the game and how I can be the most value to my team." He spoke to around 20 teams this week.
Luca Pinelli spoke to eight teams this week. Teams wanted to know more about how feisty and competitive he was. As expected, he got the size question from everyone he spoke to. "Some teams are always wondering if I'm going to grow. My family is decently tall and I think I still got room for growth. But even if not with the type of game I play, I don't back down from anyone. I don't really care about my size so it really shouldn't be a problem I think."
You Might Also Like
Flint teammates Tristan Bertucci (20 teams) and Coulson Pitre (24 teams) got to spend the week together. Pitre unfortunately shared that his foot slipped up at the start of the Wingate test and had to restart it. Prospects feel bad enough going through it once. Imagine twice. Ouch.
Some NHL teams asked Bertucci and Pitre how's Flint's water these days? Rough.
Beau Akey spoke to 18 teams this week. He said most teams wanted to know about his personality. He also said the smiley emoji is what he would use to describe his season. He was happy with it overall. He said one of the teams he spoke to was the Blue Jackets and called it a "really good interview." Akey is generally considered a second or third-round target. He's an intriguing puck-moving defenseman.
Given the flat cap, most folks at the Combine believe this will be an offseason full of big moves. Name I heard most often in rumors: Flyers' Scott Laughton.
Finally, want to give a shoutout to Buffalo. First-class city all the way. Harborcenter is great. The food is outstanding. The NHL was first-class in making the job so easy this year to bring you coverage of the Combine. But now, let's turn our attention to Nashville. Just over two weeks until the draft at Bridgestone Arena. We'll be there for every pick. What kind of craziness is in store for us? Can't wait to find out.