The Detroit Red Wings have been hard at work preparing for the 2023 NHL Draft. Later this month, Steve Yzerman, Kris Draper, and Detroit's scouting staff will have another opportunity to bolster the organization's rebuild. 
The Red Wings will enter this year's draft with 10 picks, including:
No. 9
No. 17 (via the New York Islanders through the Vancouver Canucks – Filip Hronek trade)
No. 41
No. 42 (via the St. Louis Blues – Nick Leddy trade)
No. 43 (via the Vancouver Canucks – Filip Hronek trade)
No. 73
No. 117 (via the Minnesota Wild – Oskar Sundqvist trade)
No. 137
No. 169
No. 201
Will the Red Wings leave Nashville on a high note? And how will Yzerman approach his fifth draft as the franchise's GM? Let's dive into the 2023 draft class, Detroit's draft slots, strategy, and more to find out.
Red Wings' Prospect Pipeline
Before getting to the 2023 draft, it's a worthwhile venture to review Detroit's organizational depth and prospect pipeline. Doing so will illuminate their needs and opportunities.
Related: Red Wings 2023 Draft Coverage
---
Latest News & Highlights
---
The Red Wings already have Sebastian Cossa, Simon Edvinsson, and Marco Kasper in the pipeline, plus a slew of second-tier prospects all expected to be NHLers one day. What they don't have is a true game-breaker.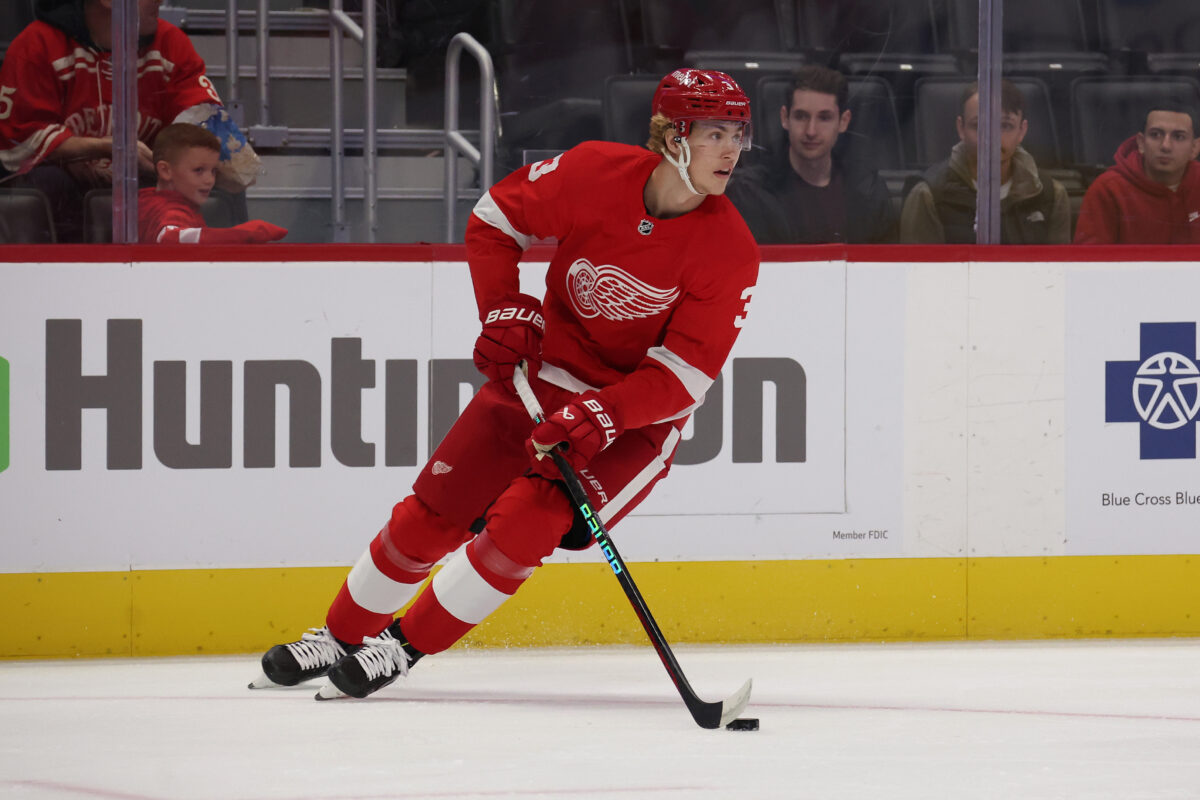 Let's be honest – the best way to get a cornerstone, elite prospect is to win the draft lottery. That just hasn't happened, though. Instead, the Red Wings need to make do with their first-round picks and grab highly talented players to build around. 

Apart from a top-notch forward, the Red Wings also need depth on the right side of their blue line. Offense-driving goal-scorers are the top priority, though.
Now that we've established Detroit's needs, let's dive into potential solutions that can be had at this year's draft.
Quick Note On the Prospects
I tried to summarize the styles and abilities of a handful of potential draft picks below, but obviously can't fit in full scouting reports for everyone. That said, the prospects' names are linked to their draft profile pages so you can get the full picture of what they bring to the table.
Red Wings' Options at No. 9
Like I've done in prior years, I'll focus on prospects who might be available at No. 9. Some could be selected ahead of Detroit's draft slot, but who exactly is unclear.
Related: THW's Free 2023 NHL Draft Guide
At this point, I can safely project Connor Bedard, Adam Fantilli, Leo Carlsson, and Will Smith to be gone before the Red Wings pick. With those prospects removed from consideration, here's how I would rank the next-best players available based on their potential and fit within Detroit's prospect pipeline.
Draft Board
At least one of the five players listed above will be available – including Matvei Michkov. The Russian winger is a top-five—if not top-three—talent in this year's draft class, but his KHL contract status complicates matters. If he's available at No. 9, Detroit should strongly consider selecting him and stashing him for later. The fact that they have another first-round pick makes this strategy a little more palatable.
If Michkov is off the board, then Dalibor Dvorsky would be the next-best pick. The Slovakian center has the tools to be an impact top-six player in the NHL. He's also a high-character kid with an exceptional work ethic on and off the ice, and would fit right in with the culture Yzerman is trying to build in Detroit.
Zach Benson, Ryan Leonard, and David Reinbacher would be great selections, too. They would also address organizational needs. Benson and Leonard would add sorely needed scoring depth, and Reinbacher would fit in nicely behind Moritz Seider on the right side of Detroit's blue line.
Red Wings' No. 17 Draft Slot
Thanks to the Hronek trade, Detroit also has the No. 17 pick. These five players might be available when the Red Wings make their second first-round pick.
Draft Board
Ideally, the Red Wings will come away from Day 1 of the 2023 draft with either two forwards or a forward and a defenseman. 
If they decide to go with a forward at No. 17, there will likely be some intriguing options still on the board. Colby Barlow, in particular, would be a slam-dunk choice with this pick. The Ontario-native potted 46 goals in 59 games for the Owen Sound Attack this season and excels in the dirty areas. Think Tyler Bertuzzi, but a purer goal scorer and more fluid skater.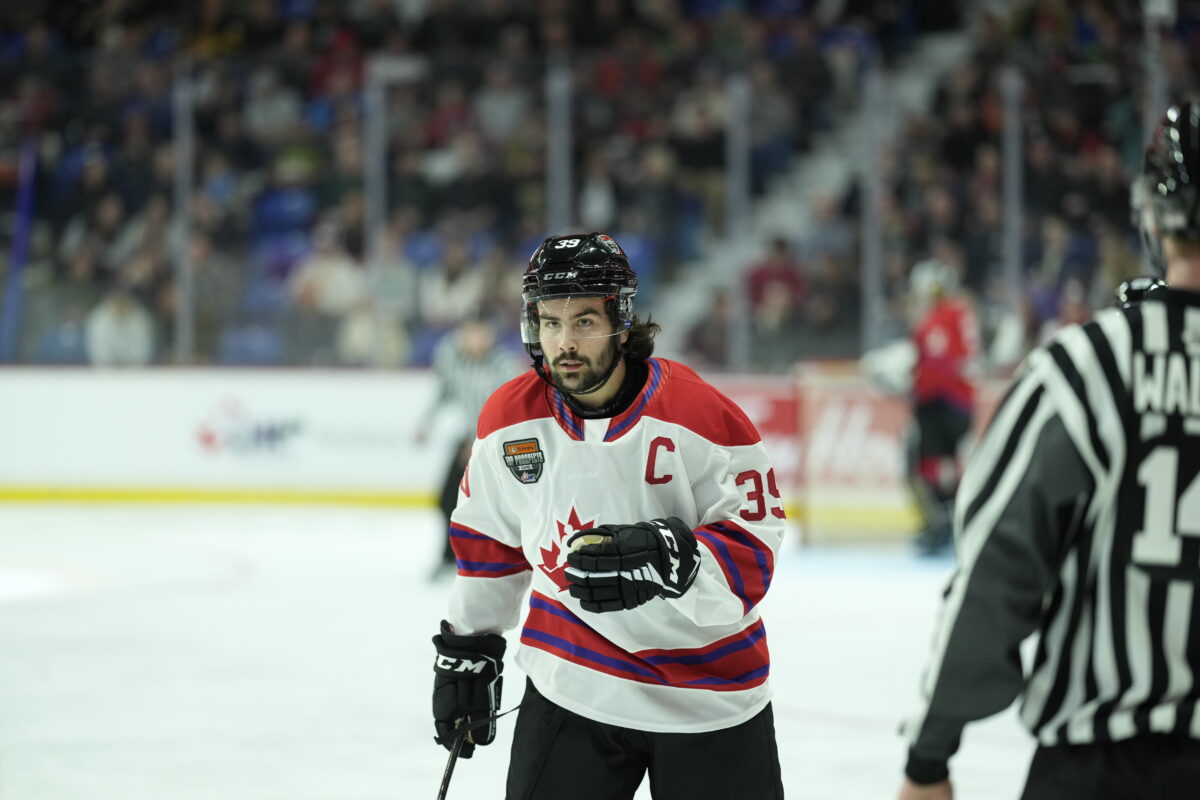 Defenseman Tom Willander would also fit in well in Detroit. He's a smooth-skating, two-way blueliner who has risen up the rankings as of late. He also plays in the Rögle BK system over in Sweden – the same organization that rostered the likes of Moritz Seider, William Wallinder, and Marco Kasper in recent years. Expect the Red Wings to do their fair share of due diligence on Willander given the strong relationship they have with Chris and Cam Abbott, who head up the top Rögle club.
Otto Stenberg, Brayden Yager, and Nate Danielson might be available as well, and bring different skill sets to the table. Stenberg plays a two-way game and is more of a finisher than a playmaker. Also a two-way player, Danielson is more of a playmaker. And Yager is a dynamic forward who leverages his speed, finesse, and energy to create offense.
Related: Wolak's Offseason Blueprint for the Detroit Red Wings
Detroit's Second Round Targets
In the second round, the Red Wings hold three consecutive draft slots—No. 41, No. 42, and No. 43—so I highlighted 10 players to consider early in Day 2 of the draft.
Draft Board
I don't expect the Red Wings to use all three of their second-round picks to draft players. I'd be willing to bet that at least one is traded for a roster player – similar to the Ville Husso deal last year.
I'd also be willing to bet that the Red Wings take at least one player from a Swedish league and another from the USHL in the first two rounds. Here's why:
In addition to Dvorsky, Willander, and Stenberg, the Red Wings could also target David Edstrom, Anton Wahlberg, Alex Ciernik, Oscar Fisker Molgaard, and/or Theo Lindstein from the SHL, Allsvenskan, and J20 Nationell leagues. As for the USHL, Jayden Perron and William Whitelaw could be available when the draft rolls around to the No. 41 to No. 43 range.
Though he might be taken ahead of the 41st-overall pick, I want to highlight Perron as a potential Red Wings selection. He's an incredible playmaker and reminds me a bit of Jonatan Berggren.
"With the puck on his stick, [Perron]'s a treat to watch. Evasive. Slick. Problem-solving. Finesse. Manipulation. It's all there. You want the play to run through his hands and brain."

–Scott Wheeler, The Athletic (from '2023 NHL Draft top 32 prospects: Scott Wheeler's post-U18 worlds ranking' – The Athletic – 5/1/23)
Wahlberg is another prospect to watch. He's still a bit raw, but plays with force, especially when he drives to the middle of the ice.
Red Wings Can Add Depth In the Third Round
Last year, the Red Wings had the 73rd-overall choice. They never exercised it, though – that was the pick used to acquire Husso. 
This year, they have No. 73 once again. If they don't trade it, these players should be considered.
Draft Board
Players still available from the second round draft board
While all five players listed above have upside, Coulson Pitre would be the best choice for the Red Wings. The right wing just wrapped up his second season with the Flint Firebirds, recording 25 goals and 60 points in 59 games. He also spent a good amount of time on Amadeus Lombardi's wing, so it's reasonable to assume that Detroit's scouting staff has seen him play many times.
The 6-foot-1 forward has soft hands and shows the compete level and balanced skating that has been a common trend among recent Red Wings draft picks. And frankly, I wouldn't be shocked if Detroit selected Pitre with one of their second-round picks – he's that good and a lot of people are sleeping on him. But if the Red Wings opt to wait on Pitre and miss out, Connor Levis plays a similar game and should be available at No. 73.
If Yzerman, Draper, and company want to go with a playmaker that could use refinement in other aspects of their game, Noah Dower Nilsson and Felix Unger Sorum are worthy of being considered. Dower Nilsson, of course, is the younger brother of Red Wings prospect Liam Dower Nilsson.
In general, players selected in the middle rounds have one or two elite traits, but are otherwise average or below average when you look at their collective profile. Ideally, these players are teachable and will put in the work to become NHL contributors within three-to-five years.
Red Wings Targets for the Fourth Round & Beyond
This is where hidden gems can be found. Find intriguing players, draft them, and develop them over the long term. Elmer Soderblom is a prime example of this.
With that being said, I've listed the names of 10 players the Red Wings should consider in the fourth round and beyond. These prospects have upside, but are otherwise in need of significant development over the next few years.
Draft Board
Players still available from the third round draft board
G Ian Blomquist
RD Sam Court
RW Michael Emerson
LW Liam Engstrom
RW Griffin Erdman
RW Hannes Hellberg
C Cole Knuble
Every once in a while, late-round prospects turn into something. Some only take a year to take a big step forward – Lombardi is a good example of this. And others, like Soderblom, gradually improve over several years.
From a strategic standpoint, it's beneficial to draft players out of European leagues or college-bound prospects in the later rounds. In these leagues, the prospects can cook slow and low over the course of four-to-five years, with their rights remaining with the Red Wings. Whereas Canadian major junior prospects can re-enter the draft if they are not signed within two years of their original selection.
Some CHL prospects—like Dylan MacKinnon—are worth the risk. But in most circumstances, teams should look for hidden gems that have sufficient runway. Patience is required if you're trying to turn coal into diamonds, after all.
---
More Red Wings Offseason Analysis:
---
Final Word
Apart from the Husso trade, Yzerman didn't move up or back at all during the 2022 draft. This differs from prior years where he was much more active in playing chess with all the picks at his disposal.
With two first-round picks and three more in the second round, the Red Wings certainly have the ammunition to make waves. Whether the selections are used to draft prospects, acquire roster players, or move up or back in the draft, Detroit needs to maximize the value of all 10 picks that are currently in their possession. Doing so will allow them to emerge from their rebuild with a sustainable future.