When I first began thinking about the possibility of the Detroit Red Wings selecting Tom Willander in the first round, my assumption was that he would be an option for them at 17th overall. However, Willander has continued to rise up draft boards and it feels pretty unlikely at this point that he'll be available there, making their pick at ninth overall the best chance Detroit has of landing him.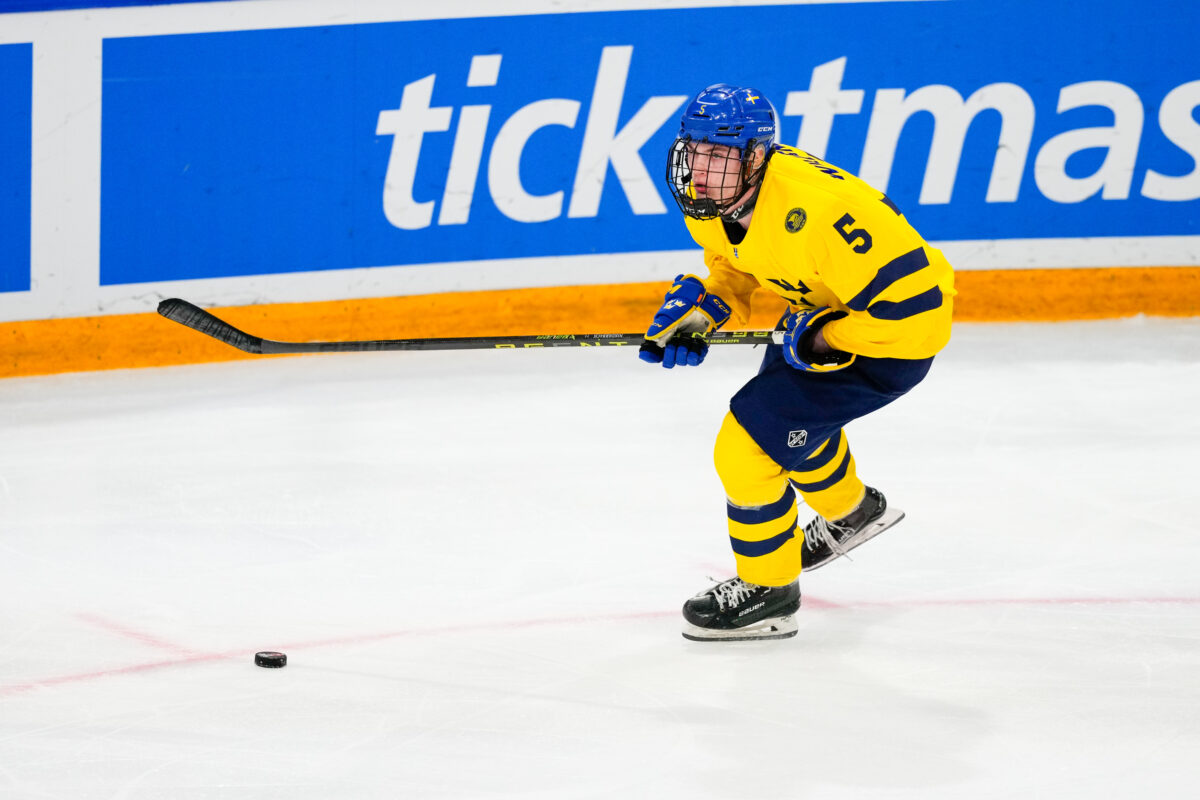 Willander is a big, competitive defenseman who is one of the best skaters in this year's draft. He has a right-handed shot, making his profile nearly perfect for the Red Wings, giving them an option to fill out the top-four behind Moritz Seider for the future. He was a horse for his junior team this year and spent the U18 World Championship as the 1B to Axel Sandin Pellikka's 1A.
Who is Tom Willander?
Willander is the biggest riser in the draft world over the past few months, following a strong finish to his regular season with Rögle BK J20 in the top Swedish junior league where he played tons of minutes as a two-way force. He followed that up with a brilliant showing for Sweden at the U18 World Championship where he shared the spotlight with Axel Sandin-Pellikka. Against Team USA in the gold medal game, Willander (30 mins) and Sandin Pellikka (27 mins) seemed to almost alternate shifts, combining for 57 minutes of ice time in a 62 minute game.
Related: Red Wings Draft Coverage
His size and skating make him stand out against junior players, with the ability to push the pace with his quick and powerful stride. Willander's skating lets him take risks with the puck in the offensive zone as he can usually escape a sticky situation or push hard on the back-check to shut down any plays caused by his mistakes. For my money he's the best skating defenseman in this class, though Tanner Molendyk's edgework is high-end as well.
Willander isn't the greatest playmaker, but he has shown enough vision this year that I think he could earn a bit of NHL power play time if the need arises. He is a safe bet to become a great second pairing defender, though I don't see him becoming a great number one option. Thankfully, Detroit doesn't really need another top-pairing right shot defenseman, but having another guy who has the potentially to end up at a similar level to Seider has to be an exciting thought.
Fit With the Red Wings
Detroit has a plethora of good left-handed defenders in the NHL and in their prospect pool. Ideally, guys like Simon Edvinsson and William Wallinder take over as the top two guys on the left side in the next few years, and Willander would give them another great top-four option on their weaker right side. He would likely never be asked to do too much since he'd play behind Seider, but if Seider were to ever miss games due to illness, injury, or any other situation, Willander would be more than capable of being a good replacement, at least for a time.
Willander also gives the Red Wings another penalty killing option on the back-end, saving them from needing to play a lefty on their offside or giving legit penalty killing minutes to someone like Gustav Lindstrom or Jordan Oesterle. He has a good defensive stick and his reach allows him to shut down plays on the rush quite well.
Very few Swedish players go to the NCAA in their post-draft season, but that is exactly the path Willander is taking. He has committed to Boston University for the 2023-24 season which will give Detroit a much different look at him as he builds toward playing pro hockey rather than jumping in the deep end of the SHL next season. He will get the chance to play alongside top 2024 Draft prospect Macklin Celebrini as well as one of the prospect world's biggest risers of the last year in Lane Hutson.
Willander is the closest realistic option to fully replace the hole left by the Filip Hronek trade, so it would be fitting if they drafted him 17th overall, using one of the picks that Detroit received in return for the 25 year old. He could fill that spot in the depth chart well, while fitting the team's competitive window much better and that's not including the second round pick that the Vancouver Canucks forked over as well. 
Other Draft Targets:
Should Detroit Draft Him?
It has been well-documented that this draft is low on high-end defensive talent, and is especially deep when it comes to skilled wingers. This means that teams will be reaching throughout the entire first round on centers and defensemen, selecting them a bit higher than their talent deserves because they fill a more significant need for the team. 
Related: 2023 NHL Draft Guide
With that in mind, I expect Willander will not be on the board when Detroit's second pick comes around at 17. If their only option to select him is using the ninth overall pick, then I don't think this would be the best pick because there will certainly be several excellent forward prospects available at that spot who fill another position of great need for the Red Wings. I expect at least one of (but likely two or three of) Zach Benson, Oliver Moore, and Matthew Wood to be available at ninth overall and they would each represent great solutions to some of Detroit's biggest problems.
However, if Willander hasn't heard his name called by 17 and the Red Wings haven't moved that pick, then I think he would be a very good choice. There's a good chance that a few wingers are still available that the Red Wings are fonder of at that slot, but they could do a lot worse than Willander in the middle of the first round. He would essentially end all conversation around Detroit's defensive group, and allow Steve Yzerman to focus on adding a couple of depth defenders and spending more time solving issues at forward.
Willander fits Detroit's MO when drafting defenseman perfectly as a guy with size, an excellent skating ability, and a serious competitive edge to him. I wouldn't be surprised if Willander was really high on the Red Wings' own draft board this year because he seems to check off every box they've used in recent years when drafting defensemen early on day 1 of the draft, which is why I think he's an important name to get to know ahead of draft day, especially if he's on the board still at 17.