While this season's Stanley Cup Playoffs have finally reached their pinnacle matchup, most fans of the Minnesota Wild have long since turned their thoughts toward the offseason and further to the 2023-24 season. Since the team's disappointing first-round exit over a month ago, there has been very little movement from the Wild despite having six restricted free agents (RFAs) and five unrestricted free agents (UFAs) to try to sign to new deals.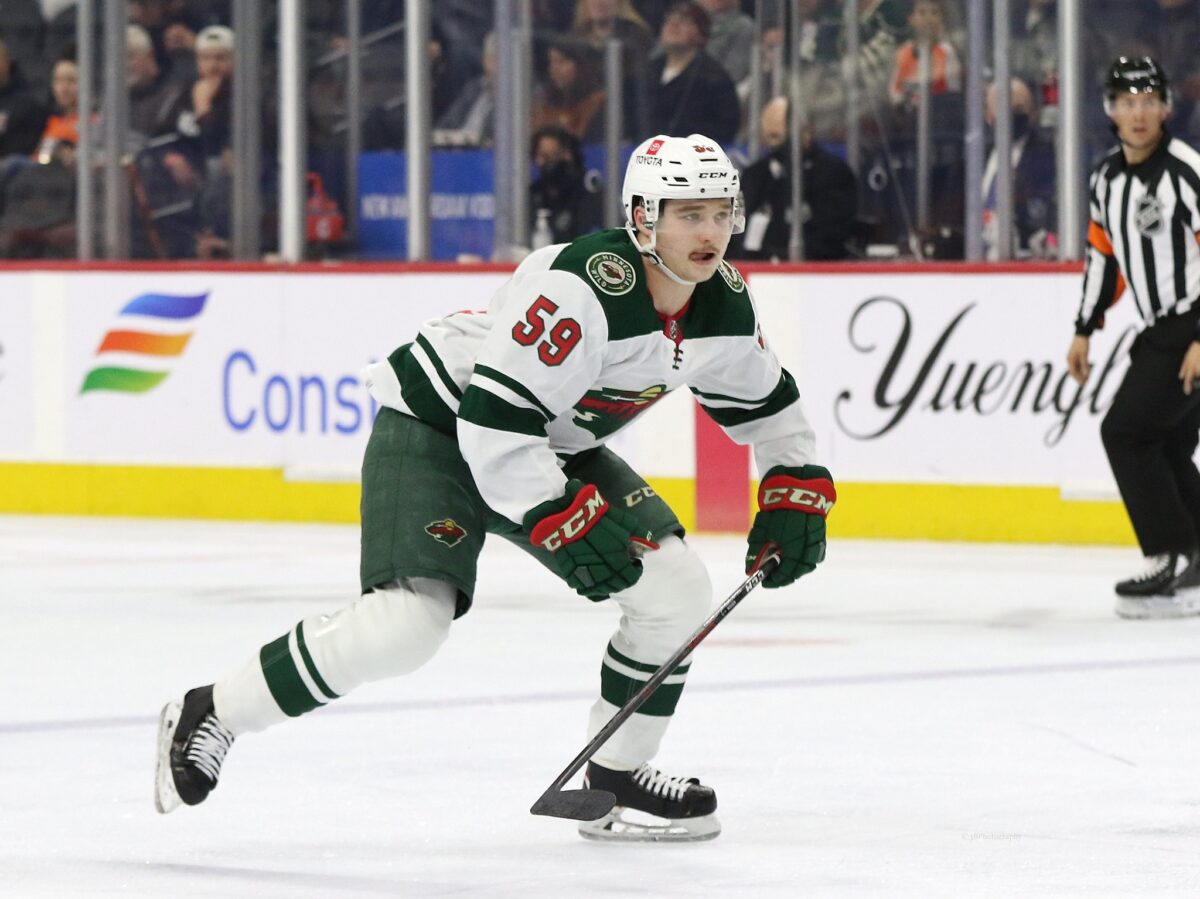 No doubt the lack of room under the salary cap has had a pretty big role in slowing down the entire process. With a current roster of only 15 players, the Wild only have a hair over $9 million to spread around to fill out the rest of their roster. What they do have plenty of though is highly talented young prospects pushing their way toward the NHL, soon to be bolstered with six more picks in the 2023 Draft on June 28 and 29. It appears that their plan is to stay competitive over the next couple of seasons, and they will have to make some difficult, creative moves for that to happen.
Wild's Current Situation
The Wild are in a strange place in their ability to compete over the next two seasons. With $14.7 million in dead cap from the Zach Parise and Ryan Suter buyouts, they are very restricted in their ability to sign their own RFAs, let alone bring in anyone else to bolster their roster. With that said they are also coming off of back-to-back 100-point seasons in which they had very realistic hopes of a deep playoff run. 
Related: 10 Wild Prospects You Need to Watch in 2022-23
---
Latest News & Highlights
---
The good news is that the Wild are likely able to bring back a good majority of their roster, the bad news is that they have shown that their current roster is not strong enough in the playoffs. Despite having one of the best prospect pools in the NHL, running it back again with a few rookies sprinkled into the mix will not be enough to get the team deeper into the playoffs. But with no room in their budget for major additions, where do they get that much-needed boost from?
Convert Future Potential Into Proven Skill
The Wild have one of the strongest, deepest prospect pools in the entire NHL. They have accumulated a ridiculous amount of players that have the talent and drive required to end up in the NHL, but not all of them can play for the Wild. The benefit of having a deep prospect pool is that there is a constant flow of talent trickling its way onto the NHL roster, but sometimes a need for a specific position or type of player comes along without a prospect ready to fill that gap.
The Wild have needed a true number-one center for most of their history as a franchise and although the players that have been utilized in that position over the years have been great at times, there just is no replacement for an elite centerman. The problem with elite centers is that every team wants them, they can't have enough of them, and they are very hard to find. In other words, they are very expensive.

If the Wild truly plan on being competitive, they need center depth, and the only way to get a bonafide number-one center is by liquidating some of their prospects and picks. Last season there were a number of teams that fully committed to a rebuild, and some of them have very weak prospect pools yet still possess solid centers that no longer fit in their competitive window. An assets swap would be beneficial for both teams in these cases.
Assets That Could Be Moved
The problem with moving prospects or picks is that you never know what those players are going to turn out to be, but when a gap appears in a roster as large as the one currently in the Wild, sacrifices must be made to close it. In order to convince any team to part with a center, they're going to want a prospective center in return, and that would be Marco Rossi.
Marco Rossi (Center)
This past season the 21-year-old did not take the next step in his NHL career despite being given 19 games to try to adjust. He has excelled in the American Hockey League (AHL), and perhaps some hard work in the offseason could see him return as a completely different player in 2023-24, but unless he goes from the AHL to hanging with Kirill Kaprizov in an extremely short timespan, he is not what the Wild need to become more competitive.
Adam Beckman / Sammy Walker (Winger)
A team looking for a young player that can slot into their lineup next season would likely be interested in Adam Beckman or Sammy Walker. Now both of these players have been called up to play in the NHL and they have both shown they likely have what it takes to stay there. The Wild will likely need at least one of them to take that next step this season as their entry-level contracts (ELC) are key in staying under the salary cap ceiling.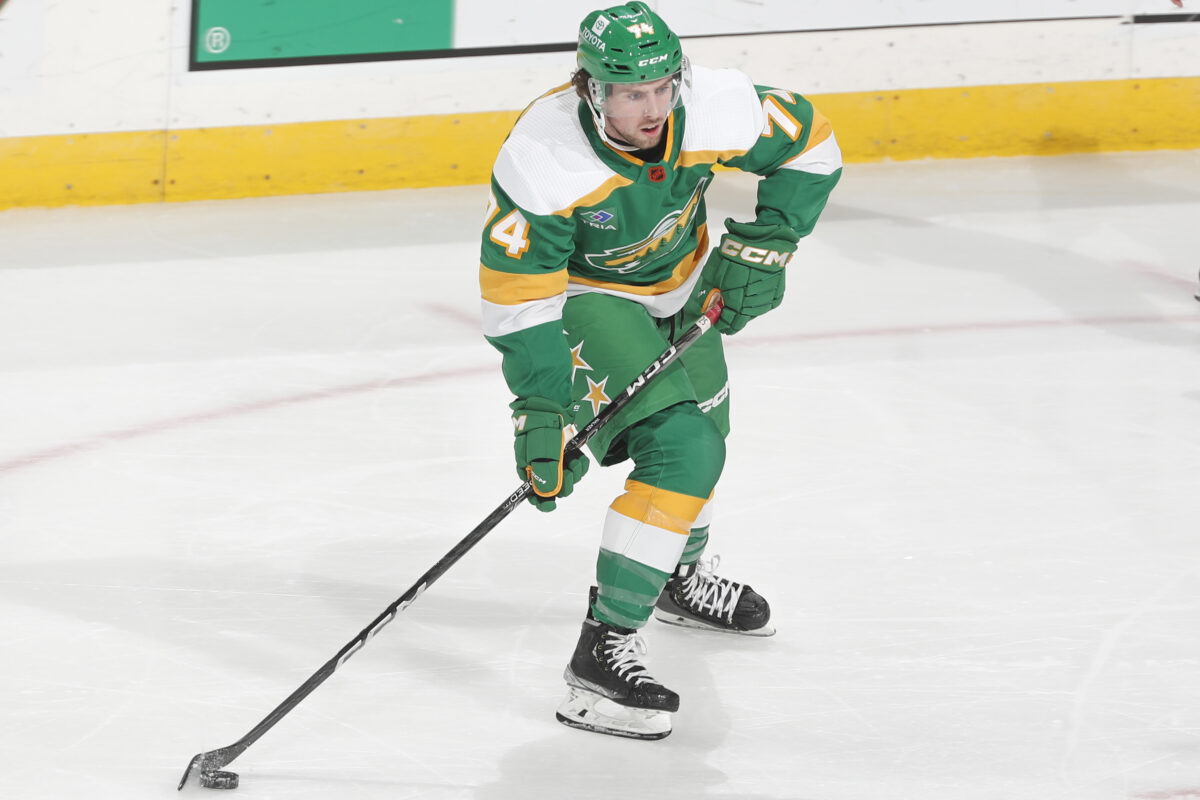 I believe the Wild have a plan for both of these players to end up in the NHL eventually, so letting one of them go would be difficult. The return would have to be something special, but they have some other highly touted prospective wingers in Liam Ohgren and Danila Yurov that are getting closer to making the leap to North America. If Beckman or Walker was dealt, there is no chance the other one would be moved.
Calen Addison / Defensive Depth
One of the most interesting players on the roster in the 2022-23 season was rookie Calen Addison. The now 23-year-old had 26 assists and 29 points in 62 games, but was a healthy scratch multiple times throughout the season, eventually ending the season as the seventh or even eighth defenseman. The Wild seem to have no faith in his defensive abilities and it almost seems like a foregone conclusion he will be moved. This is another situation where a younger team could utilize his offensive prowess and powerplay abilities, while also giving him time to mature into the league.
Aside from Addison, the Wild also have a veritable wealth of young defensemen that are at various stages of NHL readiness. Brock Faber will be on the roster next year and is going to be a Wild player for a long time. Carson Lambos and Daemon Hunt both look like they could push for some games this season. Jack Peart, David Spacek, Ryan O'Rourke, Simon Johansson, Kyle Masters, Marshall Warren; the list of solid defense prospects is staggering and they will eventually have to move some of these guys.
A Commitment Must be Made
A lot of fans won't want to see any of these prospects traded, but the truth is, the Wild need to commit one way or another. If they plan on being competitive through the buyouts they will have to move some prospects to bring in some help. If they don't want to make that leap, then they need to commit the other way and move some of their better roster players to strengthen their prospect pool even more, while at the same time opening roster spots for younger players to fill. Either way, it could be an interesting offseason for Wild fans.