Jim Neveau, NHL Correspondent
He may not have had as noteworthy a time with the Stars as Mike Modano, but when you look at the sum of its parts, the career of Jere Lehtinen was certainly one of the best in the history of the Minnesota/Dallas franchise.
Ranking behind only Modano and Neal Broten on the all-time games played list for the Stars with 875 games played, Lehtinen was a member of the team that won the 1999 Stanley Cup over the Buffalo Sabres, was a two-time NHL All-Star, and won the Selke Trophy three times as the league's best defensive forward.
During that Cup run, Lehtinen had a great postseason, scoring 10 goals and dishing out three assists (including one on the Cup-winning goal by Brett Hull) to help the team to the championship. He did all of that after only playing 14 games during the regular season, and he followed up this playoff to remember by having a very solid three year run of hockey, scoring 76 goals over the next three years and culminating with his 31 goal performance in 2002-03. He also won his third Selke that year.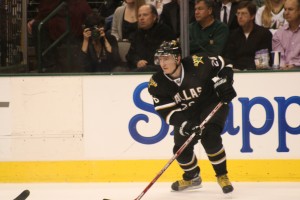 After a down season in 2003-04 where he only had 26 points in 58 games, he came out of the lockout firing with a career high 33 goals. For all of these successful years, however, Lehtinen could not help lead the Stars on another deep playoff run, losing in the first round in three of the last four post-seasons that he played in. All total in his career, Lehtinen netted 243 goals and dished out 271 assists, leaving him in eighth place on the team's all-time scoring list.
Known as one of the better two-way players of his era, Lehtinen also finished his career with a +176.
Jere also shined brightly on the international stage. He played in five Olympics, and is one of only six hockey players in Olympic history to win four medals, winning three bronzes and a silver for Team Finland. In his final Olympic Games in Torino, he scored three goals and had five assists in eight games for the Fins.
When asked about Lehtinen, teammates of his spoke in glowing terms. "The great thing about Lehts is he made everyone better," former teammate Craig Ludwig told The Hockey News. "You would go in and work your butt off and look across the weight room and he was still working out. He made it so you had to work harder just so you wouldn't be embarrassed," he said.
Modano also had some kind words to say about his former teammate, telling The Dallas Morning News "he was just so consistent. His preparation for the game, his conditioning, his discipline during the game. He did everything as close to right as possible," he said.
With all the adulation and respectful comments from former teammates and coaches, there is room for debating whether or not Lehtinen's number 26 should be retired by the Stars. It is a very borderline call, with his offensive numbers ranking pretty solidly in Stars history.
The real gold star on his "jersey retirement resume" has to be his defensive play. He was the type of gritty player that fans always appreciate, and his three Selke Trophies speak to how effective he was on that side of the puck. Teams throughout the league have recognized the nitty-gritty style of play when choosing jerseys to retire, as evidenced by Keith Magnuson's number 3 hanging from the rafters in Chicago and Stan Smyl's #12 being retired by the Canucks.
With this in mind, it would seem appropriate for the Stars to retire Lehtinen's number. He won't ever make it into the Hockey Hall of Fame, but Lehtinen embodies everything that a team or fanbase could want in a player: pretty good at scoring, excellent on defense, and loyal to a fault. Time will tell as to what the Stars end up deciding to do to pay tribute to Jere, but one thing is for certain: he wore the Stars' sweater with a fervor that only a select few will ever duplicate.
James started out for The Hockey Writers covering the Atlanta Thrashers in 2009, and has also covered the Chicago Blackhawks, served as NHL Correspondent, and is now a Managing Editor and the site's NHL Central Blogger. He also writes for The Golf Writers.