Minnesota Wild forward Erik Haula has filed for salary arbitration, according to the Star Tribune's Michael Russo.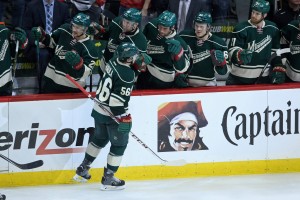 The 24-year-old center is a restricted free agent who is coming off a two-year deal with a $1.75 million AAV. Haula played a career-high 72 games last season, scoring seven goals and seven assists.
In the prior season, his rookie year, he played 46 games and scored six goals and nine assists. Where he really made his mark as a promising defensive-minded pivot was in the 2014 playoffs, where he worked as a defensive mark against some of the Chicago Blackhawks' top talent. He also scored four goals and three assists through 13 games in that playoff.
The two sides are free to reach a deal prior to arbitration, but if they go through with the arbitration it opens up an interesting scenario for the Wild. They were rumored to be interested in buying out goaltender Niklas Backstrom. However, due to offseason elbow surgery he was injured and not eligible for a buyout.
But teams that go through arbitration have a second buyout window open in August. If the team can get Backstrom cleared by team doctors prior to that second window and winds up going through arbitration with Haula, they may have the opportunity to buyout Backstrom's contract. Though, it's not clear that Backstrom would be cleared at that time. There are indications that the surgery may leave him unable to be cleared in August, making him ineligible for a buyout still.
Though Backstrom was over 35 when he signed the contract so the main purpose of the contract would be to clear a roster spot so that the Wild aren't required to carry three goaltenders — also Devan Dubnyk and Darcy Kuemper, who can no longer go to the AHL without going through waivers — all three of whom are on contract for the coming season.
RELATED: Minnesota Wild's 5 Best Trade Assets
[catlist categorypage="yes" numberposts=3 excludeposts=this]
Sign up for The Hockey Writers' Minnesota Wild newsletter
Dustin Nelson writes about news and the Minnesota Wild for The Hockey Writers.