Time is flying and the first 10 games of the season 15/16 are already in the past. Just about time to have an early look at the best European players by position. I introduce you to my selection of the "European team of the first 10 games". Let's have a look who made it and who just missed it:
David Krejci (C, Boston Bruins)
Surprisingly, David Krejci is the third best scorer of the league with 15 points in nine games and therefore deserves the selection. The Czech center is off to a great start and has managed to score at least a point in each of his first nine games. He is currently on a line with Loui Eriksson and Czech countryman David Pastrnak. Krejci had a tough last season with injuries holding him off from playing and was limited to play in only 47 regular season games. However, he fully recovered and is right now on a pace to play the best season of his entire career.
Krejci gave the Bruins a chance to overcome their early defensive struggles with his scoring, they are one of the top goal scoring teams in the entire league right now. Krejci's point streak is, according to the Bruins, the longest by a Boston player to begin a season since 1992-93, when Joe Juneau and Dimitri Kvartalnov each tallied points in the first 14 contests. Kuznetsov would be another European center who is off to an excellent start but given the fact that almost half of his points came from the game against the Oilers and Krejci is more constant, I have decided to go with Krejci.
Other notables: Evgeny Kuznetsov (C, Washington Capitals), Tomas Plekanec (C, Montreal Canadiens)
Jaromir Jagr (RW, Florida Panthers)
Czech legend Jaromir Jagr is a phenomenon. He might be 43 years old but he is again showing this season that he can still play among the league's best. He was at 10 points in nine games but was injured in the game against the Colorado Avalanche, where he just played a bit over two minutes. He would build a line centered by Aleksander Barkov and with Jonathan Huberdeau on the wing, probably one of the best lines Panther fans have seen in a while. However, because of Barkov's early injury, Nick Bjugstad moved up to center this line in Barkov's absence.
Jagr, the fourth best scorer of all time, would need another 38 points to pass Gordie Howe and become the third best scorer in NHL history. This is a milestone which is reachable for Jagr if he manages to stay healthy. Based on his great start and points scored, and this all at the age of 43, I have decided to pick him over Vladimir Tarasenko. Latter is off to a great start as well but out of respect to Jagr's impressive performance, I have decided to go with the Czech legend for now.
Other notables:  Vladimir Tarasenko (RW, St. Louis Blues), Loui Eriksson (RW, Boston Bruins)
Henrik Zetterberg (LW, Detroit Red Wings)
You can argue whether or not Henrik Zetterberg is a center, but because NHL.com has listed him as a winger we will do the same. He leads his team in scoring with 14 points and currently centers the first line in Datsyuk's absence. He found some early chemistry with prospect Dylan Larkin and Just Abdelkader on the wing. This line was split up in the meantime as the Red Wings lost Brad Richards to an injury and Larkin moved down to center the second line for some games, although they are re-united at the moment again.
Congrats to my friend & teammate Henrik Zetterberg on achieving 800 point milestone. Wishing many more! PS Great team effort & win tonight!

— Pavel Datsyuk (@Datsyuk13) November 1, 2015
The 35-year-old Zetterberg is still an elite player in this league and his good start earned himself the LW position.
Other notables: Alex Ovechkin (LW, Washington Capitals), Gabriel Landeskog (LW, Colorado Avalanche),
Andrei Markov (D, Montreal Canadiens)
Veteran defenceman Andrei Markov is arguably the most important Habs player in the best start of the franchise, winning the first nine games of the season. This was also the best start by any team ever recorded. Markov is probably playing some of his best hockey right now and is building one of the best defender duos in the league together with P.K. Subban. He can play it all, defensive, offensive, powerplay and boxplay.
Andrei Markov becomes the oldest defenceman in #Habs history to record 5 points in a game.

— Sportsnet Stats (@SNstats) October 24, 2015
It was an easy selection to pick him as the first defenceman, even if there are some tough customers out there with Swedish Victor Hedman and Erik Karlsson, but for now, he clearly stole the show and is one of the reasons why the Habs started so well. If Markov continues to play the way he does now, he for sure has to be considered as one of the Norris Trophy nominees.
Other notables: Victor Hedman (D, Tampa Bay Lightning), Erik Karlsson (D, Ottawa Senators)
John Klingberg (D, Dallas Stars)
The selection of Dallas Stars defenceman John Klingberg might be a bit of a surprise to some of you, especially with fellow Swedish countrymen Hedman and Karlsson both having decent starts as well. Klingberg, however, really brought his game to the next level in the past weeks my opinion. He had his break out year last season with 40 points scored in 65 games. He is under way to become the number one defender in Dallas, at least offensively, as his own zone game still has room for improvement. Plus he is a good puckmover and plays an important role in one of the best powerplays in the entire league.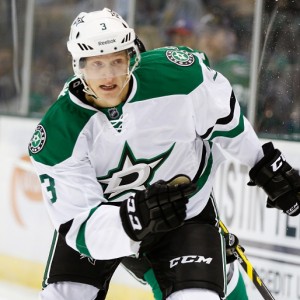 One of the reasons for his not so solid defensive game can be found in the past where he used to be a forward. "My dad and grandfather decided I saw the game pretty good, and so I might be better on defense, so they pushed me to switch," Klingberg said of a decision made at 15. "I'm still learning."
Henrik Lundqvist (G, New York Rangers)
The "King" is back on his throne. Henrik Lundqvist started very well into the season and the New York Rangers are currently tied for lead in the Metropolitan Division. He has stopped over 94% of all shots faced and his mark of 1.87 GAA is one of the best league wide among goaltenders with a decent amount of games started. This is reason enough for me to select him over the two Finns Antti Niemi and Pekka Rinne, even if it was a tough decision.
Other notables: Antti Niemi (G, Dallas Stars), Pekka Rinne (G, Nashville Predators)
Frederik Andersen (Backup, Anaheim Ducks)
Despite Anaheim's rough, I have chosen Frederik Andersen as the backup goalie. He was outstanding in all of his game and gave the Ducks a chance to win each of their games.
https://twitter.com/draglikepull/status/658452246196301824
You cannot blame Andersen for the missed chances and the inability of the Ducks' forwards to score. Andersen has a save percentage of over 93% and an average goal against of just a bit above 2.00. Very impressive for a team that is last in the Western Conference and has won only one game out of 10. This was reason enough for me to chose Andersen over Antti Niemi and also Henrik Lundqvist, even if it was a real tough decision as both are off to great starts as well.
What stands out to me is that with Markov, Zetterberg and Jagr, three veterans have made it into the team which are all 35+ years old. Very impressive to see those guys still hungry for points and able to play among the league's elite. Secondly, it has to be mentioned that Sweden is still producing one of the best defenders in the game as next to Klingberg, I could have selected Karlsson and Hedman easily with their strong performances in the first few games of the new season.
What stands out to you and who would you have selected into "team of the first 10 games"? Let us know in the comments section below. I am looking forward to your feedback.
All Players positions are according to NHL.com
Independent Scout covering European Hockey and Prospects for TheHockeyWriters. Located in Switzerland and blogging on www.scouting-factory.blogspot.com. Opinions on blog are my own