Evander Kane's first season in Buffalo has come to an end a week early with an apparent hand injury. Kane's season had a lot of twists and turns as he became familiar with a new team. After seeing the 24-year-old play a full season in blue and gold, fans now know what they can expect.
The Canadian-born forward fit the role the Sabres were looking to fill fairly well.  The club wasn't expecting Kane to lead them in scoring or be the best player on the roster. As opposed to Winnipeg where Kane was the go-to guy, for the Sabre, he was expected to be a top six forward who played with energy and put the puck in the net.
Have to Shoot to Score
One thing about Kane's game became fairly evident early on. He shoots from everywhere and often. They say "you have to shoot to score" and Kane absolutely buys into that saying. In only 65 games played he put 271 shots on goal, or roughly four shots a game. Those 271 shots currently place Kane 9th in the NHL.  If you project that shooting rate over 82 games it would be 341 shots, which would put him in the top three in the league.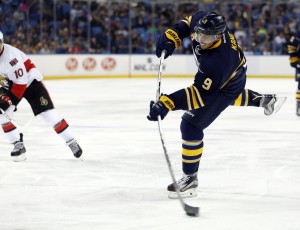 However, at times the barrage of shots can be frustrating. Kane has a tendency to not use his teammates in odd man rushes or to take a shot that has no chance of going into the net that results in a whistle. On the flip side of the coin he takes shots where you immediately roll your eyes, but then a scoring chance results from it. As with a lot of things in Kane's game you take the good with the bad. While playing with Jack Eichel and Sam Reinhart for a handful of games it appeared that he improved on distributing the puck. The trio had a very successful week or so together as they learned to play with each other. We'll see if that carries over into next season and how that may elevate Kane's stats.
The Numbers
Kane ended the season with 20 goals and 35 total points in his 65 games.  Currently, that places him tied for 3rd on the roster in goals and 5th in total scoring. He'll end up missing 16 games due to injury and one game due to suspension when all is said and done. That's nearly a quarter of the season that was lost. If you project his numbers out over 82 games it gives you a better idea of just how well Kane produced. Based on his 65 game scoring pace, if Kane would have played all 82 games he would have put up 25 goals and 44 total points. Both of those statistics would have been the 2nd highest of his career behind the 2010-11 season in Winnipeg. A season of 25-30 goals is what the Sabres ultimately expect from Kane. If he can continually replicate that type of season I think the Sabres will be fairly happy with the trade they made to acquire him.
It's not always about goals and points though in evaluating a player's game. Kane plays both power play and penalty kill minutes for his club. He averages just over 21 minutes per game which is the second in the NHL among forwards behind teammate Ryan O'Reilly. Kane plays a physical game and is relentless on the puck ,which makes him very difficult to play against. He also has the speed to break open a game at any moment. It's hard to say that Kane doesn't give it his all on a nightly basis. Can he be a bit over aggressive at times? Sure, but again, it's taking the bad with the good.
For the most part Kane stayed fairly clean off the ice except for the missing practice incident after attending the NBA All-Star game. He also had the sexual assault investigation, but no charges would end up being brought upon him. General Manager Tim Murray indicated that he spoke with Kane on how he would like him to improve off the ice.
#Sabres GM Tim Murray to WGR 550 on Evander Kane: "He knows he has to become a better teammate"

— Dhiren Mahiban (@dcmahiban) March 31, 2016
Murray indicated after the oversleeping incident that Kane has done what he's been asked to do. He's spent more time with his teammates not only at the rink, but away from the rink as well. It'll important to see if Kane carries that into next season.
When you put it all together, Kane had a successful first season in Buffalo. He had a bump or two in the road, but was very productive on the ice. He plays with passion and fits well in the Sabres top six. As long as he can stay out of trouble off the ice, Kane, will be a big part of the Sabres success moving forward.
Chad DeDominicis was born and raised in Buffalo, NY. Chad is currently a Buffalo Sabres contributor for The Hockey Writers. He is an avid sports fan and is passionate about the game of hockey. Chad works hard to share creative and quality content with his readers.