The 2015 NHL Draft was held almost 10 months ago and the first post-draft season is soon in the books. How did the season go for some draftees and did they live up the expectations? Let's take a look at last year's draft rankings and look at how the year has been going for some prospects. I came up with some obvious and some less obvious.
The Obvious
Connor McDavid and Jack Eichel are good at hockey. The first and second overall picks from the 2015 Draft did not waste a lot of time to impress at NHL level. McDavid would have been the untouchable Calder Trophy winner if an injury did not keep him out of the lineup for almost 40 games. He would have been a potential top three scorer if remained healthy.
Another sensational rookie, Jack Eichel, has been a constant contributor on a weak Buffalo Sabres team. His 56 points are the second-highest mark among all rookies, only trailing to Chicago's Artemi Panarin. He will most probably not win the Calder Trophy but he has made Sabres fan happy throughout the season with his performance.
There had been plenty of words on McDavid and Eichel already, so I will skip that and let the stats speak for them:
Connor McDavid (1st overall, Edmonton Oilers, 45gp-16g-32a-48p)
Jack Eichel (2nd overall, Buffalo Sabres, 81gp-24g-32a-56p)
The NHLers
Noah Hanifin (5th overall, Carolina Hurricanes, 79gp-4g-18a-22p)
Noah Hanifin was the highest picked defenceman in the draft and has spent the entire season with the Carolina Hurricanes. He was already the second most productive defender on the team after Justin Faulk. The Boston-native has made an impact in his return to Boston and scored the game-winning goal in the fifth round of the shootout.
Pavel Zacha (6th overall, New Jersey Devils, 1gp-0g-2a-2p)
After finishing his season with Sarnia Sting, the Devils have signed and recalled their 6th overall pick, Pavel Zacha. He played in the Devils' season finale against the Toronto Maple Leafs. Zacha was lined up together with his childhood idol Patrik Elias in his first ever NHL game and had two assists in that game.
First #NHL game, first NHL point for Pavel Zacha, who sets up Devante Smith-Pelly's 14th of the season to tie things at 1.

— NJDevilsPR (@NJDevilsPR) April 9, 2016
Mikko Rantanen (10th overall, Colorado Avalanche, 9gp-0g-0a-0p)
The Colorado Avalanche gave Mikko Rantanen a first taste of NHL-hockey by suiting him up in nine games. They sent him down to play the season in the AHL, where he was San Antonio's topscorer. I am convinced that Rantanen would have been NHL-ready this year as he is playing against men since he is 16 years old, but the Avs did not feel the need to have him in the lineup and didn't want to burn his first year of the entry-level contract.
Daniel Sprong (45th overall, Pittsburgh Penguins, 18gp-2g-0a-2p)
Daniel Sprong's 18 NHL games with the Pittsburgh Penguins surprised me the most among all rookies. Although in my eyes he was drafted too low at 45th overall position, I did not have the impression that he is NHL-ready when I scouted him in the QMJHL with Charlottetown. After giving him limited minutes and making him a healthy scratch, the Penguins sent him back to the juniors just shortly before the Christmas break. By keeping him past the 10-game mark, they've burned one year of his entry-level contract. However, the question remains why so many teams missed out on Sprong.
Oliver Kylington (60th overall, Calgary Flames, 1gp-0g-0a-0p)
Swedish defenceman Oliver Kylington spent the season with the Flames AHL affiliate, the Stockton Heat, where he had 11 points in 43 games. Kylington was originally considered a first round pick but has dropped in the course of the draft year due to inconsistency in his game. Nevertheless, he has some serious upside and could become a great pick up that late in the draft. The Flames recalled Kylington for their season finale against the Minnesota Wild.
Dominik Simon (137th overall, Pittsburgh Penguins, 3gp-0g-1a-1p)
Czech over-ager Dominik Simon is the Penguins' fifth-round pick. After a strong World Championship tournament, he has been on my radar right after getting drafted by the Pens. Simon has offensive upside and is a quick skater who likes to produce offence with his skating and puckhandling skills. Simon got called up to make his season debut in March and collected one point in three games with the Penguins. He does have the potential to become a nice addition for the Pens in a bottom-six role.
Rising Stock
Zach Werenski (8th overall, Columbus Blue Jackets)
With the departure of Ryan Johansen in Columbus, US-born defenceman Zach Werenski should become the new face of the Blue Jackets franchise one day. The University of Michigan product has only been selected as the draft's third-best defender behind Hanifin and Ivan Provorov. Some prospects evaluator had Werenski even ahead of both of them. Werenski had a great overall year in the NCAA as well as with the U.S. WJC team, which he captained. After finishing the NCAA season, Werenski was signed to an AHL tryout contract and the organization announced that he will stay with Columbus' affiliated team for the rest of the season. Werenski will be a future star in Columbus and a potential captain for the franchise.
Kyle Connor (17th overall, Winnipeg Jets)
Quite the surprise that the Winnipeg Jets were able to pick up Kyle Connor at 17th overall. Most pre-draft rankings had him as a top 15 pick and when it was clear that the Boston Bruins will have three consecutive picks in the middle of the first round, everyone expected they will pick Connor, especially as he would have been a great fit for the Bruins.
I think Jimmy Vesey is an exceptional player. Great competitor/captain. But, man, Kyle Connor had points in every game but three this year.

— Chris Peters (@chrismpeters) April 8, 2016
However, Boston surprisingly went off  the board and did not pick Connor. Something Boston will most probably regret one day and that day might come rather sooner than later. Connor has played a phenomenal first NCAA season and was a Hobey Baker finalist. He joins the Jets after only one college season and looks way more promising than the average 17th overall selection.
Travis Konecny (24th overall, Philadelphia Flyers)
Travis Konecny was the Flyers' second first round pick in 2015, but I have no clue how so many teams missed out on him. The London, Ontario native was a projected mid-first round pick but maybe some teams were afraid of drafting him because of his smallish size. He had a good season in Ottawa and Sarnia and the Flyers have to thank a couple of organizations for passing on Konecny and made him available late in the first round.
Sebastian Aho (35th overall, Carolina Hurricanes)
What a season it has been for the Hurricanes second round pick, Sebastian Aho. He has won the gold medal with Finland at the WJC and was the ninth-best scorer in the regular season in the Finnish Liiga and is currently the top scorer in the playoffs. This makes him one of the better players in Europe this year at the age of only 18.
Eye fully charged. Sebastian Aho point of the tube in these playoffs now 10 match long. Pretty tough fellow .

— Doug Abrams (@dabrams2021) April 9, 2016
Aho, who is only a few months older than Auston Matthews, looks like a great pick up in the second round. He has successfully played against men this season and proved that he is ready to move to North America. He has probably been the player whose stock has risen the most over the past year.
Aleksi Saarela (89th overall, New York Rangers)
Not long ago, his name was spoken in the same breath as Mikael Granlund, Teemu Pulkkinen, Teuvo Teravainen, Rasmus Ristolainen and Aleksander Barkov. Not long ago, he won awards named after Sami Kapanen and Teppo Numminen. He was a bonafide hockey prodigy, maybe one of the top '97-born player in the world.
Then his development has stalled out and his game is stagnant. He was selected in the third round by the Rangers but was part of the Staal-trade which sent him to the Hurricanes organization. He picked up the pace this season in the Liiga with Assat, played his most productive season by far with 33 points and was a strong contributor at the WJC.
Nicolas Roy (96th overall, Carolina Hurricanes)
Big winger Nicolas Roy has been selected in the fourth round by the Hurricanes. He is a player who played a strong play away from the puck when I scouted him at the U18 Worlds last year but lacked some offensive upside. Now, in his third season with the Chicoutimi Saguenéens, he flourishes nicely into a more offensive role and therefore it is no surprise that he played his most productive season with 90 points this year.
Other Honorable Mentions:
Vili Saarijarvi (73rd overall, Detroit Red Wings)
Jonne Tammela (118th overall, Tampa Bay Lightning)
Conor Garland (123rd overall, Arizona Coyotes
Dmytro Timashov (125th overall, Toronto Maple Leafs)
Kirill Kaprizov (135th overall, Minnesota Wild)
Vladislav Gavrikov (159th overall, Columbus Blue Jackets)
Ziyat Paigin (209th overall, Edmonton Oilers)
A Step Back?
While it is way too early to identify busts of the 2015 NHL Draft, I still tried to come up with some early round prospects which might have seen their stock falling due to this season's performances:
Yevgeni Svechnikov (19th overall, Detroit Red Wings)
Yevgeni Svechnikov did not perform in the way I expected at the U20 World Juniors in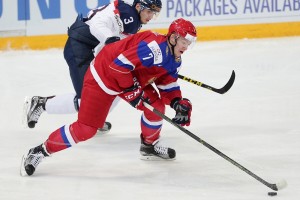 Helsinki. He was held scoreless in all of the seven Russian games. He, therefore could have dropped a bit, although it has to be mentioned that his season with Cape Breton has been as productive as the previous one. I would therefore very much questionable if his "falling" status will last only because of an unlucky WJC performance.
Filip Chlapik (48th overall, Ottawa Senators)
I have to admit, I was never a big fan of Czech centerman Filip Chlapik of the Charlottetown Islanders. His point production has decreased without Sprong next to him for the full season and I am a little critical if he has the potential to become an NHL player. He has never fully convinced me in any International viewings I had of him and his eventless WJC-performance confirms that.
Jonas Siegenthaler (57th overall, Washington Capitals)
Swiss defenceman Jonas Siegenthaler has spent the last two full seasons with the ZSC Lions of the Swiss National League. After a strong rookie season, he has had a tough sophomore campaign this year. He committed a lot more mistakes than last season and was not always reliable in his own zone during games. After his season finished with ZSC, he joined the Hershey Bears to end the season in North America. With that being said, the AHL might just be the right place for him to fit his playing style. He could bounce back next season he will play the entire season in the Capitals organization.