The Vegas Golden Knights will arrive next season. Well-managed NHL teams have considered the impact of expansion since the expansion draft rules were finalized. Players have been, or will be traded, waived or bought out based upon the expansion draft rules agreed to by the NHL and the NHLPA.
Twenty-six of the NHL's 30 teams have at least one player that cannot be left unprotected due to a no-movement clause in their contract. The San Jose Sharks are not one of those teams.
Additionally, all first-year and second-year professionals, as well as all unsigned draft choices, are exempt from selection and will not count against the protection limits agreed to by the NHL and the NHL Players' Association.
Expansion Rules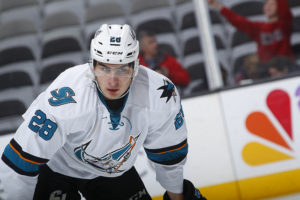 Broadly, the expansion rules give clubs two options: a) protect seven forwards, three defensemen, and one goaltender; or b) eight skaters and one goaltender.
There are other requirements for teams to meet, such as, players protected must be under a contract for the 2017-18 season and have played a certain number of games at NHL level during the 2016-17 season or 40 or more games in NHL for 2016-17 or combined 70 games for the 15-16 and 2016-17 seasons.
The expansion team must select at least 20 players under contract for 2017-18 and the combined salaries for the players selected must be between 60 and 100% of the upper limit of the 2016-17 salary cap.  Lastly, the Golden Knights may pick only one player from each team, and the player chosen cannot be bought out by the Golden Knights.
No Protection Needed
Each existing franchise must submit its protected list by June 17, 2017. Projecting who the Sharks will protect is not as difficult as one would think because, unless they are re-signed before June 17, 2017, Joe Thornton, Patrick Marleau and Tommy Wingels will not need to be protected.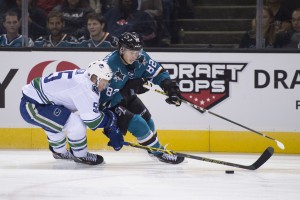 Additionally, none of the Sharks top prospects are likely to need to be protected. That means two prospects playing an increasingly important role on the 2016-17 team, Timo Meier and Kevin Labanc, will not be available for the Vegas team to poach. Joonas Donskoi, a two-year pro, will not have to be protected either.
Other young players that are likely to not require protection because they will not play 40 or more games this year are Mirco Mueller, Nicolay Goldobin, Barclay Goodrow, Ryan Carpenter, Tim Heed and Dan Kelly. Dylan Demelo must be protected only if his game total this season is 25 games or more. One could argue that the goal-starved Sharks have specifically left Mueller and Goldobin in the AHL just to avoid having to protect them in the expansion draft.
Assuming only Thornton signs an extension prior to June 17, Marleau and Wingels do not and all the young players listed need not be protected, projecting the Sharks protected list leaves only a couple of low-pressure choices.
No Doubt Who Will be Protected
Martin Jones – Marc-Edouard Vlasic – Brent Burns – Joe Thornton – Joe Pavelski – Logan Couture – Tomas Hertl
That is one goaltender, two defensemen, and four forwards. The Sharks would have the option of protecting two more skaters at any position, or three forwards and one more defensemen.
7 Forwards and 3 Defensemen or Any 8?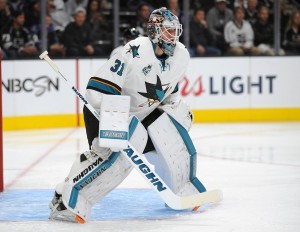 If the Sharks choose to protect seven forwards and three defensemen to protect the maximum number of players, only one additional defenseman can be protected from David Schlemko, Brenden Dillon, Justin Braun and Paul Martin.
Using my projected protected list, if the Sharks choose to protect any eight skaters they could protect only two additional players, likely Justin Braun and Chris Tierney, but no others. Regardless of the choice the Sharks make, it is very likely that Paul Martin, age 35 with a $4.85 million cap hit and Brendon Dillon will be left unprotected.
If the Sharks choose to protect seven forwards who would the remaining three (or four if Thornton does not re-sign) protected players be?
Joel Ward is a high priced ($3.275 million) player with only 2017-18 left on his contract is not likely to be protected. Mikkel Boedker, while younger than Ward, is not producing enough to justify his $4 million cap hit and will also be unprotected. Melker Karlsson, 22, with a cap hit of only $1.65 million, and Tierney, 22 with a cap hit of $922,000 are two players that may be protected if the Sharks choose to protect seven forwards. Tierney especially has shown consistent improvement this season.
Prediction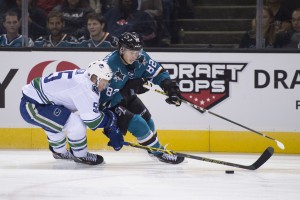 If the Sharks choose to bring Goldobin and Mueller up it will be mathematically impossible for either of them to play in the number of games that will force them to be protected. It is also clear that the players they replace in the lineup will be exposed for the expansion draft. I believe that if the team continues to struggle offensively, both players will be with the NHL club no later than the trade deadline, or be a part of a deadline deal to bring in offensive help.
Should the Sharks make any deals, in-season or just before the submission of the required protected list, any projection on who will be protected will have to be reconsidered based on the return from any such trade. Based upon performance and contract status, the current players most likely to be on the trading block are Wingels (unrestricted after this season) and Boedker or Schlemko, two players signed prior to this season that have not been performing as expected.
My best guess is the Sharks will choose to protect eight skaters and a goalie and risk losing one of their high priced veterans to the Vegas franchise. Here is my list:
Goaltender
Defensemen
Brent Burns
Marc-Edouard Vlasic
Justin Braun
Forwards
Joe Pavelski
Joe Thornton (assumes he signs prior to expansion draft)
Logan Couture
Tomas Hertl
Chris Tierney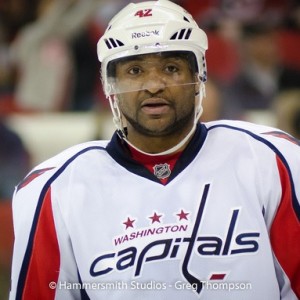 This list places the Sharks at risk of losing a pricey veteran that the Golden Knights can use to lead what is likely a very young team, one of the two 2016 off-season signees who has not fit in especially well this season, or a useful young inexpensive piece with limited offensive potential such as Matt Nieto or Melker Karlsson.
I will go even further and predict that if the Sharks choose to leave Joel Ward unprotected Vegas will jump at the chance to have a player of his caliber and will use one of its first few picks in the expansion assignment draft on him.
With a contract that expires after the 2017-18 season, Ward is a short-term option who can effectively lead what is likely a very young locker room and allow their roster to more easily reach the minimum salary threshold set by the league. The benefit to the Sharks, if one calls it a benefit, will be that all the unprotected defensemen will return next season.
Michael Miller
My name is Michael Miller. I am a native New Yorker and a semi-retired attorney who has been in the SF Bay Area for over 20 years. I am an avid sports fan and still play competitive baseball in what my kids call the OFMBL (Old Fat Man's Baseball League). I am also an assistant varsity baseball coach at the local high school. Hockey is a passion and always has been for me. As a kid I played street hockey year-round and still wonder why I never tried ice hockey. I hope to bring that passion to my contributions on THW.