Wednesday night was a small sample size of games, but the Washington Capitals made a big impact winning 7-1 over the Pittsburgh Penguins. Thursday is filled with a ton of action as 20 teams square off in 10 games. Tampa Bay appears to be the big favorite heading into the evening so it might be wise to take a few players from the Lightning to round out your fantasy team. The key to watch here is that they lost Steven Stamkos to injury, which could change things.
Yesterday's Games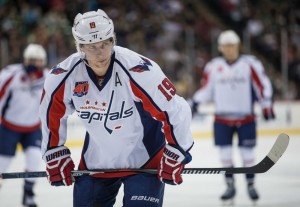 If you took the Washington Capitals, you would have been at the top of most fantasy lists. If you took Nicklas Backstrom and T.J. Oshie, you probably won your pool. Backstrom left that contest with five points — two goals and three assists, while Oshie had four points. Between the two they added seven shots on net, a game-winner, four power play points and a short handed goal.
I made the mistake of suggesting Crosby, Letang and Kunitz as part of a team that also included Matt Niskanen and Braden Holtby. Apparently, I should have stuck with just Capitals.
Tonight's Games
Tampa Bay Lightning at Buffalo Sabres
Winnipeg Jets and Philadelphia Flyers
Florida Panthers at Toronto Maple Leafs
Nashville Predators at Ottawa Senators
Boston Bruins at Minnesota Wild
San Jose Sharks at St. Louis Blues
Colorado Avalanche at Dallas Stars
Arizona Coyotes at Vancouver Canucks
New Jersey Devils at Anaheim Ducks
Edmonton Oilers at Los Angeles Kings
Centers
Connor McDavid ($8000)
The Edmonton Oilers are on a four-game losing skid. They've outshot their opponents in three of those four games by a large margin, but the team's shooting percentage is outrageously low — too low for the Oilers to stay a team that doesn't score goals. Connor McDavid leads the Oilers into Los Angeles on Thursday. He's been one of the few Oilers getting points, but he's on a nine game goalless streak. It can't continue.
There will come a point where McDavid explodes as will the Oilers. There is a good chance that it happens against a struggling Los Angeles team that is potentially missing Anze Kopitar, the center who would have been defending McDavid. Edmonton's captain has 19 points in 17 games, so even if I'm dead wrong on my gut feeling, he's a pretty safe bet.
Mark Scheifele ($7300)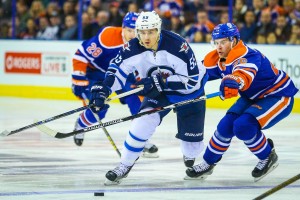 I suggested Scheifele not long ago and of course it was in the one game that he didn't absolutely tear it up. I'm suggesting him again, because at the end of the day, he's still at the top of the NHL leader board in points and is his Jets are taking on the Flyers who are consistently at the bottom of the NHL standings for goals against per game.
One area where the Flyers do well is in limiting their shots per game, but that's one reason I like Scheifele here. He actually ranks 41st in total shots taken in the NHL, but has 10 goals on the season. That means, even though he's not getting a lot of shots on net, he's making the most of his opportunities. It also means he doesn't need a ton of chances to bury a goal or two.
Forwards
Mitch Marner ($5900)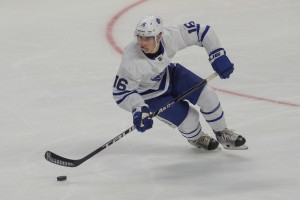 Marner is having a heck of a rookie campaign and now has 15 points in 16 games. In his last outing, he scored a goal and two assists against the Nashville Predators and he's found major chemistry with James Van Riemsdyk and Tyler Bozak. In fact, if you want to scrap my idea of taking McDavid or Scheifele, taking this Maple Leafs trio has some appeal to it and is a good bargain price. These three would cost you about the same.
The reason I like Marner is because it appears he's the key ingredient of this dangerous threesome. He has nine points in his last six games and is the driver on this line.
Viktor Arvidsson ($4700)
So far my team consists of some pretty high priced players, so it might be time to look at a good value forward. Arvidsson may be that guy. He's got 10 points in 15 games and in his last two outings has three points, nine shots on net and a short handed assist. Nashville is taking on a much better team in Ottawa and the Preds are on the road, but he's worth the risk.
Defense
Victor Hedman ($5700)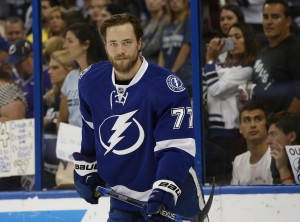 Hedman has 13 points in 17 games and he's logging an average of 25 to 28 minutes per game. That's not the only reason to take him. With Stamkos out to injury and a couple other key injuries in Tampa, the Lightning are going to need to look to other sources for offense and Hedman has the ability to step up his game in that regard.
He has eight points in his last eight games and leads the Lightning defense in shots on net with 32.
Goaltender
Tuukka Rask ($7500)
The Bruins are extremely hot right now having won three in a row and perhaps there is no hotter goalie than Rask who leads the NHL in wins. He's 10-1-0 with a 1.54 goals against average and a .945 save percentage.
He's potentially going up against Devan Dubnyk in what could be quite the netminder's duel. I suspect Rask will be up for this game and turn in a fantastic performance.