Time for our weekly check-in on the players whose ownership has changed the most in the last week to find steals and deals for your fantasy hockey team.
RISERS
A piece of Stastny's rise is his return from injury. Many dropped Stastny during his time on IR, and it may be one of those moves you may regret in the long run. He's been a pretty consistent 20+ goal scorer, even if he dropped down to 16 goals and 46 points last season.
Regrets aside, he's a player worth grabbing. In daily games, his cost is low right now and he's got seven points in seven games this season. In keeper formats, he's a point per game player and has pretty high upside for a guy you may still be able to pick up off waivers for nothing.
A six-game point drought plunged Nelson's value. He didn't blow the doors off the place to start the season, but the 24-year-old who broke 20 for the first time last year is on pace for 28 goals this season. He's got five goals and four assists through his last nine games.
Those who believed in Nelson early this year should be happy with the improvement. He posted 42 points last year and is on pace for 51 this season as a game rate. In even strength production, he's taken a big step forward, moving from a G/60 of 0.6 to 1.4 and a P/60 of 1.6 to a 2.4. The increase in his ownership is justified. He's playing well and is worth rostering in many formats.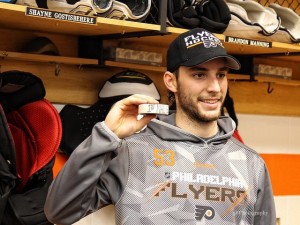 Gostisbehere is finally getting a legit chance in the NHL. The Flyers have been desperate for some offense and they're reward the 22-year-old defender for providing it. He's logging huge minutes on the top power play unit with Claude Giroux and Jakub Voracek and rewarding the team giving him the second most power play minutes on average with three goals and an assist on the PP through seven games.
In all situations this season, he has a total of five goals and two assists, while averaging over two shots per game.
There was the sense at the start of the season that this could be Gostisbehere's year to step into regular ice time, but few would have predicted that he'd have such an instant impact and get cemented into the top power play unit. It's a roll of the dice to gamble on any rookie long-term, but he's showing all the right signs to being fantasy relevant for the foreseeable future.
FALLERS
The driver here is that Gallagher is out after breaking two fingers. He'll miss at least six weeks. It was pretty ugly.
The only real discussion with Gallagher is if he's roster-able while on IR in a format where you've got an IR option. I'd argue he is. He's underrated and can provide production across categories, making him value in many formats.
This season he has nine goals, 10 assists, 14 penalty minutes, a plus-7 rating, five power play points, an average of 3.2 shots per game, 12 blocked shots and just under a hit per game. If you aren't rostering him, keep a close eye on him and try to nab him as soon as it looks like he's going to return.
Demers put in a nice run toward the start of the season, including a three-game point streak at one point. But the kind of offensive production we saw from Demers isn't what we should expect, even with him jumping into Dallas's high-powered offense for his first full season there.
Demers hasn't put up a point in seven games and that's not entirely abnormal for Demers, who has a career-high of five goals and 34 points, posted back in the 2013-14 season. Demers was a decent fill-in if you grabbed him while he was hot and got the production, but it's reasonable to be looking for the next guy at his level who is feeling the offensive game right now. They're out there. Look at guys like Rasmus Ristolainen, Jared Spurgeon or Gostisbehere.
Notable Faller: Travis Zajac (-19.1%)
Zajac had a hot start to the season, posting six goals and five assists over a nine-game span. That brought his ownership levels up a little higher than you might have expected to start the season. Over the next nine games, he had no goals and three assists. In five of those nine games he had one or fewer shots. That's how we got here.
And it's a reasonable place to be with Zajac. He's not a premiere fantasy add and his production was nice while it lasted, but it's not likely to continue. Another problem for Zajac is the return of Patrik Elias. Elias isn't replacing Zajac and Zajac is still a key piece of the offense, but it adds another mouth to feed on a team that doesn't score a ton.