It is no surprise that P.K. Subban and Erik Karlsson are among the top producing defenseman early on this year, however there are a number of defenseman putting up solid numbers who are still flying under the radar in most Yahoo leagues.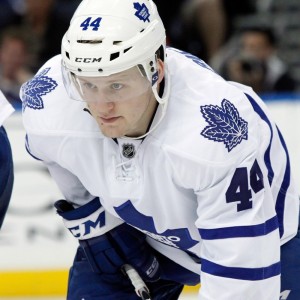 Morgan Rielly – Owned in 27% of Yahoo leagues
The young defenceman is first on the struggling Leafs in scoring with 10 points this season. Now in his third year with the Leafs, Rielly has been a solid defenceman putting up close to 30 points in his two previous seasons. Rielly's plus-minus numbers are a red flag, but he is averaging over 20 minutes of ice time a game and is on the first power play unit. Expect Rielly to continue to put up impressive numbers with the Leafs this year.
#Leafs Morgan Rielly has 64 career points. That is the 5th-most from any player drafted in 2012 (he was drafted 5th overall).

— Sportsnet Stats (@SNstats) November 4, 2015
Ryan Murray – Owned in 10% of Yahoo leagues
The former second overall pick has been plagued by injuries ever since his start in the NHL. His most productive season was in 2013-14 when he managed 21 points in 66 games. This year in 15 games played Murray already has seven points and has excelled under new coach John Tortorella. Murray is seeing time on the second power play unit and has the opportunity for a long overdue breakout season.
Jason Demers – Owned in 40% of Yahoo leagues
Demers is a tough defenceman capable of putting up solid numbers. He managed 22 points in 61 games last season and already has eight points in 13 games this year. What sets Demers apart from other defencemen on this list is his grit. Demers plays hard and that is reflected in his penalty minutes. His 19 penalty minutes so far this season is tied for sixth among active defensemen. Out of those six players, only Dustin Byfuglien has more points than him at eight.
Jeff Petry – Owned in 23% of Yahoo leagues
Petry is just one of many Montreal Canadiens off to a fantastic start this season. He has six points in 16 games. Playing on the second power play unit and averaging nearly 22 minutes of ice time a game definitely helps his cause. Petry has only had one season where he scored over 20 points, but is currently on pace for 33 points this year. He's also ranked in the top 15 for SOG out of all defencemen with 30.
Jake Muzzin – Owned in 62% of Yahoo leagues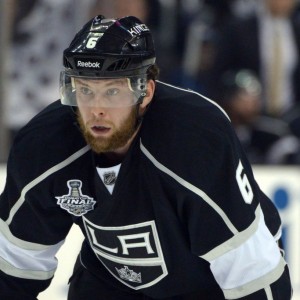 Muzzin had a very slow start to the year recording no points in his first seven games. However he now has seven points in his last seven games. He is on the first power play unit and is averaging over 22 minutes of ice time per game. The Kings defenceman recorded 41 points in 76 games last season and despite a slow start should be able to record similar numbers this year.
Having defencemen that can put up points while racking in the hits and penalty minutes is key in fantasy leagues with extended stat categories. Keep this in mind when you are looking at free agents. If your defensemen are playing well but your forwards need a boost then check out my last article on rookies with offensive promise.
I am a recent Carleton Journalism graduate with experience working as a sports reporter for The Charlatan, Carleton's campus newspaper and as an editor for Journalists for Human Rights.