With the fantasy hockey season under way and lineups mostly set (barring any injury), fantasy managers might be quite comfortable with the product that they have going forward. However, there is always room to keep certain players in mind, and back-up goalies should most certainly be amongst the players that managers keep on the back-burner for all intents and purposes.
Of course, if a fantasy manager finds themselves in a league that has a number of formidable options available in terms of free agent starting goalies, then they should absolutely capitalize. On the other hand, managers in deeper leagues might not be afforded the same luxuries, so a focus on lesser-owned netminders might be essential in leagues where losing a starting goalie for any extended amount of time could greatly hinder one's standing in a head-to-head or rotisserie setting.
[Make Sure To Check Out DraftStreet.com's NHL Freeroll on Saturday]
Spotlight On The Backups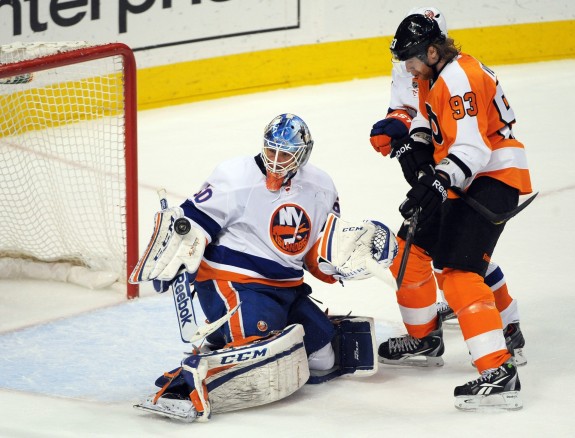 Kevin Poulin (New York Islanders – G)
After using Evgeni Nabokov as the team's workhorse in goal last season, the New York Islanders will be looking to Kevin Poulin in order to spell their starting veteran goalie. Over the last three years, Poulin has played in 96 AHL games and 21 NHL games, but he hasn't given Islanders' management a big enough sample size to see what he can do over a long period of time in the NHL.
While Poulin didn't have a spectacular season in the AHL last year (3.22 GAA, .904 Save Percentage), he should see a considerable amount of time backing up Nabokov this year – something that should give the Islanders an accurate idea of where the goaltender fits into the team's future. Poulin should definitely get more than 20 starts this season, and fantasy managers should keep an eye on the 23-year old netminder as he will have to prove his worth to the Islanders this season as the team has prospects such as Anders Nilsson, Eamon McAdam, Stephon Williams, and Parker Milner waiting for the opportunity to ascend the Isles' organizational rankings.
Alex Stalock (San Jose Sharks – G)
Alex Stalock's talents have been highly touted over the last few years, and the goalie will be in line to showcase the progress that he has made as a member of the San Jose Sharks this season. Even though Stalock only has a total of three NHL appearances, the goalie simply has too much talent for fantasy managers to gloss over.
In two games played last year, Stalock registered a 2.86 GAA and a .846 Save Percentage, but his numbers should get better as he gets adjusted to NHL play. Seeing as how Antti Niemi started 43 of 48 games for the Sharks last season, fantasy managers should expect Stalock to get a decent look this season – especially since long-time back-up Thomas Greiss is now with the Phoenix Coyotes.
Robin Lehner (Ottawa Senators – G)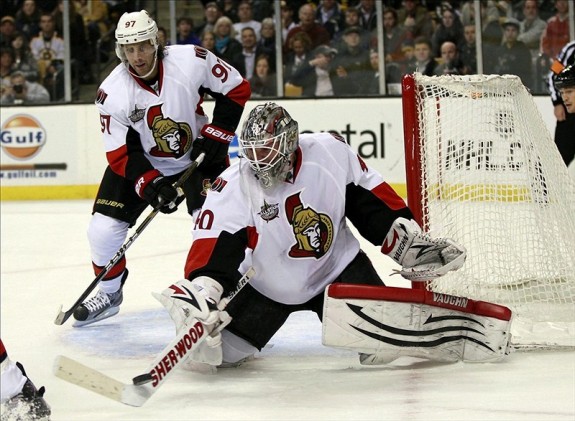 When Craig Anderson went down last season, Robin Lehner stepped up and made Ben Bishop an expendable asset at the 2013 NHL Trade Deadline. Lehner wound up finishing the '12-'13 NHL season with a 5-3-4 record, .936 Save Percentage, and a 2.20 GAA, but more importantly, he showed that he could handle duties between Ottawa's crease for a stretch of time if anything were to happen to Anderson.
Despite the fact that Craig Anderson might see a majority of the starts for the Senators, Lehner will undoubtedly make a substantial bid for more playing time this season. Fantasy managers might want to keep a close eye on the Anderson/Lehner combination as Ottawa could have a solid a 1-2 goalie punch that could very much fly under the radar this season.
Eddie Lack (Vancouver Canucks – G)
The Canucks might have surprised many in the hockey world when they traded Cory Schneider to the New Jersey Devils, but the team had enough confidence to trust that Eddie Lack could be a serviceable backup to Roberto Luongo. Despite the fact that lack underwent hip surgery in January 2013, the goalie will try to prove that he deserves his roster spot in Vancouver.
In his first NHL career start, Lack matched up against a hot Calgary Flames offense and managed to get a win despite being peppered with 36 shots throughout the game. While Roberto Luongo will see the lion's share of starts in Vancouver, fantasy managers should keep track of "The Stork" as the big netminder could surprise some hockey fans if given a decent amount of games to showcase his talent.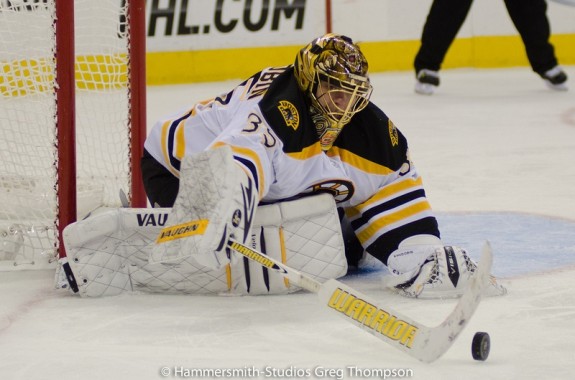 With Tuukka Rask's emergence as the Bruins' goalie of the future, Anton Khudobin was unlikely to see significant time between the pipes for Boston. After signing with the Hurricanes in the offseason, Khudobin could certainly be used to spell Cam Ward and keep Carolina's number one starting netminder fresh.
Last season, Khudobin posted a 9-4-1 record with a 2.32 GAA and a .920 Save Percentage, and has already kicked off his '13-'14 NHL campaign with a victory in his only start. Khudobin should receive at least 20 starts for the Hurricanes and fantasy managers in deeper leagues shouldn't hesitate to add the goalie to their roster as he will be a reliable backup that could register some decent statistical totals.
*** Be sure to check out Draftstreet.com's NHL FreeRoll this Saturday, and check back with THW for season-long fantasy hockey coverage

In his third year with The Hockey Writers, Toli covers all things related to the New York Islanders. Focusing on the Islanders, the NHL Draft & draft-eligible prospect goalies, and hockey history, Toli can be contacted on Facebook by searching/messaging Toli Metter and on twitter by searching @ToliMetterTHW.